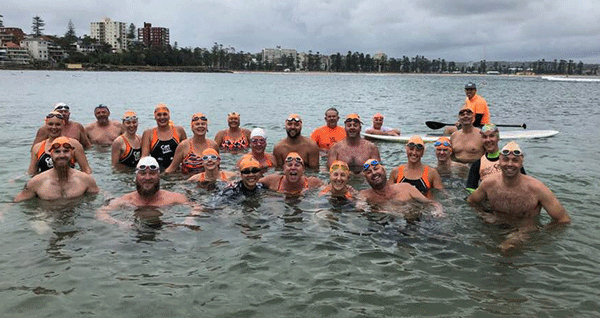 A school of brave Can Tooers will be swimming 10km from Bondi to Watson's Bay on Sunday to raise money for Can Too.
The sextet team - 'Roughin' it for Can Too' made up of Sophie Reade, Sam Guthrie, Mel Junghans, Monique Ferguson, Lisa Montinesin and Julia MacDonald will be joined by Can Too bromance couple, Robin Nicholls and Peter Vandeburgt (pictured below) swimming solo.
Also going solo, is Can Too legend, Katie Price as well as three Too Cans, Captain Kim Cook, Grant Campbell and Lizzie Crowhurst.
Rumour has it, the sextet girls have their eye on being the first ladies' team home which was won by Can Tooers Anna Lewis, Glenda Hunter-Brittain, Cookie and Lizzie last year.
But the real prize for all of them will be getting to the end just like our very own courageous Mark Ellis did last year.
They'll be supported by a mob of boat drivers, paddlers and towel carrying Can Tooers including Lara Solomon, Paul Jeffress, Grant Cameron and Zoe Taylor.
Can Too coaches Jon Bell and Magic Mike will be putting in an appearance with water safety guru Ted McClure.
It promises to be a very orange weekend in the water as well as on the run for the SMH Half and great inspiration for anyone thinking of signing up to train with Can Too for a Marathon swim in Mana Fiji, in October.
Go smash it guys!