I used to swim like a T-Rex, but Can Too have helped me fix that.
CanToo is a genuinely amazing initiative. It brings together people who want to support one another in their fitness goals and give back something to keep us all healthier. The others around me motivated me to just keep swimming and if I can, anyone can!
I'm practically a mermaid now! A very slow, sea-swimming mermaid raising money for cancer research!
Nikki Gray, Can Too ocean swimmer

My advice to someone doing their first program is to not be afraid and just go for it. A lot of people get really concerned thinking 'I'm not fast or fit enough'.
Can Too is not an elite running group and we're not trying to be. We're not out there to win races, we're there to reduce cancer in the community. Running is an awesome way to do that.
Matt Somerville, Can Too trail runner
Can Too is the best thing I have ever done!
Coach Mel, TC Bronwyn and Can Too Founder Annie Crawford thank you for your support!
Liz McLellan, Can Too ocean swimmer (centre)

Can Too helped with my mental health and depression. After I had gone through a difficult break up, I was knocked down and had lost sight of myself. Running that first 10km race the whole way made me feel as if I Can Too do anything.
With Can Too you kill several birds with one stone. You get fit, it's good for the community, you get satisfaction by helping fund cancer research and you make great friends.
Leigh Elliott, Can Too runner and swimmer

Can Too has really shown me that you can accomplish anything you put your mind to.
Definitely don't think I could have completed a 5km ocean swim two months ago but, with the help of my amazing coaches and swim pod, I made it.
Super humbled by the generosity and determination of all the people I've been fortunate enough to meet and spend the last couple of months with.
Tim Wright, Can Too ocean swimmer

The life-long friends you'll make are the crème de la crème.
You'll feel calm in your mind, body and spirit - knowing that you are supporting cancer researchers and making a difference to the detection and treatment of cancer.
Find out more about Christine.
Christine Napier, Can Too funded cancer researcher and ocean swimmer

I have been on a life changing journey with this amazing organisation of over a decade.
In this time I've seen cancer knock a few of my nearest and dearest around - knocked a few out of the ring. And many are still punching as a direct consequence of the efforts of cancer research.
Kieran Gallagher, Can Too Champion

Four months ago I was sedentary on the couch with a constant migraine. Now I'm exercising five days a week. Last week I ran 17km! I feel so much better and I have clear lungs. It's great.
It gives you perspective to get fit and healthy while helping cancer research. And it's a really good group of people with a great attitude.
Siobhan Komander, Can Too Half Marathon Runner

The support, motivation and camaraderie of the coaches, mentors and other Can Tooers is amazing. They are an incredible team helping me to achieve my goal.
Lucy Allon, Can Too 10km Runner (right)

The Coaches are incredible and all advice has been spot on. I was not expecting such great professionals to teach me how to run properly.
I'm very pleased with my experience and have managed a pace I didn't think my old legs would be able to achieve.
Mark Giles, Can Too Half Marathon Runner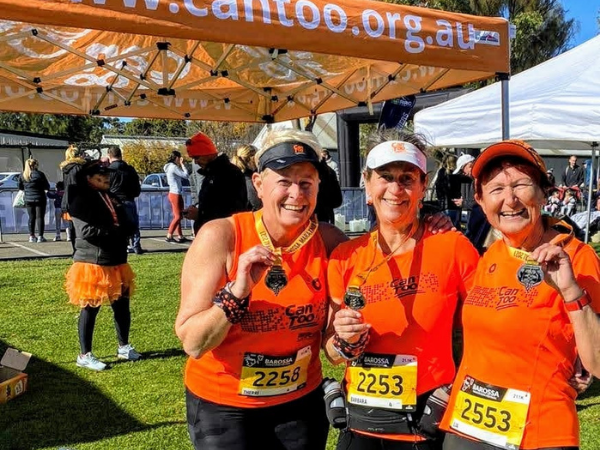 Running in a group was new for me. My fear was that I would be the slowest and the last but the group energy of Can Too helped me stay stronger longer and I often ran a personal best in training runs.
Lia Zalums, Can Too Marathon Runner (right)

I'm loving the motivation and support from my Can Too Coaches, Mentors and fellow participants.
Not only am I helping a fantastic cause, but I'm also helping myself reach a goal, and having some fun along the way.
Sam Lewis, Can Too 10km Runner (left)
I bloody love this running thing and I bloody love @cantoorunswim for getting me back into it.

One of the first things they taught me was HOW to run. A few conscious tweaks here and there - it was a GAME CHANGER. Over the past five or so weeks I've been able to sustain three runs per week, and I am up to the 5km mark (still run/ walking mind you). This is something I never thought I'd be able to do again. I. am. stoked.
Jess Keogh, Can Too Runner
Why do I Can Too? Because I love it! Meeting inspiring people who love a challenge, pushing themselves out of their comfort zones & all for a great cause.
Heather Writer, Can Too Ocean Swimmer and Runner
One of the best things about Can Too? The support from others to run or swim further than you ever have before. And the inspiration from those doing the same.
Carden Calder, Can Too Runner (centre)
I will always be grateful to my extended Can Too family. I never realised how significant Can Too would be, how important it was to have an outlet, away from our life which was all about cancer and searching for treatments. Can Too helped me to not just stay physically fit but mentally strong.
Craig Dwyer, Can Too Ocean Swimmer (centre)