The Can Too team is a dynamic group of people passionate about making a difference. We all believe strongly in the Can Too philosophy of fun, fitness, friends and fundraising. Our mission is to engage and inspire individuals and the community to achieve personal health, wellbeing and altruistic goals. We enable and assist fundraising to support innovation in the prevention, care and control of cancer.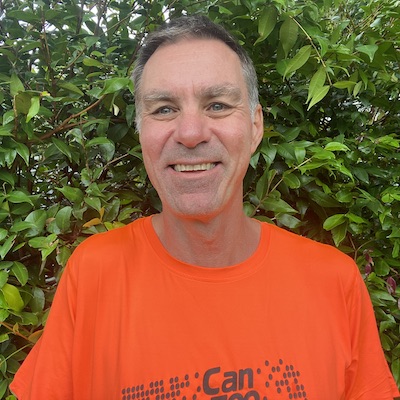 Paul Rose
Chief Executive Officer
Paul has more than 30 years of domestic and international executive leadership experience having worked for blue chip multinational organisations including Cadbury Schweppes, GlaxoSmithKline, and Pfizer. His most recent position prior to joining Can Too was as Global President for Pfizer Consumer Healthcare. He has a degree in Business Management and extensive Board experience.
Paul has a passion for keeping fit and enjoying the great outdoors. His love for adventure and discovery has taken him to more than eighty countries around the world, whilst his enjoyment for trekking has seen Paul complete the Kokoda Track, Mt Kilimanjaro, and Everest Base Camp, just to name a few. When he's back down at sea level Paul remains active by involving himself with kayaking, running, and playing golf.
Paul is also a cancer survivor having been diagnosed with three separate cancers in 2020. Early detection, surgery and radiation treatment led to each cancer being non-invasive and Paul has made a full recovery.
According to Paul "Joining the Can Too Foundation and combining my passion for mental and physical health through wellness empowerment, whilst raising vitally needed funds to support the research, prevention, care and control of cancer is both an honour and a privilege".
Gavin Le Roux
Finance Manager
Gavin has over 20 years of experience in finance across a range of industries including cellular agriculture, real estate and funds management. His most recent positions include the senior financial controller at Vow Foods and the CFO of New Forests prior to that. He is a member of CAANZ and holds a B.Comm (Honours) degree from the University of Natal in South Africa.
Gavin enjoys running and being outdoors and also helps out at the local junior rugby club.
"I have seen many orange Can Too runners in so many runs over the years and have always been blown away by their close supportive community and spirit. I am so excited to be joining Can Too and am looking forward to being part of this amazing community playing such an important role in physical and mental health and cancer research funding."
Claire Moulsher
Programs Manager
Before 'retiring' to Australia in 2014, Claire was a Deputy Chief Crown Prosecutor in the Crown Prosecution Service in the UK, having spent 18 years as a lawyer in the Criminal Justice System.
After a brief stint as a law lecturer at the University of Sydney, Claire worked as Operations Manager for her friend's events company. That friend led her to Can Too. Claire joined the 2018 SMH Half Marathon Program and has never looked back, completing two further half marathons and a handful of 10km events. She is looking forward to joining a Learn to Ocean Swim Program very soon!
In March 2020, Claire joined Can Too.
"In my role, I get to share my new-found passion for running with our community and see, first-hand, how incredibly satisfying it is to lead a program. Having captained programs myself, I know that there is nothing more rewarding than helping participants, new and experienced, achieve their goals."
Robin Nicholls
New and Emerging Programs Manager
Robin started with Can Too in the Ocean Swim program in 2015. He initially joined to improve his confidence and ability in the open water and has stayed because he loves the accountability of a supportive training group and for the many friends he has made. He is a keen ocean swimmer but says he has as much chance of winning a race as a rocking horse at the Melbourne Cup.
Robin has experience as a travel agent and in IT and has now brought his sales and tourism skills to the Can Too team.
"I couldn't be happier about joining the Can Too team and the fight against cancer. Cancer is an indiscriminate bastard and I'm sick of it doing bad things to good people."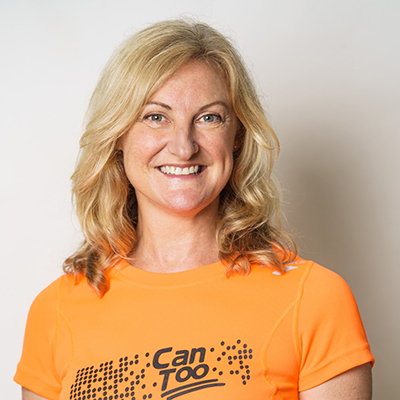 Penny Nolton
Coaching Manager
As Coaching Coordinator, Penny is responsible for sourcing the best coaches in New South Wales to ensure our Can Too-ers get over the line on race day fit, smiling, and injury free.
Before coaching, Penny had a career as an Art and Artefacts restorer working in Australia's top museums but decided to leave the world's treasures behind to pursue her passion for helping people achieve goals they never imagined possible.
A keen cyclist, Penny isn't opposed to throwing on Lycra of any kind and is often seen on the running track or in the swimming lanes encouraging our Can Too-ers.
Amy Bridle
QLD Program Manager
Amy has been the Brisbane Program Manager and Run Coach since 2010 when we first started Can Too in Brisbane.
Amy spent 7 years in Corporate Marketing and Event Management before pursuing her love for health & fitness in 2009 and started her own Personal Training Program. A lifetime of running means Amy feels right at home on land, not in water. However it was Can Too that helped her succeed at completing a 2.5km open water swim.
'Being a Coach and Program Manager for Can Too has given me the opportunity to meet some amazing participants, coaches and of course Researchers. But being on the participant side as well has really left the biggest impression and a renewed appreciation of going outside your comfort zone and achieving something I never thought possible'
Kirk Zhao
Bookkeeper
Kirk (pictured here with his family) started with Can Too in late 2015. He holds a Bachelor of Finance and Master of Commerce. He is also a member of the CPA. He performs all processing of financial transactions for the Foundation.
"I'm very proud of being a Can Too-er. At Can Too I've met incredible participants and work with amazing colleagues. I love the spirit of Can Too, to set a goal and never give up, you Can Too!"
Kirsty Panting
Digital Marketing Coordinator
Before joing Can Too Foundation, Kirsty dabbled in the fashion industry working in magazines and styling. Kirsty soon found her passion for the health sector, that's where she discovered Can Too Foundation. She holds a bachelor's degree in digital media and communications, and a Certificate IV in business majoring in fashion.

Kirsty isn't afraid to put on a cossie or lace up her running shoes.
"I'll be entering my first ever marathon this year! You bet that I'll be wearing the infamous Can Too orange on the day"
Robby Gee
Core Programs Manager
Robby began her Can Too journey in 2012, when she joined her first swim program, has been an active participant ever since and became an employee in 2023. Since her first Can Too program, she has captained and mentored multiple swim pods and 'dabbled' in some runs. She brings over 20 years experience in tourism marketing, fundraising and events, most recently working with Wild Women on Top (Coastrek) and working closely with various charity partners.
Robby has a passion for active travel – with her highlights most definitely swimming with humpback whales in Tonga and trekking the Inca trail. She is an active walker and trekker although is now happiest when bobbing in the ocean.
"Through Can Too I found a community of positively minded people who are prepared to step out of their comfort zones, embrace life fully and make a difference. Can Tooers are not necessarily athletes; they are embracing the opportunities available to them and often challenging fears and perceptions. I am inspired by people; Can Too is the perfect example of the collective power of people, to support and encourage each other, to achieve greater goals and make an impact. To be involved in that is such an honour."
Lisa Polyblank
Office Manager
Lisa has many years of administrative experience which includes positions within the NSW Education Department and Competition Manager at Water Polo NSW. In recent years, Lisa applied her Master of Counselling in her work with First Nations Peoples, most recently a position at Wayside Chapel.
Lisa has enjoyed and attempted many forms of aquatic exercise, not always successfully. Her main involvement was playing, refereeing, volunteering and working with Water Polo community.
Her son introduced her to Can Too, expecting her to find it enjoyable but not thinking that she would end up working there is less than 3 years.
"Since joining my first Can Too swim pod, I have had the pleasure of meeting many wonderful people and am grateful to be able to call them friends. I have seen friends conquer their fears supported by the amazing coaches and experienced participants. Can Too has rekindled my enjoyment of ocean swimming, which I get to enjoy with others, improve my fitness and continues to create challenges."