The Can Too team is a dynamic group of people passionate about making a difference. We all believe strongly in the Can Too philosophy of fun, fitness, friends and fundraising. Our mission is to engage and inspire individuals and the community to achieve personal health, wellbeing and altruistic goals. We enable and assist fundraising to support innovation in the prevention, care and control of cancer.
Peter McLean
Chief Executive Officer
Peter has a background in State and Local Government as well as the association and not-for-profit industry. After a number of years in State and Local Government, Peter worked for Keep Australia Beautiful where he spent 11 years followed by running the Compost Industry Peak Association before moving into the Rule of Law Institute of Australia as CEO. Peter is also an independent Audit and Risk Committee Member on Shoalhaven and Federation Council.
In the various organisations which Peter has run, he has a proven record in strengthening the organisations public profile, relevance, program reach, funding diversity and financial sustainability.
Peter holds a degree in Environmental Management, a Masters in Business Administration sub-majoring in Business Law and Public Relations and Certificates in Bush Regeneration and Business Governance.
Peter is passionate about assisting and developing effective organisations to better support the communities they serve.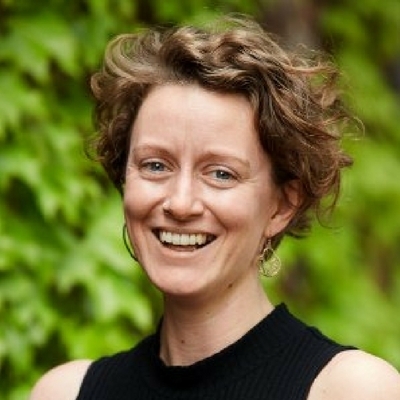 Meredith Downes
Partnerships Manager
In her first week with Can Too, Meredith donned the Can Too swimmers for the 2017 North Bondi Ocean Swim and was hooked. Not only on the swim, but on the incredibly welcoming, enthusiastic and inspiring Can Too community.
As the Partnerships Manager, she has no trouble talking about how fabulous Can Too is!
"I just love the positivity and great sense of community throughout Can Too. From the training pods to the office, everyone totally embodies the Can Too values – Fun, Fitness, Friends and Fundraising. It's so exciting when I speak to someone about Can Too and they understand how great it is!

"Last year Can Too raised $1.83 million for early-career cancer researchers and major cancer research projects. All the participants and donors deserve a huge congratulations – they're changing the lives of future generations by investing in vital cancer research."
Gary Trenaman
Finance Manager
As a keen triathlete and fundraiser for charity, Gary is closely aligned with the Can Too principles of improving health and wellbeing in the community and supporting the research, prevention, care and control of cancer. Gary joined the Can Too team in 2015, overseeing all financial processes and analysis. Gary has a Bachelor of Commerce, an MBA and is a member of CPA Australia. He has also completed the AICD Company Directors Course, is a former Board member of a Not-For-Profit organisation and a long term community volunteer.
"I love pulling on the orange surrounded by the buzz of anxious or excited Can Too participants before an event. Like my colleagues at Can Too I believe that everyone can experience athletic achievements that they never thought possible. I encourage you to set your goals high and take your first step by getting involved in one of our very personalised and motivating training programs."
Josan Abels
National Program Manager
Josan first trained for a marathon with Can Too in 2009, and is now in charge of our national training programs. Responsible for the day-to-day running of our programs and events, Josan has her finger in every pie.
A background in corporate events and community programs for large corporations has held Josan in good stead to manage the ever-changing demands of Can Too! No two days are the same for Josan and she wouldn't have it any other way.
Still training for and running marathons with Can Too, Josan loves meeting all the different types of people that take up the challenge and push themselves for cancer research.
Marty Pinkstone
Marketing & Communications Manager
Marty joined Can Too in 2015 with a broad background in marketing, communications, and events. Marty was signed up to the Sydney Ocean Swim by a workmate. What was just a personal summer challenge at the time turned out to be a pivotal moment that changed the entire course of his life.
"I was a heavy smoker, unfit, new to Sydney, feeling disconnected after an unplanned two year sabbatical living on a tiny island in Thailand. When I signed up for the ocean swim, I genuinely didn't think I'd make it through the program let alone the race. Yet 14 weeks later I'd smashed a 2.7km ocean swim, made new friends, met my (now) wife, and supported cancer research and three years later I've even run a marathon. Training for endurance events with Can Too has taught me a lot about life: balancing determination with patience, confidence that comes from putting yourself out there, and that if you believe in yourself we're all capable of a lot. I love being out in orange on race day and getting cheered on by my fellow Can Too-ers — there's just nothing like it!"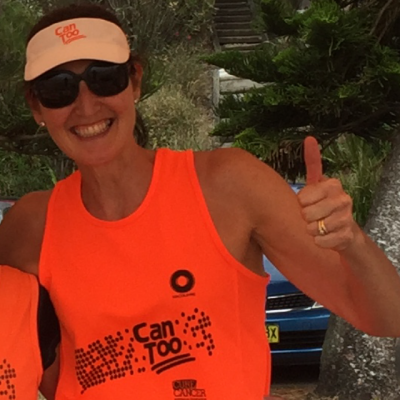 Sharon Head
Program & Fundraising Coordinator
Sharon came down to Sydney from Darwin seven years ago with her husband David – another Can Too tragic – and has now completed 7 Can Too training programs including a half marathon and ocean swim.
Citing her sister Kathy – who has completed twelve programs and raised over $20,000 for Can Too – as her inspiration to sign up, Sharon found she was a natural fit for the community.
It wasn't long until Sharon started working for Can Too as our go to guru for fundraising, program delivery, and Chief Cheering Officer at the Can Too victory tent congratulating participants as they finish their goal event!
Simone Abrahams
Team Captain & Mentor Coordinator
An avid runner, Simone can often be found on a Wednesday night or Saturday morning in an orange Can Too singlet training and supporting one of the Can Too pods around Sydney.
As Can Too's Team Captain & Mentor Coordinator, Simone helps source, and support, fantastic volunteers who become our leaders on the ground locally in each Can Too group.
With a history working in not-for-profit organisations, Simone connected with Can Too after founder and chair Annie Crawford gave a speech at a school fundraiser. Can Too's philosophy resonated with Simone, she decided to volunteer her time coordinating guest speakers before joining the team part-time in her current role in late 2016. After losing her father to cancer, Simone finds her work with Can Too supporting cancer prevention and research even more rewarding.
Penny Nolton
Coaching Coordinator
As Coaching Coordinator, Penny is responsible for sourcing the best coaches in Sydney and Melbourne to ensure our Can Too-ers get over the line on race day fit, smiling, and injury free.
Before coaching, Penny had a career as an Art and Artefacts restorer working in Australia's top museums but decided to leave the world's treasures behind to pursue her passion for helping people achieve goals they never imagined possible.
A keen cyclist, Penny isn't opposed to throwing on Lycra of any kind and is often seen on the running track or in the swimming lanes encouraging our Can Too-ers.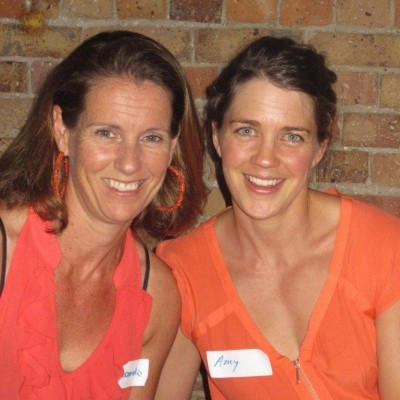 Amy Bridle
Brisbane Program Manager
Amy has been the Brisbane Program Manager and Run Coach since 2010 when we first started Can Too in Brisbane.
Amy spent 7 years in Corporate Marketing and Event Management before pursuing her love for health & fitness in 2009 and started her own Personal Training Program. A lifetime of running means Amy feels right at home on land, not in water. However it was Can Too that helped her succeed at completing a 2.5km open water swim.
'Being a Coach and Program Manager for Can Too has given me the opportunity to meet some amazing participants, coaches and of course Researchers. But being on the participant side as well has really left the biggest impression and a renewed appreciation of going outside your comfort zone and achieving something I never thought possible'