Can Too was founded by Annie Crawford in 2005.
"After living overseas for several years, I returned to Australia and decided that rather than re-enter the paid work force I wanted to "make a difference". I had a plan to combine my passion for running and fitness with raising money for a non-profit organisation. My father died of bowel cancer at 51 years old so I wanted to support a cancer foundation.
"I was impressed with the work of Cure Cancer Australia, funding breakthroughs by supporting young and brilliant Australian scientists. With the support of the Macquarie Group Foundation we forged a formidable partnership and Can Too Run was born!
"In 2014 we established the Can Too Foundation as an independent health promotion charity. Our goals are to create a healthier, fitter community and fund bright, innovative cancer researchers. I'm extremely proud of what the Can Too community has achieved, providing vital seed funding to support young early-career researchers with innovative ideas, enabling them to pursue projects that are the most promising in their potential to cure cancer."
Annie Crawford's Personal Awards
In 2013, Annie was awarded a Member of the Order of Australia (AM) in the Queen's Birthday Honours.
Annie has been nominated for several awards including Australian of the Year in 2010 & 2012, Telstra Business Woman of the Year and Women of Style Awards in 2011.
Annie won the Rotary Most Inspirational Woman and the Sydney University Alumni Award in 2011 and was voted in the 100 Women of Influence by the Financial Review in 2012. She was inducted into the Business Women's Hall of Fame.
Annie's Speaking Engagements
Annie Crawford is an accomplished public speaker and addresses a number of topics including: philanthropy, motivation, building small business, leadership, and women in business.
Among others, Annie has recently had the pleasure of speaking for the following occasions/businesses:
Commonwealth Bank of Australia - Women in Leadership Program
Macquarie Bank Corporate Communications Investor Division
Macquarie Group Foundation Day
Women in Leadership Conference
Sydney Water Leadership Forum
Australian Communities Forum
CEO Institute
NAB Women's Investing Seminar
Sydney University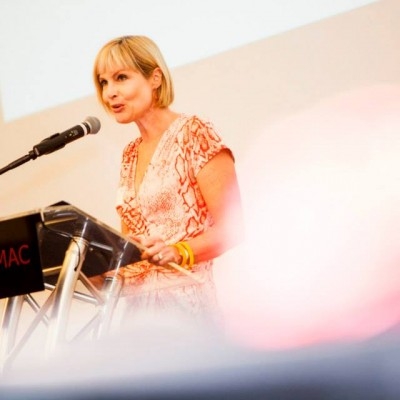 About The Annie Effect
Ever thought about running a marathon, doing an ocean swim, training for a trek or completing a personal challenge? If you think those things might be beyond you, think again! In this intensely personal memoir, Annie tells her own life story and how her experiences and beliefs led her to develop a life that gave her a sense of greater purpose.
Annie Crawford turned her love of running into an organisation that has changed the lives of thousands of people. Can Too is a non-profit program that has trained over 16,000 people and raised more than $21.5 million – funding 158 cancer researchers and counting.
She's also learned the joy of giving back through her involvement with other not-for-profit organisations that have enriched her life. If you've never thought you were capable of doing something extraordinary, Annie's story will change your mind. You Can Too!