Can Too was founded by Annie Crawford in 2005.
"After living overseas for several years, I returned to Australia and decided that rather than re-enter the paid work force I wanted to "make a difference". I had a plan to combine my passion for running and fitness with raising money for a non-profit organisation. My father died of bowel cancer at 51 years old so I wanted to support a cancer foundation.
"I was impressed with the work of Cure Cancer Australia, funding breakthroughs by supporting young and brilliant Australian scientists. With the support of the Macquarie Group Foundation we forged a formidable partnership and Can Too Run was born!
"In 2014 we established the Can Too Foundation as an independent health promotion charity. Our goals are to create a healthier, fitter community and fund bright, innovative
. I'm extremely proud of what the Can Too community has achieved, providing vital seed funding to support young early-career researchers with innovative ideas, enabling them to pursue projects that are the most promising in their potential to cure cancer."
Annie Crawford's Personal Awards
In 2013, Annie was awarded a Member of the Order of Australia (AM) in the Queen's Birthday Honours.
Annie has been nominated for several awards including Australian of the Year in 2010 & 2012, Telstra Business Woman of the Year and Women of Style Awards in 2011.
Annie won the Rotary Most Inspirational Woman and the Sydney University Alumni Awardin 2011 and was voted in the 100 Women of Influence by the Financial Review in 2012. She was inducted into the Business Women's Hall of Fame.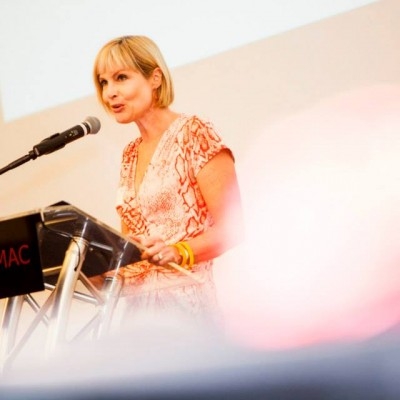 Annie's Speaking Engagements
Annie Cawford is an accomplished public speaker and addresses a number of topics including: philanthropy, motivation, building small business, leadership, and women in business.
Among others, Annie has recently had the pleasure of speaking for the following occasions/businesses:
Commonwealth Bank of Australia - Women in Leadership Program
Macquarie Bank Corporate Communications Investor Division
Macquarie Group Foundation Day
Women in Leadership Conference
Sydney Water Leadership Forum
Australian Communities Forum
CEO Institute
NAB Women's Investing Seminar
Sydney University
"How Fantastic To Do Something So Positive"
She hails from a rather boisterous family that included seven kids, but Annie Crawford was a nervous child who never took too many risks or had any desire to be in the spotlight.
All that changed in 1979 when Annie's father "Gruff" aka Graham wanted to experience more than just a successful career in law and decided to take his family travelling around Europe in a kombi van for a year.
"My dad showed you can take risks," Annie says. "It shaped me to be the person I am today."
The girl from Sydney's North Shore caught the travel bug and her eyes were opened to the injustices of the world. After university, she became a social worker, landing a job in a youth refuge in Sydney's Paddington.
In 1987, Annie was hit with the news that her dear dad had bowel cancer and was given just one to six months to live.
"They didn't treat him – there was nothing they could do," she says. "He only lived for two months after the diagnosis. It was a complete shock."
Graham died at the age of 51 and his family was left reeling.
Annie knew life had to continue. She married Simon and had her own kids – Ben, Jesse, and Tommy.
The family lived in Switzerland and America before returning to Sydney in 2003. Annie decided she wanted to do something that would benefit the community around her.
By now, she was an accredited running coach and self-confessed "running addict". She'd started distance running in her twenties and kept it up.
"Running keeps me sane – I couldn't live without it," she says, and still runs up to 50km per week.
Annie's passion for fitness and strong desire to make a difference were harness in a nugget of an idea.
"One day I was talking to a friend about how people always want to do things but think they can't and we challenged this idea with the words 'Can Too' – you can too run a marathon and you can too cure cancer," she says.
She realised she could match fitness incentives with a good cause, such as raising funds for cancer research - and realised also that such a concept would resonate with fitness-crazy Australians.
And so Can Too was born.
The non-profit organisation provides qualified and experienced coaches to people who train for specific physical challenges, such as running races, ocean swims, or triathlons.
In return for the professional training programs, participants raise funds for much-needed cancer research.
"There were so many times where I thought it wasn't going to get off the ground. The fear was palpable," Annie admits. But the memory of her dad and how he taught her to think positively and take risks kept her going.
Her first training program attracted 54 people and raised $105,000. She knew she was on to something. Now Can Too has trained more than 14,000 participants and raised more than $18.5 million – enough to invest in 147 Aussie cancer research projects.
Lots of brilliant stories have come out of the training sessions, from the inspiring tale of overweight Laurie who could barely walk 400m and now does Iron Man challenges, to Clare who joined up to honour her sister-in-law who was diagnosed with cancer and then found love with fellow 'Can Tooer' Brad.
"There's an incredible sense of community, so people stay in touch. I'm still friends with people from our first program," Annie reveals.
This year, she's piloted new music program Can Too Sing and written a book about her life, The Annie Effect, in which she talks about the amazing transformative powers of fitness, including its ability to alter a person's mental state. "I loved the idea of the beauty of exercise and what it does for people in terms of mental and physical health," she explains.
Can Too provides a unique support base for the many Australians who have been touched by cancer, but it also helps a lot of people with their fitness goals. Thousands who were overweight and battled a negative self-identity can now run marathons, which is remarkable.
"It's fantastic to be part of something so positive," Annie says proudly.
The campaigner has been awarded the Member of the Order of Australia and been nominated for Australian of the Year twice but she remains humble: "I've always just wanted a role that gave me a sense of meaning in my life, where I can try to make a difference.