Can Too Beyond
Whether you are training for an Ironman, hosting a ball, or teaching people a life-skill -- Can Too Beyond has all of the tools to help you maximise your fundraising journey.
Training with Can Too Beyond gives you all the infrastructure and support you need to reach your fundraising goals, but with the freedom to choose and pursue your own goal event. Unlike traditional the program offering, there is no minimum fundraising requirement. All funds raised for the Can Too Foundation aids in supporting health promotion and early career cancer researchers.
With the ability to compete individually or with friends, participants in Beyond become Can Toorists and travel interstate or overseas to participate in goals not available in our professionally coached offering.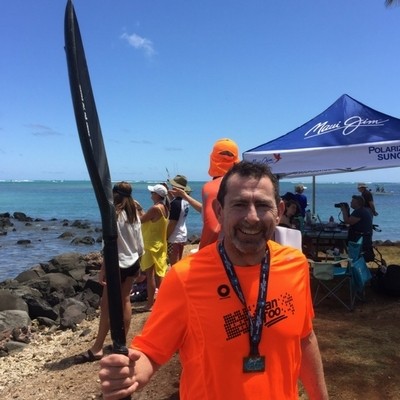 Nick Abrahams, 2017 Molokai Challenge, Hawaii
Pod sponsor Ben Stammer w/ Barb & Denise at the 2017 Outback Marathon
Woody Lo, 2015 Challenge Melbourne (half IronMan event)
Do something sporty
Been eyeing off an Ironman competition or international marathon? Push yourself even further in your challenge by fundraising for cancer research!

Donate your birthday
Set up a page through Can Too Beyond for your friends and family to celebrate your birthday or wedding by supporting cancer researchers!

Got a better idea?
Fundraising through Can Too Beyond doesn't have to be a physical goal event. You're only limited by your imagination in Can Too Beyond!
To take Can Toorism to the next level, the Can Too Foundation partnered with Huma Charity Challenge in 2017 to craft physical adventure challenges that push participants further than ever out of their personal boundaries to discover new worlds, new landscapes and new cultures all while fundraising for cancer research.
In late 2017, 11 Can Too-ers trekked for 23 days through Nepal to Everest Base Camp and, perhaps even more challenging, forewent a shower for 17 days to raise over $60,000 for the Can Too Foundation.
Following on from the success of Everest Challenge, the Can Too Larapinta Trek sold out in record time.