15,000+
Lives Transformed
We Invest In Fighting All Cancers
Can Too Foundation believes in funding research across all cancer types, including rare cancers. We support early-career cancer research grants and major cancer research projects for one year at a time, with a commitment to continue providing support in future years for multi-year grants and projects.
Current Beneficiary Partners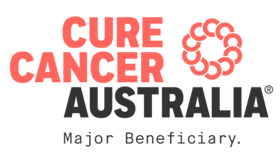 Can Too Foundation's major beneficiary is Cure Cancer Australia, supporting 152 one-year grants for brilliant early-career cancer researchers since 2005. Cure Cancer Australia identifies, assesses and funds the research they believe has the best possible chance of finding a cure. They share Can Too's commitment to funding research for ALL cancer types and ALL areas of cancer research. That's why Cure Cancer Australia was founded in 1967, and that's why — as they celebrate their 50th anniversary in 2017 — they're more passionate than ever to play a part in funding a cure for every cancer, for every Australian.
Cancer Council NSW has collaborated with the Can Too Foundation since February 2014, with four rounds of one-year funding support for major cancer research projects including A/Prof Phoebe Phillips team leading a breathkthrough in pancreatic cancer. Together we are developing and delivering new fundraising programs in the health and fitness space that engage members of the community to take part in fitness events to encourage a healthy lifestyle while raising funds for cancer research. Our programs aim at encouraging people to take up or maintain exercise as part of a healthy lifestyle to reduce their chances of being diagnosed with cancer.
Children's Cancer Institute's vision is to save the lives of all children with cancer and improve their long-term health, through research. Can Too Foundation has partnered with the Children's Cancer Insitute, teaching new open water swimmers to take on the Balmoral Swim for Cancer at the end of summer. Training for the 2019 event these amazing swimmers raised over $125,400 for cancer research and prevention.