Congratulations to the approximately 200 Can Too swimmers who conquered the 2021 North Bondi Classic on 14 February, to raise over $408,000 for Australian cancer research.
Just like love the Valentine's Day swim was scary at first. The rough conditions making it a rocky start which made for an ecstatic finish.
Can Too, CEO Peter McLean said that the challenging swim reaffirmed many Can Tooers love for ocean swimming.
"It was great to see a lot of first-time Can Tooers who found the goal a challenge but a highly rewarding experience to finish the swim," said Peter.
One of the first-time swimmers Sharni McDermott shared a series of stories on her Instagram page about her journey with Can Too and how proud she was to become an ocean swimmer.
"I did It!!!," posted Sharni, see below, as part of Can Too's Post your Pics to Win competition.
In another post she shared: "So proud of myself for completing this program. It's been so challenging both physically and mentally, but I've loved every moment."
She also achieved her goal on race day to complete the 1km swim in under 30 minutes.
Fellow Can Tooer Hany Yacoub who completed the swim with his 12-year-old son Zach (pictured below), said that despite the rough conditions he felt safe with 'our Can Too family around us'.
"I Can Too for the family presence, Can Too is a second family, they support everything we do, they have supported my three boys through three different programs," said Hany.
We live the values of Can Too, we're advocates for research for cancer and Can Too does that the best and it promotes a healthy lifestyle. Now my un-sporty boy has become sporty with Can Too. I appreciate all the support and good will that comes with Can Too."
5K Hall of Famer Martin Gillespie (pictured below) shared that his swim was exhilarating, choppy, hard work, where he said a few bad words, but it was fantastic to be with his fellow brothers and sisters raising a quid for cancer research in the process.
He joined Can Too because eight-years-ago he was diagnosed with stage four cancer.
"To be able to be living, be present and actually be engaged raising money so people don't have to go through chemotherapy, immunotherapy or face cancer is a fantastic cause."
Can Tooer Liz Story, pictured below with her orange angel wings, wrote her two friends names Tess and Jules, one on each arm to be reminded that she was swimming for them.
Tess died in March last year from cancer, and Jules did as well on 21 January this year.
She said that the swim was epic, that getting out was tough, there was a big current to the left and there was lots of sea weed.
"I swallowed lots of water, got a couple of stings but in the end I got a wave in. Whenever I thought 'what I am doing this for' I thought about my friends Tess and Jules," said Liz.
"I Can Too because you're fundraising for a cancer researcher and that's what's so important as they're looking for a cure and better treatments, and to meet the researchers and know that you are helping them is great."
Thank you to the 380 Can Tooers who took part in the Sydney Learn to Ocean Swim program and raised funds for cancer research.
The Ambassador for the upcoming Autumn Swim Program is Can Too funded cancer researcher Dr Emmy Fleuren. Emmy will be swapping her lab coat for a beach towel as she joins Can Too's Autumn swim Program as a participant.
It will be the first time the Senior Scientist takes on the goal of completing an ocean swim, the Sydney Harbour Splash on 25 April by training with Can Too. She decided to challenge herself to support the Foundation who has funded her research for two years at the Children's Cancer Institute.
The sold-out Autumn Swim program starts next week however there are some limited places in the Balmoral 5km swim program at the ABC (Domain) and Sans Souci pods, find out more.
Slideshow of photos from the North Bondi Classic swim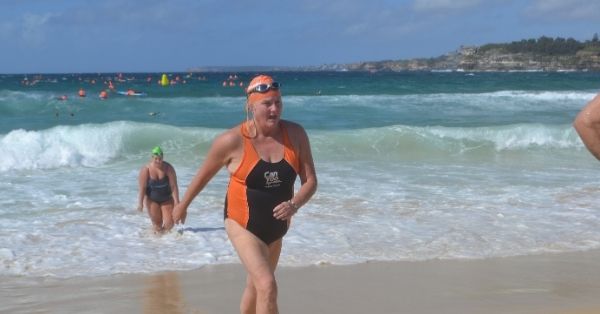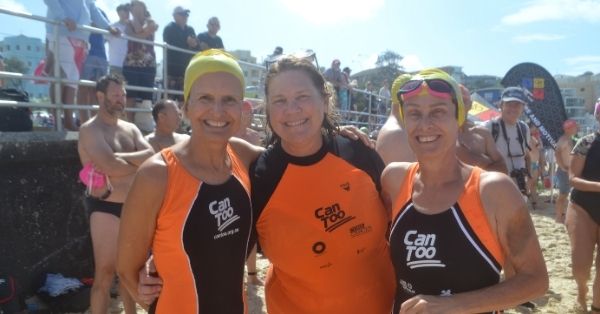 Julia shares her love for Can Too at her first official ocean swim goal the North Bondi Classic on Valentine's Day 2021 - video interview