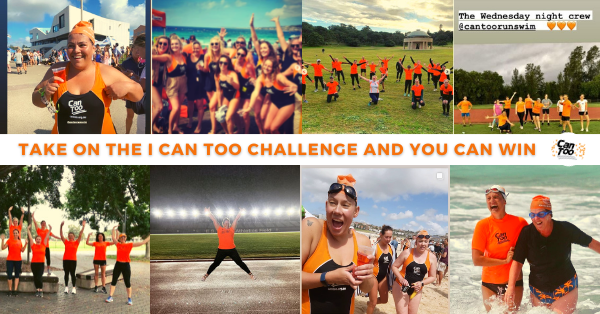 Share your Can Too journey to achieve your goal on Instagram and Facebook and you can win.
You've shown dedication to train for your Can Too goal, an ocean swim, trek, full or half marathon or 10km run, as well as fundraising to help beat cancer but have you got what it takes to take on the #Icantoochallenge?
Participants in the Blackmores 10km and Half Marathon, Queenstown Marathon and Glasshouse Mountains Trail programs are invited to complete the I Can Too Challenge for a chance to win a prize pack.
The prize packs up for grabs are:
1 x free future Can Too program registration,
$100 gift card and
The Annie Effect book by Can Too Founder, Annie Crawford.
It's simple to enter:
Or use hashtag: #Icantoochallenge
(Optional) Answer one of the challenge questions below
Share a photo or video from your goal event
Plus extra points if you share a post from your fundraising star or Hall of Fame presentation.
The Can Too office will announce the winners the week after the program goals are completed.
For inspo see some competition posts and winning entries following including a slideshow of posts, further below.