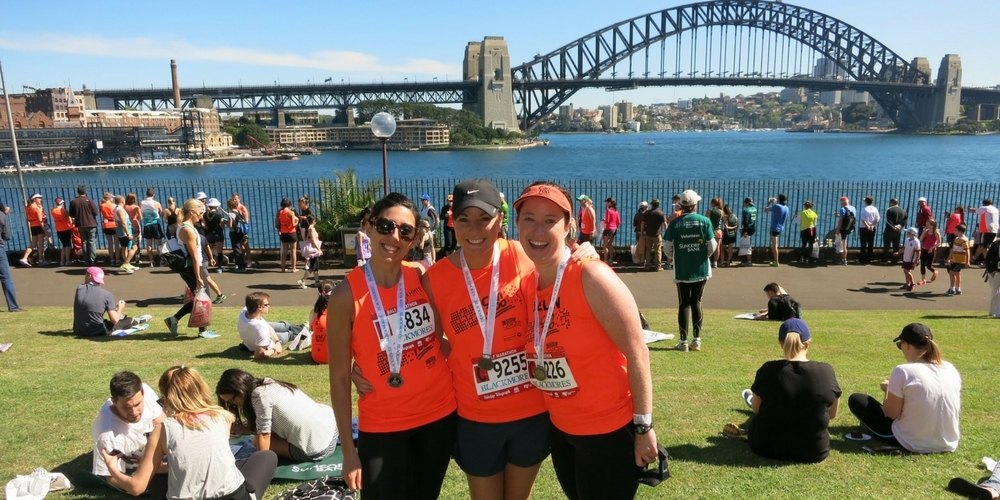 Since 2005, Can Too has trained thousands of participants just like you for the Blackmores Sydney Running Festival.
Where else in the world can you kick off a race with a run over the Sydney Harbour Bridge and finish at the Sydney Opera House? (…obviously nowhere else!)
The Blackmores Half Marathon course takes in some of the best sights that Sydney has to offer. If you like the Sydney city skyline and harbour then this will be a mentally stimulating and rewarding course to run.
You take in the Sydney Harbour Bridge, Hyde Park, the city (without traffic and pedestrians - bliss!) including Macquarie St and Darling Harbour!
Can Too's 14 week training program will ensure that you make it across the finish line fit, smiling and injury free.
How Far Will You Run To Fight Cancer?
Bridge Run
14 Weeks
Starts in June
Marathon
14 Weeks
Starts in June
What to Expect On the Course

At the start, resist the urge to race up the hill and get puffed too quickly. Take it slow and steady, you'll soon be to the midpoint of the Harbour Bridge and enjoy a nice downhill section.
There are two main hills to tackle throughout the course (the climb onto the bridge at the beginning and the Western Distributor flyover around the 10km mark). The hill work done during your Blackmores training program will pay off as you power through them, and hit the peaks with energy to burn! Hill work also builds stabiliser muscles and makes the flat sections that much easier too. (You can never do too much hill work!).
At the downhills, remember while you can go faster for less effort, increase your cadence (foot turnover rate) so you don't land too heavily and hurt your quads and knees.
There are plenty of twists and turns through the city sections. Coupled with large crowds these can create bottlenecks - always be aware of where your feet are as gutters and other obstacles are less apparent when you're running in a crowd (and can be painful).
The Blackmores Half Marathon route also has long flat sections throughout the course, so when you hit one set your pace accordingly and stick to it.
Potentially the toughest bit of the race is the Pyrmont section (roughly 11-15km in) and that coincides with where your energy levels may start flagging also. Be sure to fuel up here, smile or chat to another runner, get pumped by the crowd and any live entertainment.
Once you're through this section, you're in the final quarter of the race and can focus on coming home strong. In particular, the final 7km is as flat as any other race you'll find. This is where you can dig deep, get on your ideal pace and stay there. It might hurt, but you'll be proud of yourself if you run a strong final leg.
Check out the Blackmore Half Marathon course map below, so you can get excited about all the great stuff you'll be seeing on race day!
Mental Strategies When the Going Gets Tough
We're all different in how we pick up ourselves up mentally when we need it. Here are some suggestions that have worked for me when a race gets tough.
Your Mantra. This is something powerful to you to repeat in your head (e.g. "fast feet to the finish", "light and quiet") – the mantra should be your own and short enough to repeat every few steps. The more the words mean to you personally the more it will help you on race day.
Run with New Friends If you're pacing yourself well and somebody else around you is doing the same pace, ask them how their race is going! I've made many race day friends this way, and it always helps me pass time and 'zone out'... which means that sometimes many KMs have gone by when I'm not even thinking about it.
Running is more fun with friends
When you Refer-a-Friend to join a Can Too program as a first-time participant we will reward you with 25% off your fundraising. The more friends you bring the more you are discounted.
Use the Crowd. Get some of those free 'high fives' and personalised cheers from the crowd along the barriers (if you're smiling, you're distracted enough to keep running)
Time Cut-Offs and Drink Stations
There are plenty of drink stations (start, finish and 5 on the course) on the Blackmores Half Marathon route, so make sure you take in the right amount of fluid and food (if any) that you've been training with. Don't try anything new on race day. If you don't need water at each and every station you can shave off a little time (I typically do ever second one myself), but be safe, sensible and don't put your overall race strategy at risk for this. Just do what you've been doing in training.
In terms of cut-off times, for the Blackmores Half Marathon the overall pace to get through the course without any redirections is 7:49min/km. If you feel you might fall outside this then talk to the coach during your training program. Although any redirections will be made clear to you on race day, mentally it's better to be prepared just so you know what's in store.
Finally, I'll say it again … stick to your race plan – pace, fuelling, hydration. Whatever worked for you during training, do the same on race day. You've trained hard, so 'race easy'! Support each other out there, be safe and enjoy the race!
Can Too's Blackmores Half Marathon and 10km run programs open soon. Find out more and register your interest here.
Get Professionally Coached and Supported Today!
The Can Too Foundation is an independent health promotion charity committed to funding cancer research and prevention.
We offer professionally coached training programs across NSW and Queensland using qualified and experienced Coaches plus caring Mentors and Team Captains. In return, the participants raise money for cancer research and prevention.
Can Too trains all levels, from beginners to more experienced athletes, in structured training programs tailored to physical challenges such as running races, ocean swims, our own program grand finale goal events, trail running and walking, destination events and adventure challenges. You can even choose your own goal as a Can Too Beyond program.
Not sure which one goal is right for you? Have a look at all our upcoming Can Too programs and secure your place today!