We've raised nearly $6million training for Blackmores Running Festival.
We're successful because we care. We employ qualified coaches, recruit supportive volunteer leaders and work hard behind-the-scenes to make sure you have a great experience.
And our people love us back — last year alone we raised $245,513 for cancer research and prevention making us the highest fundraising team at Blackmores.
Every year, hundreds of beginners and experienced runners alike trust Can Too Foundation's programs to prepare them for the Blackmores Sydney Running Festival so they can focus on helping fund cancer research.
OUR SUCCESS STORIES
Every year hundreds of people like you trust Can Too to train them for Blackmores.
Pip
Blackmores 10km Bridge Run
"Cancer had made itself a big part of my formative years. As an adult faced with the opportunity to do something about it while achieving my fitness goal – I chose Can Too. I started with the Blackmores Bridge Run and haven't stopped since! I met so many people and now it's become an annual pilgrimage where we train and fundraise together."
Tim
Blackmores Half Marathon
"After my girlfriend trained with Can Too, I knew that the only way to inspire me to finish my goal of a Half Marathon, was with Can Too. This was a huge benefit; allowing me to complete my running goal and raise money for cancer research. Hearing why others joined was truly inspirational and I was motivated by their stories".
Dave
Blackmores Sydney Marathon
"I wanted to run a marathon but I wasn't fit and there was no way I could do it alone. After some research, Can Too seemed like exactly what I was after. The coach helped us achieve our goal, and the camaraderie of our team extended to the fundraising. Just as we supported each other in training, we joined forces and combined fundraisers."
YOUR SUPPORT TEAM
Our local leaders train alongside you, supporting you every step of the way.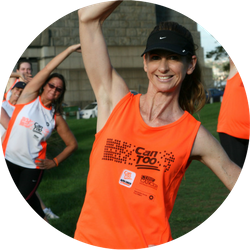 Question? Let's chat.
All our staff are regulars in our programs. We all started as beginners and faced the same challenges as you.
We love sharing our experiences and providing a little encouragement where needed.
If we can ... You Can Too!
We'd love to chat to you.