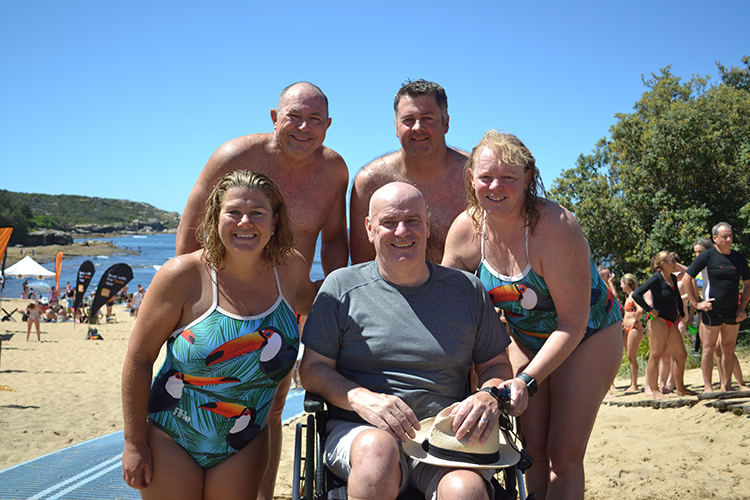 Mark Ellis (centre, front), at Malabar on 17 February 2019, with fellow Too Cans, John Cadden and Grant Campbell (l-r, rear), and Kim Cook (l, front) and Ellis' partner, Liz Crowhurst (r, front).
Tragically Can Too devotee Mark Ellis, who had been planning to swim the English Channel this coming winter as part of a Can Too Beyond program with his fellow Can Too team members and wife Lizzie Crowhurst, collapsed and died suddenly at his Sydney home this weekend.
His death at 54 has stunned his many friends and supporters.
Mark had a recent bout with ill health, which have kept him out of the water recently and confined him to a wheelchair when he left the house.
Mark was a Can Too Hall of Famer, last year raising $25,720 for Royal Rehab's Return2Sport Program and Can Too by swimming the 11km South Head Roughwater. In 8 1/2 years with Can Too, he raised over $50,000, and was a Mentor, Team Captain and recently the Centurion for the Balmoral 5km swim pod. He was a great inspiration to many Can Too swimmers, treading the road all the way from beginner ocean swimmer to leading surf lifesaver.
Mark knew only too well what it's like living with a disability. After fighting back from catastrophic injuries in his early life which meant he had to learn to walk again, in 2017 he suffered spinal cord damage from surgical intervention following a surf accident which left him a C3 ASIA C Tetraplegic, known as an incomplete quadriplegic.
It was a contrast from his youth, when Mark led a vital physical life, playing for England Schoolboys Rugby and for the Leicester Tigers.
Mark also was a Royal Marine, a period of his young life which gave him experience and a back-story that few would recognise. He served in Northern Ireland. In recent years, Mark began recounting his service with friends, in the hope that this would help him to deal with his experiences. He took pride in looking after the Canadian team at the Invictus Games in Sydney late last year.
In Sydney, Mark worked in banking with Westpac. Immediately prior to his injury, he was a patrolling member of Manly LSC, captaining Patrol #2.
Mark Ellis left his imprint on life.
Funeral arrangements are not finalised as yet.
Story courtesy of Oceanswims