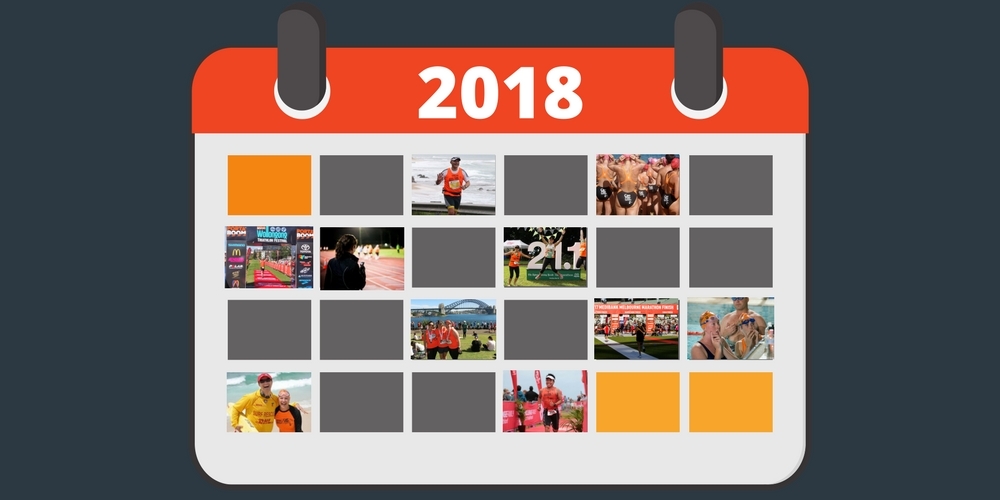 It's time to plan ahead!!!
With our Sydney Ocean Swim set to be the biggest season on record, we're getting a lot of enquiries from those who've missed out on a space about what the next available challenge is.
We've got plenty of exciting events in store for 2018. Our flagship events like SMH Half Marathon and Blackmores Sydney Running Festival are here to stay, but we're also launching an entry-level trail run in Sydney and Melbourne, taking the orange army to Europe for the first time ever with Berlin Marathon, and taking a small group to take on the Larapinta Trail Challenge.
It's going to be a great year for cancer research!
| | | |
| --- | --- | --- |
| Event | Starts | Info |
| Sydney Ocean Swim | 06 Nov 2017 | View |
| Canberra Times Marathon | 29 Nov 2017 | View |
| Sydney Sprint Triathlon | 12 Dec 2017 | View |
| Jabulani Challenge Trail Run | 30 Jan 2018 | View |
| SMH Half Marathon | 14 Feb 2018 | View |
| SMH Half Marathon Relay (7km + 14km) | 28 Feb 2018 | View |
| Can Too Sing | March 2018 | View |
| Melbourne Trail Run | April 2018 | View |
| Berlin Marathon | 02 May 2018 | View |
| Blackmores Sydney Marathon | 02 May 2018 | View |
| Sunshine Coast Half Marathon | 16 May 2018 | View |
| Glenbrook 25km Trail Run | 16 May 2018 | View |
| Larapinta Trail Challenge | 31 May 2018 | FULL |
| Sunshine Coast 10km | 13 Jun 2018 | View |
| Blackmores Half Marathon | 13 Jun 2018 | View |
| Blackmores 10km Bridge Run | 11 Jul 2018 | View |
| Melbourne Half Marathon | 11 Jul 2018 | View |
| Melbourne 10km Run | 8 Aug 2018 | View |
| Brisbane Trail Run | Sept 2018 | View |