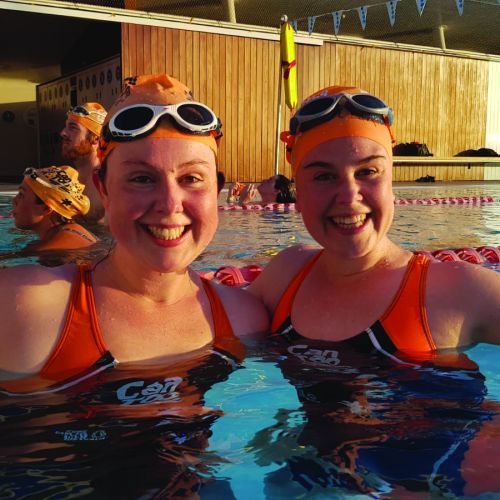 Sisters Julia and Claudia Harley are looking forward to crossing the finish line of the Bondi Blue Water Challenge on 28 April, to show that they Can Too complete a two-kilometre ocean swim together – their fourth time lucky attempt.
By diving into Bondi Surf Club's 2.1km swim this will commemorate their Can Too Learn to Ocean Swim program they completed together after suffering three event day setbacks. Their first goal swim event went sideways as only 800 metres from the Whale Beach shore during the 2.8km Big Swim, rumoured to be up to 3.3km, in January Claudia had an adverse reaction to some medication for a sore neck preventing her from completing the swim.
Then as ocean swimming is at the mercy of the weather gods the second ocean swim goal, the North Bondi Classic, was cancelled due to rough conditions as was their next swim the initial Blue Water Challenge in February. But they're looking forward to showing their perseverance to conquer the 2.1km swim on Sunday 28 April.
Claudia's big sister Julia re-tells the story of their Big Swim attempt where the water safety and fellow participants were so helpful and supportive whilst Claudia was struggling with illness.
"It was very hard for Claudia to swim and vomit at the same time," joked Julia. "But the water safety crew and fellow participants were phenomenal."
A participant offered to swim with Julia to support her back into Whale Beach after Claudia recovered on the surf life-saving boat, Claudia was fine afterwards but made the right call at the time.
"I swam the best I could by myself – it was the toughest thing I've ever done. I was getting tired and thinking 'why am I swimming after I lost the person I was doing it with?' It was lonely out there."
The Investment Advisor then found her determination thinking about the people that sponsored her and her client who has been diagnosed with breast cancer.
"Then the sun came out it was like a movie scene where the dolphins help the character to finish.
"I couldn't recommend the Can Too program enough, when I finished at Whale Beach a fellow Can Tooer was congratulating me then my mum asked me what time I did, a supportive Can Tooer cheerfully said 'she did her finish time'.
"That's the Can Too way: it doesn't matter what time it takes, it matters that you did it and conquered a goal you never thought you could do before."
She's now looking forward to completing the Bondi Blue Water with her sister. Julia was looking for a way to get fit and was inspired to learn to ocean swim after spending many family holidays watching her father complete the Byron Bay swim race.
"We were both working long hours and were stuck in the work-home-repeat routine so were not doing enough exercise."
They choose Can Too after hearing of a friend's positive experience where it was a social activity, fitness program and does good by raising money for cancer research.
"We didn't know what to expect at the first beach session, our coach Tim Lindop, energy champion Lizzy Walsh and team captain Ian Reynolds were fantastic, we couldn't ask for more. I was blown away by the level of water safety and coaching at the beach, we always felt safe."
"They said that 'it's OK to feel nervous', so then the nerves quickly left.
"We'll definitely do a Can Too swim program again, I was the one pushing to do it and Claudia came along for ride, but when we finished the program, she said 'let's do this again next year'. I bought her a swim watch so she can track where we're swimming and see how true to the course we swim for the Bondi Bluewater.