Can Too's Run into Summer – Brisbane participants triumphed on Sunday to complete their goal event the GC50 15km run at the Gold Coast.
Thank you to the 16 Can Tooers who hit their fitness and fundraising goals out of the park by collectively raising 42 per cent above their fundraising pledge, for cancer research.
Can Too Founder, Annie Crawford was thrilled to be able to attend the event, which was timely since the borders were recently opened to New South Wales.
"Sunday 6 December, was a triumph for our Can Too Brissie Team," said Annie.
"They all ran incredibly well and supported each other along the very hot and windy course. They all finished the 15.7km with bells on."
Can Too Queensland Program Manager, Amy Abrahams said that for the past 10 weeks, 16 committed Can Tooers trained hard in the Queensland heat under the expert tutelage of Can Too Coach, Jaryd Grantham, to prepare for the hot race day.
"What an awesome sight of orange there was on the weekend at the 15km GC50 Festival. The finishing line and fundraising efforts were definitely worth celebrating in Can Too style afterwards," said Amy.
Annie shared that the post-race celebrations at Can Too Life Member, Marion Burrows's house reflected the passionate spirit of Can Too in Queensland.
"All the members of the Can Too team brought delicious food to share – even homemade mince pies. The credit to the continued spirit of Can Too in Brisbane must go to Amy. It is because of her that people stay connected and live the values."
A special mention to the team effort of the Burrows family including Emily, who was Team Captain, Marion, Andrew and Margaret, who were all out in force in Can Too Orange on race day. Marion as a Life member, who has completed more than 15 programs is no longer required to keep fundraising, however she still raised over $600 in the Run into Summer – Brisbane program.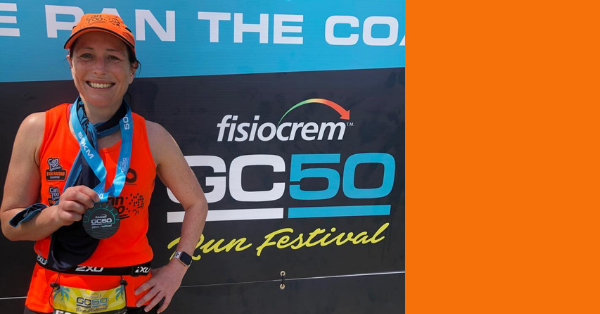 Pip goes beyond
We were also in awe of Can Tooer, Pip Bell who completed the 50km running goal on the day as a Can Too Beyond Program. She coined her personal challenge – '2020 year of the unprecedented', to raise more than $7800 for the Foundation.
Pip completed the 50km course in a time of 4hours 33 minutes which placed her as the 25th woman in the race. Her accolades also include becoming a $25k Can Too Hall of Famer, as she has raised over $28,000 for Can Too to benefit cancer research and prevention.
Annie Crawford also shared her congratulations to the new inductees into the Can Too Hall of Fame:
Melissa Birmingham - $5k

Jodie Cowburn – $10k

Andrea Garrett - $20k
Fundraising Stars from Run into Summer – Brisbane
Bronze $650
Amanda Sterling
Heather Writer
Jamie Marshall
Alex Honey
Andrew Burrows
Leigh Elliott
Linda Barr
Silver $995
Margaret Burrows
Jodie Cowburn
Andrea Garrett
A highlight of the Run into Summer program was a special event where the Brisbane pod (training group) met with cancer researchers from the University of Queensland including Laurette Chew, Mathew Jones, Dr Arutha Kulasinghe and Dr Fernando Guimaraes.
Dr Guimaraes is a 2020 Young Tall Poppy Science Award recipient and Dr Kulasinghe received the AusBiotech and Johnson & Johnson Innovation Excellence Awards in 2020 for adapting his immunology research to patients with severe COVID-19.
Can Tooer, Leigh Elliot shared that it is a highlight of every Can Too program to meet the researchers who receive funding through Can Too.
"Our Brisbane pod recently met a group of researchers who are doing the most amazing work to tackle cancer. The dedication and passion they show and the complexity of the work they are undertaking is astounding. It gives hope that many cancers will be, if not cured, able to be successfully treated," said Leigh.
"I am sure I speak for all Can Tooers when I say that talking to the researchers helps us realise that all those kilometres we walk, run, swim and ride, all the aches and pains and the funds we raise are going towards curing cancer. It also feels great when the researchers tell us how much they appreciate our efforts and how important Can Too funds are to their research."
Please see a carousel of images from the GC50 event and Hall of Fame presentations below.