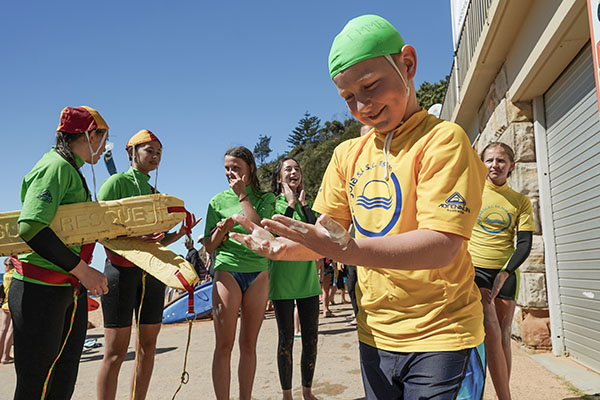 As the sun shone down on Bilgola Surf Life Saving Club (BSLSC) whilst the Nippers underwent their first surf training of the season, it was a poignant reminder that learning to ocean swim is a great way to experience vitality, good health, wellbeing and gain important skills needed to enjoy the Australian lifestyle. However, whilst doing so, it's essential to protect yourself from the sun, especially as Australia has one of the highest rates of skin cancer in the world, at 12 times more than the global average
The Can Too Foundation, who have launched their biggest learn to ocean swim program ever this month with 500 registrations, have partnered with Sunscreen Stations Australian (SSA) to promote an initiative to help protect more people from skin cancer.
The automatic sunscreen stations are the first of their kind in Australia which will provide an affordable cashless payment method to dispense SPF50+ sunscreen with up to four hours sun protection.
The sunscreen is also TGA approved that's safe for children and those with sensitive skin. The stations also have a built-in cooling system to ensure that the cream doesn't lose its protective abilities.
Australia's first sunscreen dispenser was installed at BSLSC on Sunday 20 October, branded with Can Too colours and logo. To help unveil the sun safety initiative was former politician and Bilgola SLSC Patron, John Brogden AM; Bilgola SLSC President, Peter Fenley; Former Non-Executive Director and Life Member, Can Too Foundation Edith Hurt, Bilgola SLSC President, Romilly Madew AO and Ed Joris, Founder of Sunscreen Stations Australia.
Can Too's Life Member Edith Hurt, said that the partnership with SSA was ideal for Can Too.
"Because we're encouraging people to be fit, healthy and active in the sun especially with our ocean swim programs so to give people access to single use sunscreen which is temperature controlled when they're out and about is a fantastic initiative. Especially as Can Too invests in cancer research which shows that prevention through skin protection is a far better way than treating melanoma," said Edith.
One of Can Too's funded research projects is led by Dr James Wilmott at the Melanoma Institute, Australia whose study is developing a simple test to ensure that patients with advanced melanoma are offered the most effective treatments against their cancer.
With diagnoses of melanoma in Bilgola being 19 per cent above the national average Peter Fenley, BSLSC President, said that the Surf Club feels that it's their responsibility to help look after the community.
"We are excited to be the first surf life saving club nationally to install one of these new high-tech dispensers from Sunscreen Stations Australia," said Peter.
The Founder of Sunscreen Stations Australia Ed Joris said that Bilgola Surf Life Saving Club is really leading the way with this sun safety initiative.
"I hope other surf clubs and councils follow their great example" said Ed.