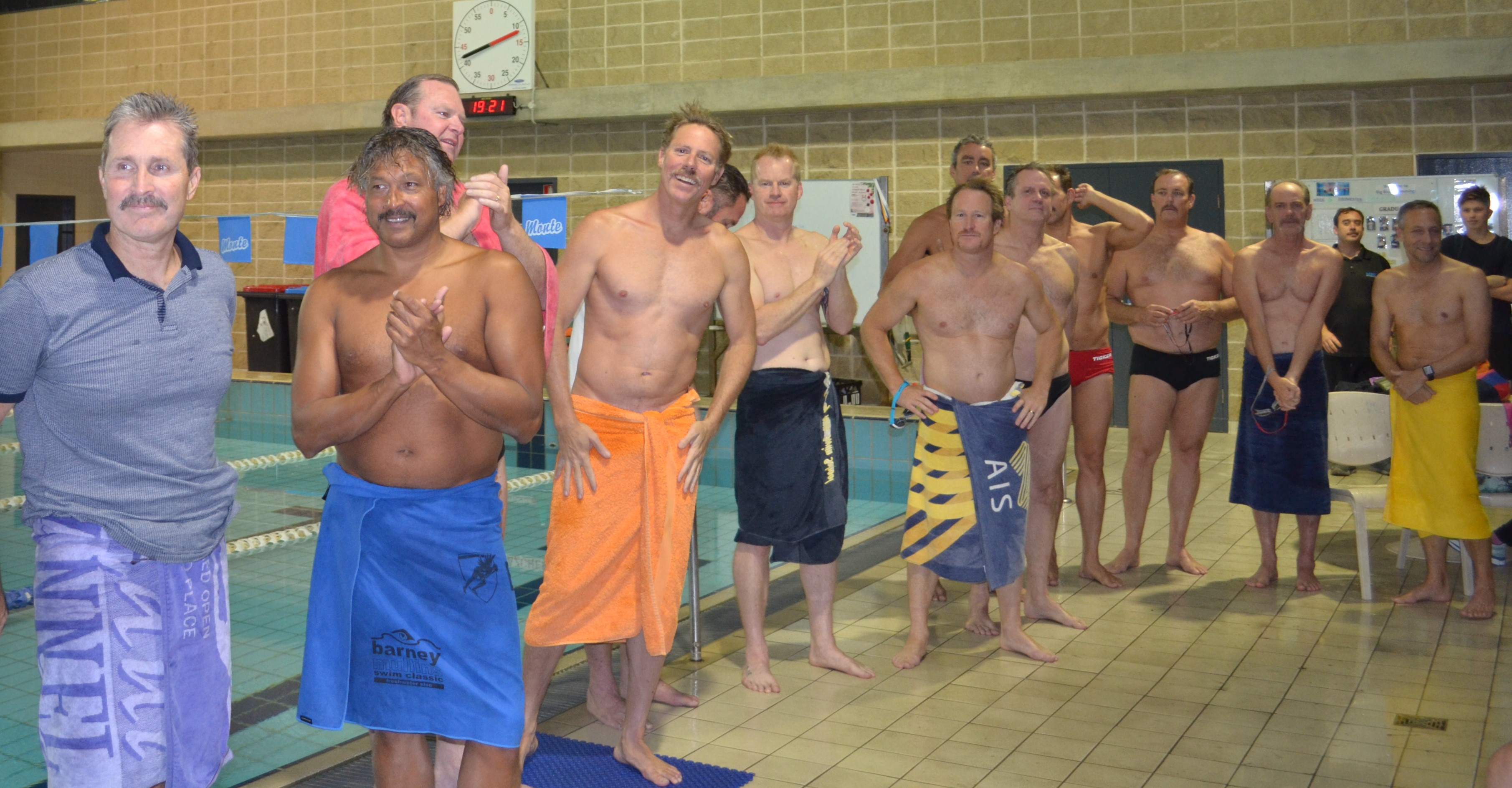 The 'Monthly Swimmers' (pictured above) put in an impressive performance to win the annual handicapped relay swim race on Wednesday 28 November at Monte Sant' Angelo Mercy College Aquatic Centre. The ex-elite swimmers including Australian Olympian Carl Wilson won by 20 seconds in the 14-person relay team against two Can Too teams. It was an electrifying atmosphere attended by approximately 100 people including 80 Can Too swimmers.
The David versus Goliath contest is a special event which raised over $20,000 for Can Too Foundation. Can Too's philosophy is that everyone can achieve goals they once thought impossible, such as racing against an Australian Olympian.
A smiling Monthly Swimmers representative and Can Too Foundation Board Member Simon Buckingham said post-race that 'winners are grinners'.
"The event's just great fun, it's a great community atmosphere and a fun night. It's part of what Can Too is about for me, not just the fundraising but also the friendships that are formed and people learning to get enjoyment out of swimming.
"If what we do helps people get on that road to achieving the challenge of completing an ocean swim and instilling that love of swimming that's great."
The 'Monthly Swimmers' winning team features 80's and 90's stars of the sport including:
Australian Olympian Carl Wilson, Ex-Australian Swim Team captain, Commonwealth Games gold medalist, ex-member of the 'Mean Machine' and Can Too Swim program coach, Matt Renshaw, Australian Pan-Pacific Games representative, Andrew de Vries, Australian Institute of Sport swimmer, Michael Weeding, US Olympic triallist, current Australian age group champion over 50m freestyle, a World Masters Surf Lifesaving titles gold medalist and President of the 'Monthly Swimmers' Donny Richmond, Age group gold medalist at National and World championships and a qualifier for seven Australian Olympic trials over a 28-year period, John Bates, Can Too Board Member and ocean swim racing enthusiast Simon Buckingham and keen ocean swimmers and regular age group medallists Chris Allen and Peter Appleyard.
Veteran Can Too Swimming Coach John Bell was the handicapper who gave the Can Tooers a fair chance of winning, however this time the 'Monthly Swimmers' were too strong. The race series scoreboard now sits at four to one in favour of the 'Monthly Swimmers'.
The elite's namesake comes from their arrangement to meet once a month for a swim and to tell tall tales over burgers and beers, many of them have been meeting for 30 years. They initiated the annual event four years ago to fund Can Too's Learn to Ocean Swim training programs in North Sydney and Manly. Last year's event raised $31,000 which was invested into a 14-week transformational program teaching 141 people how to ocean swim.
By covering the costs of coaching 141 Can Too participants to ocean swim, the swimmers in turn raised over $100,000. Dr Phillippa Taberlay is one of the researchers who received funding from the swimming relay race series to fight prostate cancer. This effort was inspired by President of the 'Monthly Swimmers' Donny Richmond's father as he sadly lost his fight with prostate cancer in 2015.
The Can Too teams and participants met up with the swimming stars post-event for a social night celebration. Can Too Team Captain Robin Nicholls (pictured below first row, second from the right) said that it's a lot of fun getting the 'Monthly Swimmers' to come along.
"To be able to swim against bonified champions really is an inspiration to us Can Tooers and all of it is raising money for cancer research so it's all for a good cause. It doesn't get much better than that," said Robin.
Check out all the action by watching the below video highlights of the race: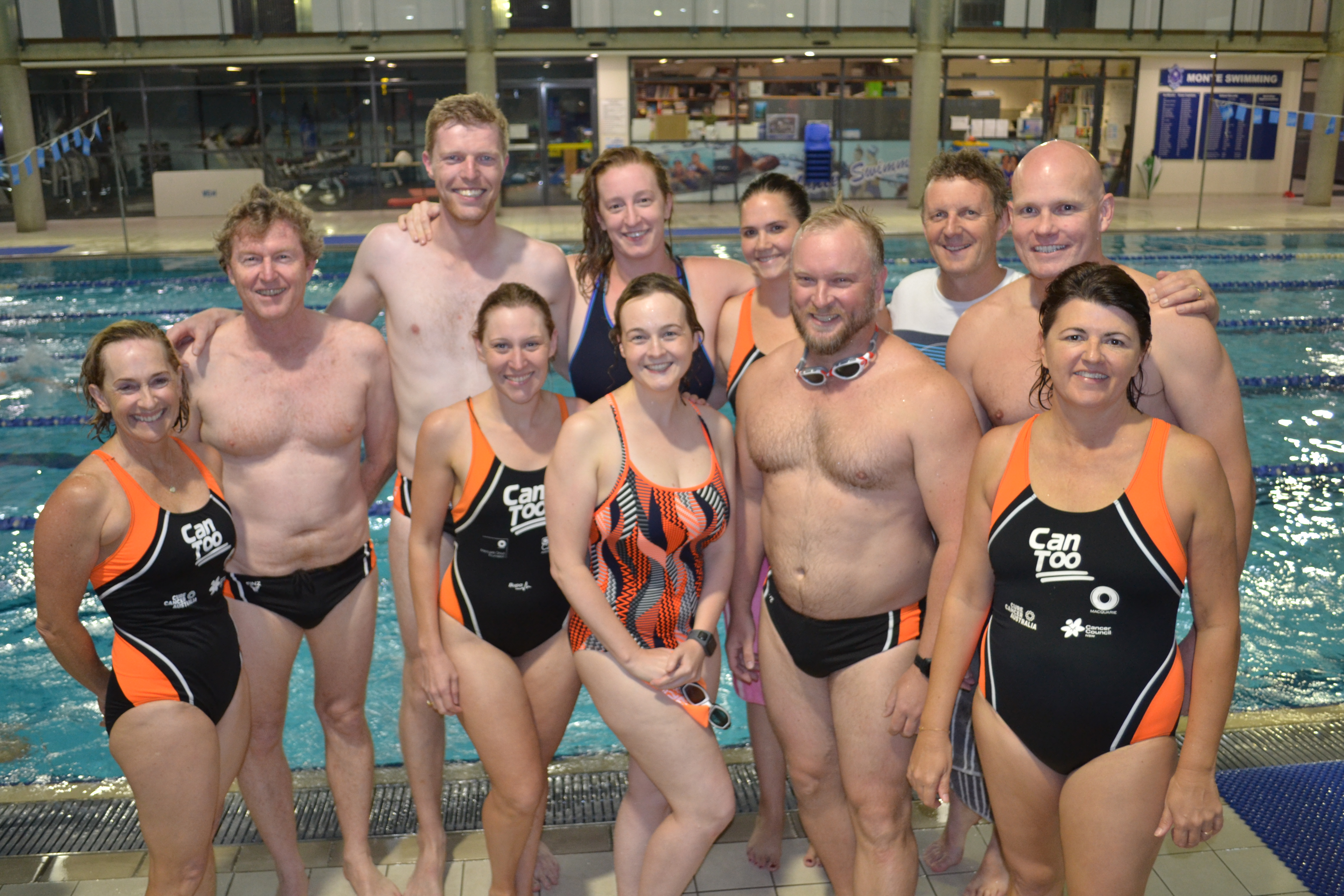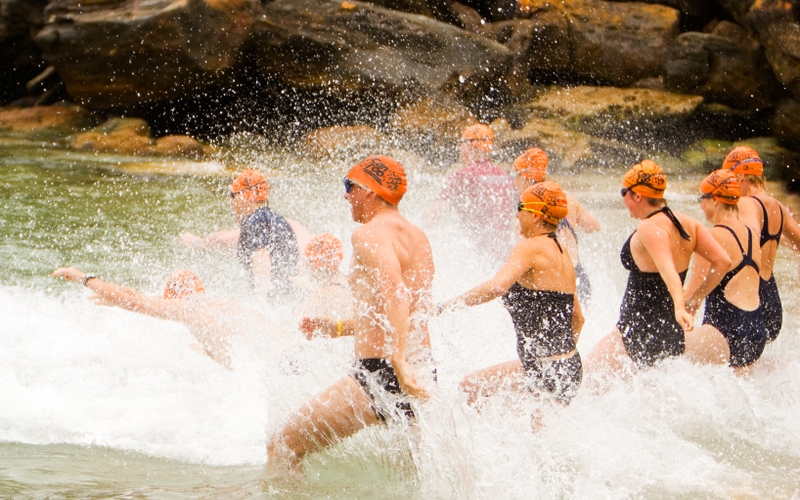 Can Too's Autumn Sydney Swim Program is on the blocks ready to go
If you're feeling inspired to dive into swimming and to help kick cancer, Can Too's Sydney Ocean Swim Autumn program is now open. The professionally coached training program which focuses on creating a safe, supportive environment prepares participants to tackle either the Balmoral Swim (1km or 5km) races on Sunday 7 April and the Coogee Island Challenge (2.4km) on Sunday 14 April. The autumn programs aim to raise $120,000 for cancer prevention and research, in addition to the $750,000 Can Too's summer programs expect to raise.