Can Too's coached training sessions may have been paused for now but, here at Can Too, we remain committed to the health and wellbeing of our community.
It's important to keep moving, which is great for physical and mental resilience!
Please see following a range of cardio, strength and relaxation exercises you can do at home. So you can stay physically and mentally fit in these fast-moving and unprecedented times.
Body weight exercises you can do at home
If you can't go outside, check out Can Too Coach Sally Lynch's awesome video on body weight exercises above, it works in the smallest of spaces.
Check out your Can Too training program
if you are in a current Can Too pod, check out your training program and smash out that interval training/benchmark or cross-training session.
Please make sure that if you are able to exercise outside, to follow the Australian Government guidance and pick a route and time where you can avoid contact with other people, maintaining physical distancing and recommended hand hygiene before and after the exercise session.
Please also see the latest Can Too statement on the impact of Coronavirus (COVID-19): including a video message from Can Too's Founder Annie Crawford.
Fitness Apps and websites
There are heaps of free apps and websites offering indoor training options. Here's some to get you started:
Skipping rope and body weight videos on You Tube
You can join Centr App - Chris Hemsworth's exercise/mindfulness/strength app which is free for 6 weeks if you sign up before 31st March).
Also here's a yoga app Down Dog which you can easily do at home to keep active and is also great for relaxation and a good way to look after your mental health. The app is free until 1 April 2020.
Please remember to share your activity
You can post to either the:
And your own pod Facebook groups and any group chats you are engaged in, such as 'Running for those that can't'
Below is one of our Can Tooer's Nisha Sachdev's posts, Go Nisha!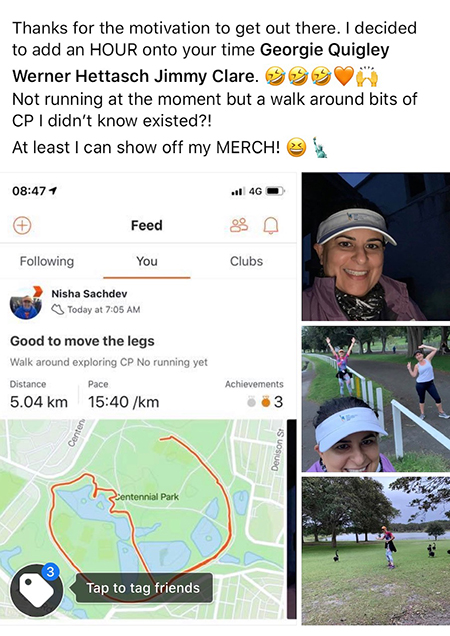 Let's stay connected and inspire our fellow Can Tooers.
Together we will continue to keep fit and healthy. We will come back again and be stronger than ever.
We are here for you. Let's keep moving together.