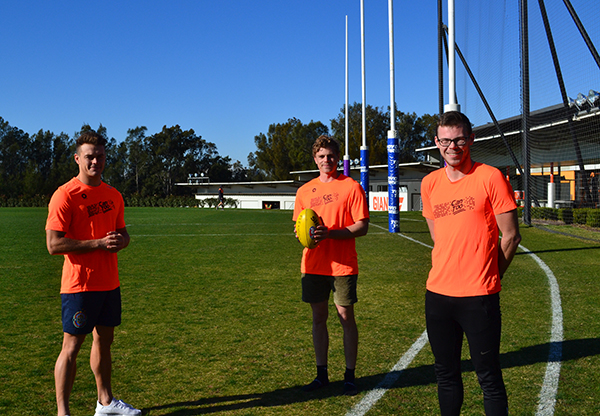 Pictured above from left GWS GIANTS players from left Zac Langdon and Adam Kennedy with Can Too Coach James Constantine.
The Can Too Foundation are pleased to announce that Greater Western Sydney GIANTS players Zac Langdon and Adam Kennedy will be donning the Foundation's orange uniform to train with Can Too.
The professional AFL players will join the Can Too Foundation at Sydney Olympic Park to train for the Blackmores Sydney Running Festival's Half Marathon to raise money for cancer research and prevention. This initiative is thanks to the Foundation being a 2019 & 2020 community partner of the GWS GIANTS football club.
Zac was motivated to join Can Too as behind the scenes when he was striving for his lifelong dream of becoming a professional AFL athlete with the GIANTS, his partner was being treated for Hodgkin's lymphoma – a cancer of the lymphatic system.
Pictured above Zac Langdon with his partner Eli Suleska. Photo by Phil Hillyard courtesy of The Daily Telegraph.
The 23-year-old footballer's partner of four years, Eli Suleska encouraged him to continue pursuing his football dream.
The same night he was told he'd realised his dream of making his AFL debut he shared with his teammates that Eli had beaten cancer.
He said that living with the anguish of his partner battling cancer which included four rounds of chemotherapy, followed by 10 straight days of radiation was the hardest thing he's ever had to go through.
"After hearing the news of my partner being diagnosed with Hodgkin disease and seeing first-hand what she went through I have a massive reason to get involved with Can Too to raise awareness for and take steps towards curing cancer," said Zac.
"Every time things get hard or I feel like giving up I think about Eli and what she went through. I consider myself very lucky in many ways and the biggest one is having my partner Eli.
"Every game I play I think about her and my family and how lucky I am to be out playing for them."
Zac's teammate Adam Kennedy (pictured below) was inspired to join Can Too to support cancer prevention through research and promoting fitness and healthy lifestyles.
"I've witnessed friends and family go through difficult times with cancer I find it very hard to watch, which is why even if it's is a small difference, I'm keen to help," said Adam.
He's looking forward to meeting his group of Can Too training buddies for the 14-week program.
"I've got a strong belief in being around positive people, always having a laugh and keeping a sense of humour."
You don't have to be a professional athlete to join a Can Too training program for the Blackmores Sydney Running Festival, which includes free race entry, you can be a complete beginner who has never run before.
The Half Marathon training starts on 12 June and the 10km Run training starts on 10 July. For more information: Blackmores-sydney-running-festival