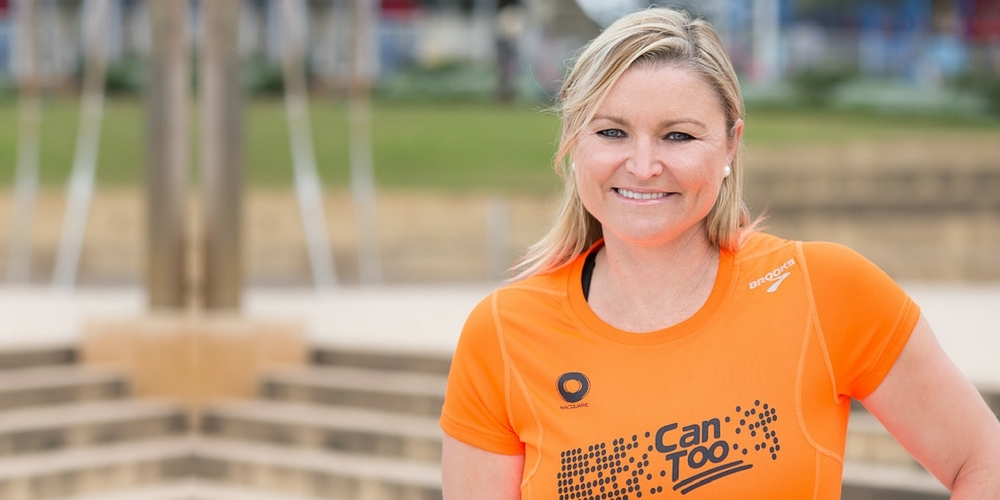 Melinda Gainsford-Taylor celebrated years of accolades as an elite sprinter – competing at Olympic, Commonwealth Games and World Championships – before retiring in 2002. When she decided to train for her first marathon, she turned to Can Too to get her across the line at the Blackmores Sydney Running Festival.
"Training for a marathon just doesn't compare to anything I ever did as a sprinter," Melinda says. "I was no more prepared for this kind of distance than your everyday punter training for their first marathon. The furthest I'd run while training for competition was a couple of laps of the track. Distance running is a totally different ball-game."
Melinda shares her advice and experiences training for the Blackmores Sydney Marathon for anyone thinking about training for their first marathon:
Anyone Can Run a Marathon.
People always say to me 'I could never do that.' I used to be one of those people. I went on a jog and saw Can Tooers out on a 30km run as a part of their training for the Gold Coast Marathon. I thought to myself: "there's no way in a million years I can ever run that far!"
Then four months later I was doing the same distance in my own marathon training program with Can Too.
The thing is … we're all capable of doing it. Anyone can – and they do! If you put your mind to it, if you trust the process of a structured training program, if you take it slowly, you can run a marathon too.
Fitness Is Better With Friends.
Training with people, being a part of a group, made such a difference to sticking with the program. It was a really difficult time after mum lost her battle with cancer. Turning up to training on Saturdays gave me a really big project to focus on, to chip away at.
I never had a desire to run a marathon before Can Too, but training with the Foundation for 20 weeks turned out to be a god-send. Training for a marathon is a mental game. The whole group was so positive, supporting each other through the training sessions, the long distances. Being a part of something, that sense of community, is a really important aspect of training.
Run/Walk Until You Can Run.
Never be afraid to run/walk. I transitioned from sprint running by running five minutes then walking five minutes. Over time I started to run more and walk less, challenging myself a little at a time.
Get An Experienced Coach Who Cares About YOU
A training program that suits one runner doesn't suit another. I have to be really careful how I train. I've got all sorts of injuries from running over the years: knee and Achilles pain, ITB issues, bulging discs in my neck and back.
Matt Fryer, my amazing Can Too coach in the Northern Beaches pod, worked really closely with me on my injuries, in particular my Achilles pain and knee injury. He made me walk all the hills during training. I was never allowed to run them!
A good experienced coach conscious of what my limits were got me through the Blackmores Sydney Marathon training program despite years of injuries.
Do What You Can (And Forgive Yourself for What You Can't)
The biggest mistake any runner can make is going too hard too early.
I can tell you, a marathon is not a sprint, it's a series of small challenges. There's a training program, but ticking every single box along the way, like running the full training distance every time exactly as the program prescribes, is not as important as persevering with the process.
Training for a marathon is a process, and it requires an enormous amount of self-belief. You can do it – you have to just believe you can do it!
Can Too's Queenstown Marathon program is now open. If a Half Marathon (HM) or 10km run is more your distance our Blackmores running programs are now open. If you register by 7 June you go in the draw to win a $100 Can Too voucher. Find out more and register here: www.cantoo.org.au/blackmores
---
Get Professionally Coached and Supported Today!
The Can Too Foundation is an independent health promotion charity committed to funding cancer research and prevention.
We offer professionally coached training programs across NSW and Queensland using qualified and experienced Coaches plus caring Mentors and Team Captains. In return, the participants raise money for cancer research and prevention.
Can Too trains all levels, from beginners to more experienced athletes, in structured training programs tailored to physical challenges such as running races, ocean swims, our own program grand finale goal events, trail running and walking, destination events and adventure challenges. You can even choose your own goal as a Can Too Beyond program.
Not sure which one goal is right for you? Have a look at all our upcoming Can Too programs and secure your place today!