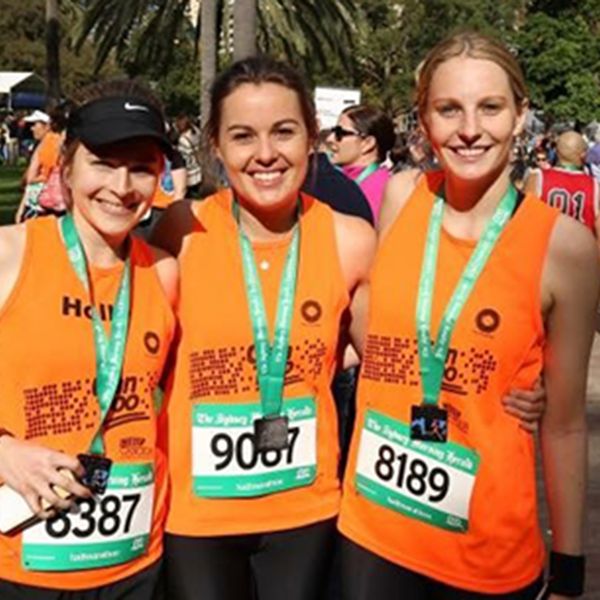 By Georgie Quigley
Without Can too I wouldn't be running marathons that's for sure! Can Too is the only reason these legs of mine have ever managed to conquer 42.2km.
The Foundation has this amazing ability to make an amateur like me feel that I'm capable to do things I wouldn't have ever dreamt of and then, actually do it!
When I first signed up to Can Too, it was because I felt a bit 'meh' and that I wasn't doing anything outside of work, for myself. It was my then boss, Dani Lombard that got me onto it.
A Can Too veteran herself, she had proudly displayed plaques around our office for fundraising milestone's she's reached and images of her representing in this bright orange top. A bit of a keen runner myself, my curiosity got the better of me, I signed up for the 2016 SMH Half Marathon with Can Too and I haven't looked back.
I loved the idea of achieving goals with like-minded people without a hint of competitiveness - you really learn in the programs that everyone is there for their own reasons and so happy to support each other to achieve their own goals. Seeing that in action fills you with nothing but warm fuzzies.
I can't tell you the difference it makes both when training and on race day when you see others out there running in orange knowing that you are not alone. The lift I'd get from spotting a fellow participant in orange, often accompanied by a 'Go Can Too' is hard to beat. The support within the Can Too community is unrivalled.
I made it there - in New York
After completing my first marathon with Can Too, the New York Marathon in 2017, (I was nervous marathon running may have been a bit of a one hit wonder for me and thought why not do the largest one in the world!) I was left with the best feeling crossing that finish line knowing that I had completed something so far outside of my comfort zone whilst raising some funds for cancer research. I felt so proud of myself, something, we as adults rarely do. It's no secret that it would not have not happened without the wonderful brain child of Annie Crawford, that is, Can Too.
Hooked on Can Too, I couldn't think of a better program to sign up for than the Sydney Blackmores Marathon 2018. A spectacular course, that we'd come to know very well during our training runs in this beautiful city.
This special orange colt has brought so much colour to my life and I'd be lying if I said it hasn't changed my perspective on things. Most people think you are crazy for running marathons, but Can Too makes you realise how lucky you are to be able to run.
Cancer is an awful, awful disease that has affected each individual in some capacity and whilst I don't have the skills to find cures, the best way I can contribute is by raising funds for research so that we can put ourselves in the best position possible to find a cure.
Can Too has won me over and I could not speak more highly of an organisation. I will be forever grateful for what Can Too has brought to my life.
So, if you've given running 10km, 21km or 42km even half a thought, then please do yourself a favour and sign up to one of Can Too's Blackmores programs. I dare say that signing up to a program with Can Too will be one of the best decisions you make, I know it is one of mine.