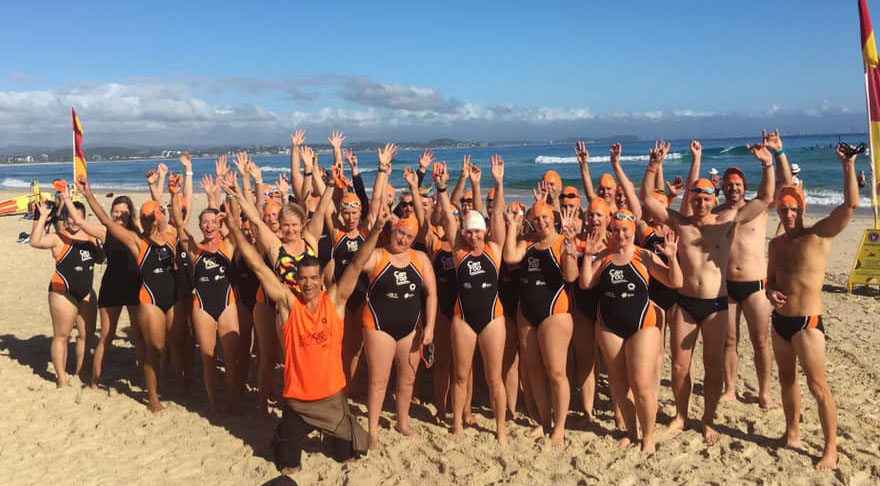 Kat Couch could only just swim 100 metres when she signed up for the 2km Cooly Classic ocean swim with Can Too.
However, she knew she could do it with the support of Can Too after completing the trail run program. At first, she was freaking out about starting a running program, worried she couldn't jog for even one kilometre as she was battling a mysterious health condition, six months later she's completed a trail run race and is about to conquer an ocean swim with Can Too.
When she signed up in November last year to train for a trail run and raise funds for the Can Too Foundation, to fund cancer research, she had not run for five years. She was inspired by her colleague's family members' cancer diagnosis.
Suddenly at only 26-years of age she was suffering from pins and needles, her tongue went numb and she was unable to speak. Doctors were puzzled, she had to undergo a lot of tests which revealed that she had high blood pressure. Her doctor recommended a good healthy lifestyle with plenty of exercise so her reasons for becoming fit really hit home.
Once she was given clearance to start, she wanted to embark on a new fitness challenge with support.
"Exercising with a heart and blood pressure condition can be scary so it was so good to have professional coaching and the support of fellow Can Tooers," says Kat.
She credits the Can Too team for always making her feel safe, and supporting her by answering any questions she had, from exercises to do, how the training program progresses and nutrition.
The mortgage specialist said that the strength of the program was having people to train and fundraise with, which made it a fun and social experience.
"I wouldn't have trained and got out of bed early on a Saturday morning without Can Too and never would have thought about doing it on my own."
"I've now got more energy, I feel like I can do anything no matter what Can Too program - a half marathon, an ocean swim, a triathlon, I Can Too do it."
Their whole training group are joining forces to fundraise by holding a celebration post their Cooly Classic ocean swim with live music, drinks, food and a raffle at the Rainbow Bay Surf Club.
Her Can Too training group member, Darren Stapleton who is a singer and guitarist in a party rock band came up with the idea and location for the function.
"It's a stunning spectacular view and we can see where we've just conquered a 2km swim."
Darren turned his dream of living on the Gold Coast into a reality by transferring with his job from Sydney last year.
He had completed over 10 Can Too programs and taken on the roles of Mentor and Team Captain in Sydney, so joining Can Too in Queensland was an excellent way to meet like-minded people in his new home town, said Darren.
"My mother had a battle with cancer, so the importance of cancer research was a driving force for me and certainly an inspiration to dig deep for people that haven't come out of their battles with cancer.
"I've always kept fit as I need to be for my job which I joined when I was young, but as you get older you slow down and your fitness can plateau, Can Too has given me a recharge in fitness. The coaches have inspired me to ramp it up."