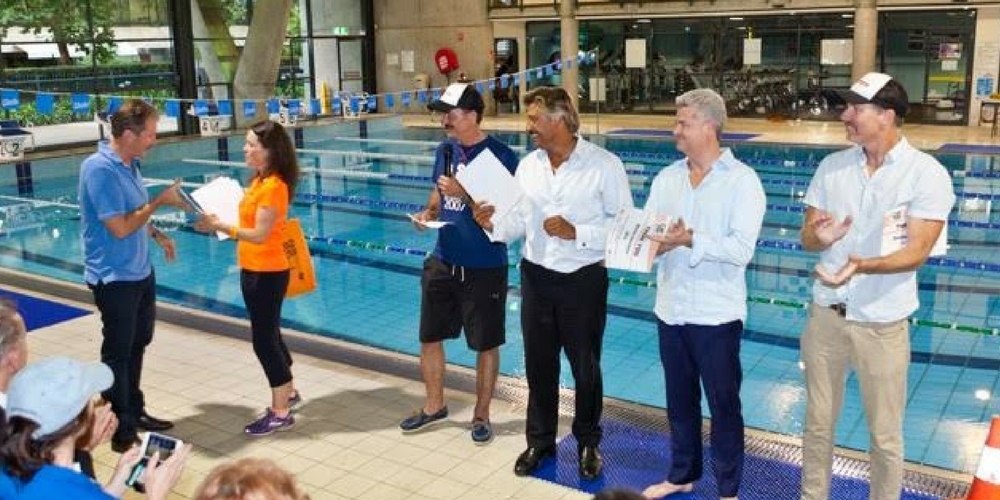 Two years ago a motley crew of swimmers who get together once a month to swim recreationally "and tell tall and lurid stories over burgers and beers" founded what is now an annual tradition: the Monthly Swimmers vs Can Too Relay aka "Stache-4-Cash" raising money for the Can Too Foundation to fund learn to ocean swim training programs in North Sydney and Manly Beach.
The first event was a bit of tomfoolery that aimed to raise a little money to cover program delivery costs of Can Too's annual learn to ocean swim program for the North Pod group.
Two years ago, the Monthly Swimmers addressed a calling from the infamous Chopper Read to "Grow a Moustache and HTFU". But more importantly they embraced an important cause by raising funds for the Can Too Foundation – to support family and friends whose lives have been touched by the scourge of cancer. That first year they massively exceeded their expectations and raised enough to become a Centurion for Can Too's swim pods training at Monte College.
Like all things Can Too, the fundraising event is light-hearted and focussed on benefiting others. According to their fundraising page the Monthly Swimmers (aka the Monthly Stachers aka the Chopper Squad) are "a motley crew of swimmers – legends, has-beens, could-a-beens and imposters". Despite the humble boast this year's team credentials include heavyweights such as:
Former Australian Swim Team captain and Commonwealth Games gold medallist Matt Renshaw, who also coaches Can Too Swim program
Former Australian Swim Team members "Fast" Nick Pagent and Andrew "Great Man" de Vries
Australian junior modern pentathlete Marina Carrier
Australian junior water polo player Lenke Dauda-Board
US Olympic triallist Donny "Secretary" Richmond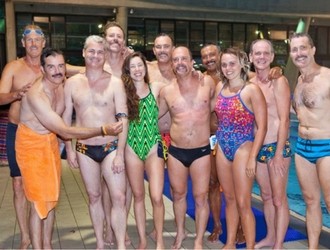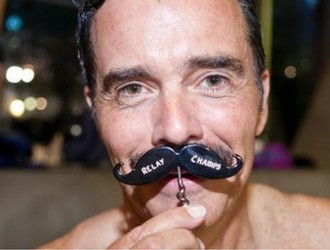 For a full gallery head over to their fundraising page.
The race itself is simple: twelve of the Chopper Squads best vs twelve of Can Too's best training at Monte College Pool each season. The event is good-natured, with the Chopper Squad handicapped by Jon Bell, who has been coaching the Can Too Swim program for a number of years and adjudicates the Stache-4-Cash race each year.
Two years ago the Monthly 'Stachers event raised funds for prostate cancer research which was also part of a very personal cause. The month-long moustache-growing event and pool race was a huge success and it greatly lifted the spirits of Monthly Swimmer Donny's father, who at the time was battling the later stage of prostate cancer. Donny sent him a group photo with a signed, 'get well' card from all of the monthly swimmers. The first Stache-4-Cash – through the training pods the Monthly Swimmers became Centurions for – raised enough for the Can Too Foundation to fund early career prostate cancer researcher Dr Phillippa Taberlay.
In subsequent years, as the stakes have grown, so has the fundraising. The Monthly Swimmers' goal for this year's "Stache-4-Cash" was to raise $20,000 to become Centurions.
Can Too's Centurion program leverages donations to cancer research to transform lives through fitness and fundraising programs like the Can Too Swim, where individuals face challenge events and go on to raise up to $100,000 delivering on the Can Too Mission to support innovation in the control, prevention, and cure of cancer.
In order to achieve their goal, the Monthly Swimmers were willing to "subject ourselves to public humiliation, ridicule and risk of divorce" and encouraged donors to "check out our gallery of photos during the month of November for your daily dose of humour."
For a full gallery head over to their fundraising page.
This year's face-off with the Can Too Monte Pods took place on Wednesday 30 November.
The team "did it in spades" – raising over $17,000 through this year's Stache-4-Cash event. Topped up with a generous personal donation by Gold Centurion Simon Buckingham (aka Chopper Buck), Immediate Past President and Life Member of the Monthly Swimmers Inc., this year's event has currently raised over $31,000. This money will go to funding the training costs for groups learning to ocean swim at Monte Pool and elsewhere, who will in turn fundraise over $120,000 for cancer research this summer.
Can Too's learn to ocean swim program starts in November each year and culminates in over 300 amazing and inspiring individuals competing in the Macquarie Big Swim (aka Palm 2 Whale) and North Bondi Classic ocean swims in January and February respectively.
The Can Too Foundation thanks the support of all the members of the Chopper Squad for their ongoing support of the Can Too Foundation, including Chris "Invisible" Allen, Peter "Apples" Appleyard, John "Batesy" Bates, Graeme "Noosa" Brewer, Simon "Buck" Buckingham, Tim Collins, Andrew "Great Man" deVries, "Fast" Nick Pagent, Matthew "Rench" Renshaw, Donny "Burgundy" Richmond, "Filthy" Phil Vivian, Michael "Weeds" Weeding, Carl "Big C" Wilson and Rob "Woody" Woodhouse.