Get Professionally Coached For
2018 Sydney Ocean Swim
UPDATE: Training has started, but registrations are still open until Monday 13 November:
14 sessions are now sold out
2 sessions now less than 5 spaces
Click on 1km/2km (belowright) to check availability and register.
Training for your first ocean swim is a pretty scary prospect to most. With the right training, experience, and support — training for an ocean swim while fundraising for cancer research could also be one of the most rewarding experiences of your life.
Like all of our programs, the Sydney Ocean Swim is focussed on creating a safe, supportive environment for you to face a challenge you never thought possible.
All ocean training sessions are conducted by a group of qualified swim coaches, supported by certified water safety crew from the local surf clubs, along with each group having a dedicated team captain and a mentor to support your fundraising journey.
This summer, face your fears and give hope to those affected by cancer. Join the team raising $500,000 for Aussie cancer research.
Meet Your Support Team
We're here to support you every step of the journey toward achieving a goal you never thought possible. Every swim program includes four support positions: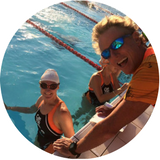 Swimming Coach
Qualified & Experienced
| | |
| --- | --- |
| | Guide group training sessions twice weekly |
| | Share expert advice on swimming technique, including stroke correction |
| | Support you to achieve your personal fitness goals |
Water Safety Crew
Certified & Supportive
| | |
| --- | --- |
| | Staffed from local surf clubs at the beaches we train |
| | Support all ocean training sessions to keep groups safe |
| | There whenever you need a helping hand |
Your Team Captain
Leading the Charge
| | |
| --- | --- |
| | Motivate and support your progress |
| | Provide team updates |
| | Answers any questions regarding program logistics and event day details |
Your Mentor
Supporting Your Journey
| | |
| --- | --- |
| | Support your fundraising by sharing their own experiences |
| | Support and motivate you at training sessions |
| | Support the Team Captain through the program |