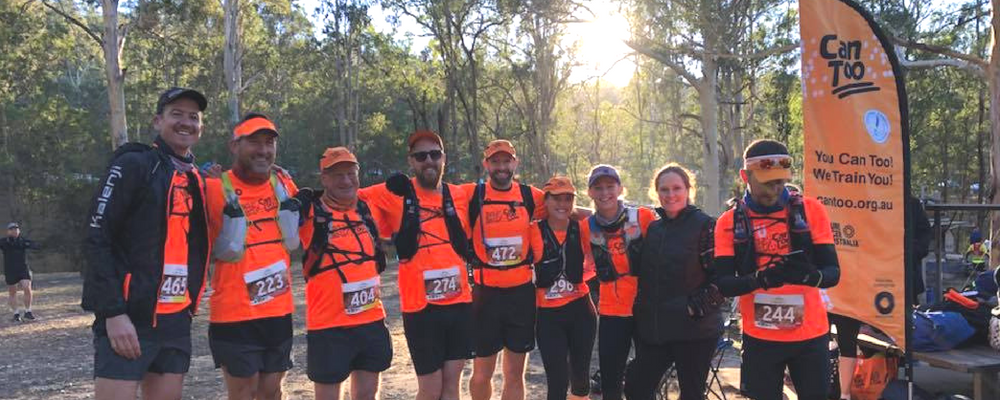 Can Too's third year representing at Running Wild's Glenbrook Trail Marathon started in the same way that all 14 of our Saturday morning runs had - fresh, blue, sunny and dry. Our 13 runners from the East, and 7 from the North combined together - as we had each week - to take on their 25km, 34km or 42.2km goal event.
We had a great spread of running prowess for the program, from those who'd started the program having run no more than 5km ever, through to those who had run the event in previous years and were now stepping up to a bigger distance.
The beauty of the trail running program is that it caters for all abilities - you can take it at your own pace, and have very generous course cutoff times - if any at all...it's all about getting out in nature and discovering hidden tracks you never knew existed on your doorstep.
The race started in three waves, with our one marathoner heading off first, followed by our 34km runners, and then the 25km crew. It's a beautiful course through the foothills of the Blue Mountains, which heads uphill first to Mount Portal and a gorgeous lookout across the Nepean River, before heading back though some inland trails, climbing up to Red Hands Cave, an indigenous monument of rock art dating back potentially 1600 years, before a lovely 8km downhill fire trail descent making for a lovely long, fast finish for all distances - it really does have a bit of everything.
Every single one of our trailblazers got the job done on the day and crossed the finish line to achieve their fitness goals, whilst simultaneously raising over $35,000 to fund a cancer researcher...over 140 per cent of our target. And every single runner finished with a smile, having spent their winter weekends getting fit, making new friends and enjoying the beautiful trails that Sydney has to offer if you just know where to look.
Dawn Hillier-Davis
Team Captain (East)
Can Too Glenbrook Trail Run 2018