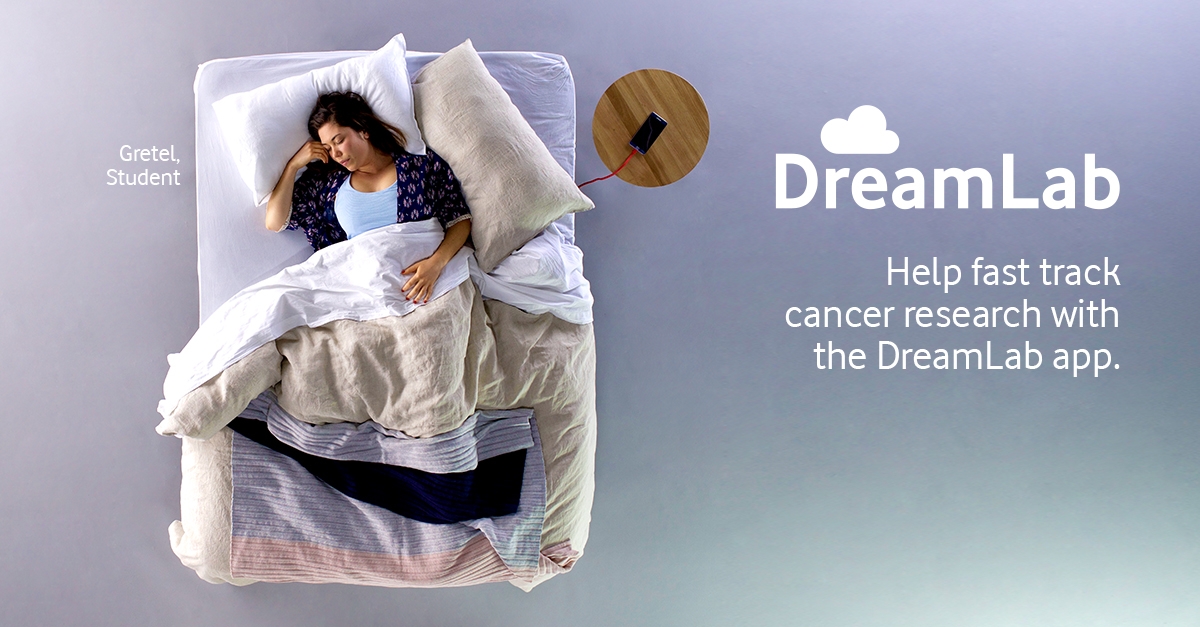 We know how passionate the Can Too community is about supporting Australian cancer research: since 2005 we've raised over $16,000,000 to fund 145 early-career cancer research grants through major beneficiary Cure Cancer Australia, and two major cancer research projects through collaboration partner Cancer Council NSW.
Medical research is the key to solving cancer, but one thing slowing progress is the limited access researchers have to supercomputers to crunch their complex data. And now there is a new way to help cure cancer, and it's as simple as downloading an app and charging your phone.
DreamLab is a mobile app developed in partnership by the Garvan Institute of Medical Research and the Vodafone Foundation, that helps crack cancer research problems while you sleep. When your phone is idle – like when you're asleep at night – DreamLab uses the processing power of your smartphone to solve a piece of the cancer research puzzle.
Download DreamLab, and help solve cancer, tonight.

The Impact We Can Make Together
Can Too's vision is transforming lives through improving health and wellbeing in the community and supporting cancer research. We appreciate the generous ongoing support of our community in many ways, and our hope is that every single person will download DreamLab and use it regularly.
Cancer researchers like Professor Neil Watkins of the Garvan Institute, co-funded by the Can Too Foundation with collaboration partner Cancer Council NSW for the next three years, can fast-track their research using the collective processing power from the Dreamlab app. The more we learn about cancer at a genetic level, the more we understand that each person's cancer is unique – genetic complexity is one of the most challenging aspects of understanding cancer and developing therapies to treat it. DreamLab is supporting Garvan researchers to find new ways to select the best drug for individual cancer patients.
Professor David Thomas, Director of The Kinghorn Cancer Centre at Garvan and Head of Garvan's Cancer Research Division leading the DreamLab program, says, "With one in two Australians affected by cancer by the age of 85, research breakthroughs are urgently needed. The impact that DreamLab has already had is significant. If we can reach 100,000 DreamLab users, this project could be completed three years faster than anticipated, delivering benefits to cancer patients sooner."
It's as simple as downloading the app and plugging your phone in to charge while you sleep.

How DreamLab is Already Making a Difference
Through the groundbreaking work of DreamLab, and most importantly the support of the community, the research data is now being crunched twice as fast, with the first research project now 30%* complete. With more DreamLab app users this will speed up even more – you can download it now to start solving cancer research problems from your phone.
At time of writing, more than 63,000 smartphone users have helped slash nine months of vital cancer research time using the free Android app – taking the search for answers beyond cancer laboratories and into the pockets of people just like you.
"There are many important research questions we'd like to ask, but some need so much computing power that it would cost too much, or take us years and years. DreamLab gives us free access to a dedicated virtual supercomputer to accelerate our cancer research, giving more hope to patients and their families. Thanks for getting involved."
— Dr Warren Kaplan, Garvan Institute of Medical Research
Australians can download DreamLab for free by visiting the Google Play store on any Android phone. App partner Vodafone Foundation is still in discussions with Apple about launching an iOS version of the app.
About Garvan Institute of Medical Research
Since 2007 the Can Too Foundation has funded 10 early-career cancer research grants advancing our understanding and treatment of breast, prostate, pancreatic, colorectal, and bone cancers at Garvan Institute of Medical Research. Established in 1963, Garvan Institute of Medical Research has been at the forefront of breakthrough medical research. Pioneering insights into some of the most widespread diseases affecting our community today, Garvan is on a mission to make significant contributions to medical research that will change the directions of science and medicine and have major impacts on human health.