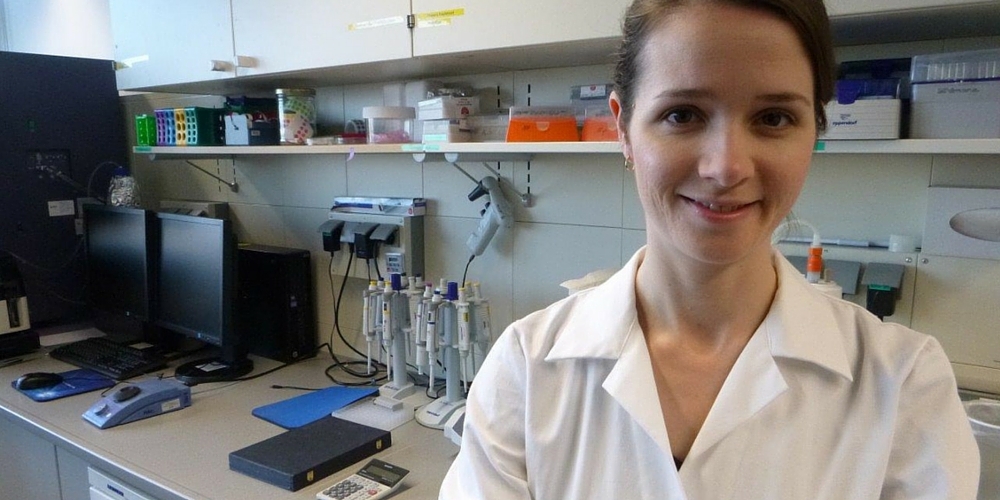 Cancer research is a calling rather than a job. It takes at least seven years of intensive training to become a scientist and a life-long commitment to improving people's lives.
Researchers can spend up to a third of their year applying for highly competitive funding. Waiting to hear if their application is successful and if they have a job and funding for the upcoming year can be a stressful and uncertain process.
In today's research environment funding is very tight. Approximately 12% of project grant applications submitted to the National Health and Medical Research Council (NHMRC) are successful[1].
Yet it's only research that can cure cancer. There are other opportunities for young cancer researchers to apply for funding in Australia. However, these opportunities are very limited. Early-career fellowships and other short term post-doctoral funding are available through highly competitive grant processes. A few years of early-career funding, together with widely sought opportunities for post-doctoral positions overseas, is often enough to establish a young researcher in their own lab, set for what they hope to be a life-long career.
Whilst there are promises of great investment in research coming from the Future Fund, so far none have been distributed. The current understanding is that the first funding, $10M of $20M may be offered in the next three years but it must be noted that this investment is for all medical research, not just cancer.
Australian Government funding for medical research has been static since 2011, not even increasing to match the CPI.
In almost every case, the precious (NHMRC) funding is not easily available to young researchers. One has to have a proven track record and some research results before one can be considered for this level of funding.
Of course one can't readily build a track record or results without funding.
Funding bodies are risk adverse. Given the limited amounts of money available, funding bodies are more likely to award precious research dollars to researchers who have a successful research track record.
Sadly, an experienced researcher knows that the chances of success are increased if they can actually complete the first year of their research before they receive funding for it. This takes even more clever balancing of scant resources.
The current environment has led to many talented researchers with incredible potential either leaving research altogether or moving overseas to secure funding.
We must keep our brightest brains in Australia.
About Cure Cancer Australia
Since 1967, Cure Cancer Australia has successfully employed the strategy of funding early-career researchers with new approaches to cancer research.
Cure Cancer Australia funds ALL cancer types and ALL areas of cancer research, including rare cancers.
Cure Cancer Australia has funded 308 scientists and 471 research projects, 145 of those projects with the support of Can Too, and have seen many of our rising stars take their places at the forefront of medical research in Australia and beyond. Cure Cancer Australia funded researchers have been part of significant advances in cancer research, and have since attracted an average of thirty times new research funding than their initial Cure Cancer Australia grant(s).
Cure Cancer Australia's current strategy is to fund early-career researchers as Chief Investigator of their project, in order to advance their research and to increase their competitiveness for funding from other granting agencies in the future. Cure Cancer Australia funds innovative, high-achieving, early-career researchers, and assesses the applicant's track record (relative to opportunity). The funding may be used for the applicant's own salary, or the salary of a research assistant, and/or research materials for the specified project.
Cure Cancer Australia's expertise lies in recognising and backing the most promising research projects. We back the innovators, the most brilliant brains, the ones most likely to advance the fight against cancer. Year after year, we can see that the researchers we selected to fund successfully attract further funding.
We cannot cure cancer without the community
Cure Cancer Australia looks forward to continuing to work closely with our Principal Supporter, the Can Too Foundation, and our wider community of supporters to fund even more of our brightest early-career cancer researchers so they can continue their potentially life-saving work.
Cure Cancer Australia funds early-career researchers to ensure the future pipeline for Australian cancer research to help find a cure for cancer, for every Australian.
The community's contribution to Cure Cancer Australia's work – and the work of our recipients - could be the difference we need to find a cure.
Researchers invest in our future – we must invest in theirs.
Can Too researchers funded through Cure Cancer Australia
Gastrointestinal cancer
Gastrointestinal cancer researcher, Dr Susan Woods from the South Australian Medical Research Institute is currently funded by the Can Too Foundation through a Cure Cancer Australia research grant. Previously funded in Queensland for her research on melanoma, Susan went to a laboratory in the United States to take up a post-doctoral position and broaden her experience.
In spite of these healthy additions to her CV, Susan told us that without the funding from Can Too Foundation through the Cure Cancer Australia research grant, she would either not have returned to Australia or would have left research altogether.
Rare cancers
Currently, 50% of cancer deaths are from rare cancers and yet rare cancers only receive 13.5% of available funding[2].
Dr Phoebe Phillips is a three-time recipient of Can Too Foundation co-funding for Cure Cancer Australia research grants, and has been co-funded for a fourth time by the Can Too Foundation with Cancer Council NSW in 2016. It is Phoebe's passion and drive to change the dismal prognosis of pancreatic cancer. She says that without the support from Cure Cancer Australia, she wouldn't have been able to establish her research team and make the progress they've made. Phoebe says "Early funding provides the opportunities for the young researchers to take risks with their innovative ideas, to learn to manage their projects and to follow their original ideas unfettered." Now the recipient of an early career NHMRC fellowship, Phoebe is facing the next major challenge of her working life, seeking mid-career funding to hold her team together into the future.
Stem cell research
Dr Mike Doran, co-funded by the Can Too Foundation for Cure Cancer Australia research grants in 2014 and 2015 for his work on stem cell research says "Cure Cancer Australia uses the NHMRC system to screen applicants and get best quality reviews and targets early-career researchers and projects that would not be viable in the NHMRC system. This application process differentiates it from other systems and provides critical support."
Cure Cancer Australia fills a gap in the sector. With two years of funding you are off to a great start. You will be able to produce some results to support your next application.
"I am proud of my Can Too funding and still wear my Can Too wrist band. I think it is a great organisation, providing a great way to be involved by making society better and at the same time help cure cancer."
Blood cancer
Dominik Beck, funded by the Can Too Foundation for a Cure Cancer Australia research grant in 2016, points out that in addition to the support from Cure Cancer Australia, his team's recent discoveries have attracted grants from the American Society of Hematology, Cancer Australia, the Translational Cancer Research Network, The Ian Potter Foundation and the Anthony Rothe Memorial Trust. "The grants from Cure Cancer Australia and other bodies are essential for medical research and drive innovation in Australia," he says. "They're an incentive to attract and keep researchers in the country and at academic institutions when they'd otherwise move to Europe, the US or industry. And the current Cure Cancer Australia grant gives us the opportunity to follow up on a very exciting hypothesis with potential clinical impact."
A relatively small number of labs receive funding and even the most successful research groups often reduce staff, says Dominik, who's been frustrated to see friends and colleagues leaving their careers as researchers. "How many life-saving drugs might have otherwise been discovered?"
Prostate cancer
Laura Bray's Cure Cancer Australia research grant funded by the Can Too Foundation is her first project grant and the highlight of her career so far, she says. It's given her an opportunity to foster the collaborations she's had in Australia and Germany to continue performing high-impact research for prostate cancer patients.
Laura's research has always been driven by application, keeping the impact on patients in mind. Cure Cancer Australia shares this view, seeking to fund young researchers who want to effect real change on behalf of patients. Laura is grateful, too, because it's notoriously hard for researchers like herself to get funding, and it's disheartening to work hard to prepare grant proposals and receive many rejections, she observes.
Ovarian cancer
Dr Caroline Ford said "receiving my Cure Cancer Australia grant supported by Can Too in 2011 was 'a fantastic help' because it allowed me to pursue my work as an independent researcher. It enabled me to determine if our hypothesis was valid and has developed the pilot into a significant long-term research project." Caroline's work has identified two new receptors in ovarian cancer, which are potential drug targets. She has also told us that this funding "allowed me to establish research into a rare disease, ovarian cancer, but one with poor outcome and lack of research investment".
"While it's only the ninth most common cancer among Australian women, it's the fifth most common cause of death from cancer, and survival rates have changed very little since the 1980s," she says. "I believe this is a disease in which much basic research can be done, and there's the opportunity to make significant differences to outcomes."
Leading the way in cancer research in Australia
Professor Pamela Russell was funded by Cure Cancer Australia seven times in the early 1990's. Pamela is now Head of Biomedical Imaging and Prostate Cancer Models at the Queensland University of Technology and focuses on imaging of prostate cancer and studies of bony metastases. In her illustrious career, the research outcome of which she is proudest is development of gene therapy for prostate cancer.
Professor Russell has built an international reputation for work on bladder and prostate cancer, with expertise for establishing cell lines and rare xenografts from primary human tumours. She collaborates widely, within Australia and overseas in USA and Europe. Pamela has received a further $36M in funding since Cure Cancer Australia supported her work.
Pamela says that her initial grants "helped to support research staff and started us up in many of our cancer studies".
Professor Robyn Ward AM is the Deputy Vice-Chancellor (Research) at The University of Queensland, where she leads the University-wide research portfolio. Robyn received grants from Cure Cancer Australia early in her career in 1994 and 1997 for her work in colorectal cancer at the Garvan Institute. Robyn is a translational researcher, and has had parallel careers in the lab and as a medical oncologist.
Robyn has demonstrated sustained translational and clinical research performance at the highest level. Her research performance is supported through a consistently strong grant track record, including NHMRC and Australian Research Council (ARC) funding, as well as grants from cancer authorities. She has obtained over $38M in competitive funding to support her research activities and has published over 200 articles, books and chapters.
As Director of the Translational Cancer Research Centre, Robyn's contributions to medical research have been acknowledged through a Commonwealth Health Minister's Award for Excellence in Health and Medical Research in 2004, the NSW Premier's Award for Outstanding Cancer Researcher of the Year in 2007, and membership of the Order of Australia, awarded in 2013.
[1] ^Source: https://www.nhmrc.gov.au/grants-funding/outcomes-funding-rounds
[2] Rare Cancers, Just a Little More Time (2014)