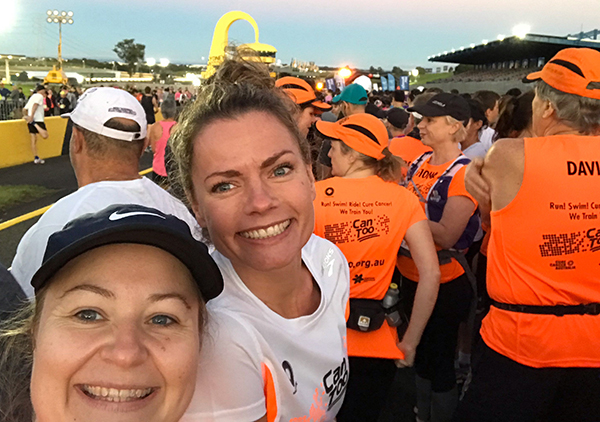 Angela Williams (pictured above left corner) joined Can Too as part of a global network to support her close friend Lydia (pictured together below) who has stage 4 glioblastoma brain cancer. Along with Lydia's friends and loved ones in the UK, Australia, America and Ireland she has joined forces to raise money for cancer research as part of #TeamLYD.
"I wanted to do something constructive to help Lydia so I started researching fundraising for cancer and found Can Too. This is my part to support the fight and raise funds to go to much needed cancer research," said Angela.
"Lydia and I lived in Abu Dhabi together and we become, as expats do, like family."
Sharing Lydia's story with her friends, colleagues and family has enabled Angela to raise $12,529 for Can Too. And globally #TeamLYD has raised over $65,000.
When Lydia was first diagnosed together with Lydia's husband and sister they started a local community, #TeamLYD, to initially raise $13,000 for a UK brain tumour research group.
Angela started her first Can Too program training for the 2019 Great Ocean Road Ultra Half Marathon.
"I'm supporting Can Too and #TeamLYD in the hope that it raises awareness – if something doesn't feel right get it checked; to appreciate what you've got; and to raise money for cancer research.
"In the face of such a challenge, Lyd is working really hard to be the exception. Fundraising is the least I can do," said Angela.
Running with Can Too the Contract Manager found that it's a good way to preoccupy herself with training to make sure she finishes her goal race and that it's a supportive community to be a part of.
"The support has been overwhelming from colleagues, friends, family and the Can Too community in both fundraising and support to get her over the finish line."
She's feeling good for the race on Sunday on the Great Ocean Road.
"I would absolutely recommend Can Too to others. If you think you can't, trust the program and you absolutely can."
Pls see Angela's fundraising page.