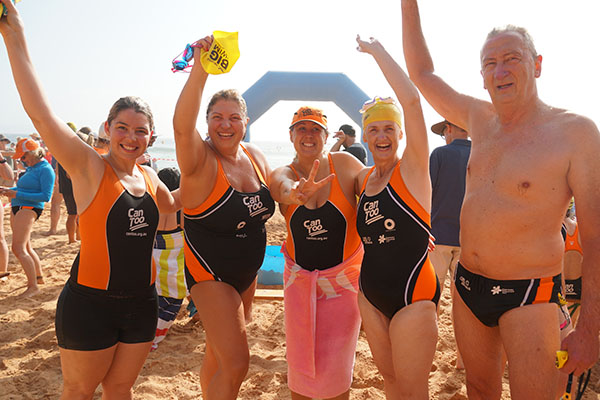 What are these orange swim creatures?
On Sunday morning a sea of swimmers wearing orange and black costumes resembled a phenomenon of migrating sea creatures worthy of a David Attenborough documentary. The school of approximately 250 swimmers were mere mortals, whose reason for swimming at Palm Beach and to Whale Beach, was to raise money for Australian cancer research and prevention.
Can Too swimmers dominated the Macquarie Big Swim (2.8km) and the URM Little Big Swim (1km) fields to raise over $451,106 for Australian cancer research, which will fund up to four cancer researchers.
Wave after wave of Can Tooers crossed the finish line with smiling faces, even Paul Jeffress who stumbled to take a dive across the line was smiling (pictured below). The roar of cheers from the Can Too community members was heard way out in the surf. Can Tooers were greeted with hugs and high fives for a job well done completing their goal event after 12 weeks of training in Can Too's Summer Learn to Ocean Swim program.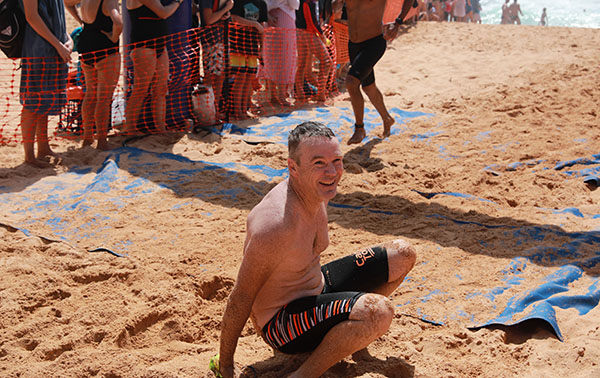 Lauren Casuscelli, (pictured below centre) a 25-year-old participant from the inaugural Campbelltown Pod completed her first ocean swim race. She had initially signed up for the 1km but stepped up to the 2.8km swim.
"The swim was really good, challenging at the end, but it was really thrilling to be out there knowing that I'm raising money for the Can Too Foundation, which motivated me along the way when I wanted to give up," said Lauren.
Lauren said that she had her Can Too Coaches Michael 'Byrnsey' Byrne and Melissa Corby's words in her head which kept her swimming to achieve her favourite Can Too moment to finish the race.
"The techniques that Mel gave us on how to use our arms and Byrnsey's words to 'just keep going', was really helpful, which got me through the swim."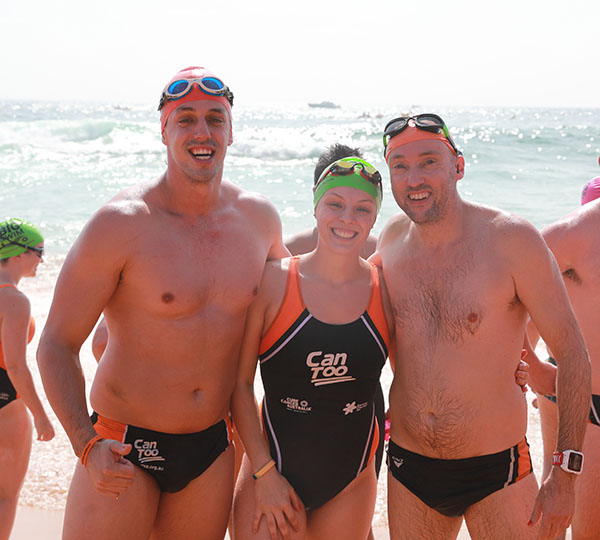 Can Too run Coach Ben Stammer also completed his first Can Too swim program and ocean swim – Sunday's The Big Swim. The prolific runner previously completed eight marathons, one in every state and territory of Australia within 12 months, to raise over $55,000 for the Can Too Foundation.
Ben started as a participant in the first Can Too program in 2005 and went on to become a Can Too Coach. He decided to see what it's like to be a fish out of water by becoming a swimmer with Can Too as well. He's now hooked.
"I've been running since I was 15, I've run lots of marathons, running's my comfort zone. I really wanted to do swimming for a long time, so I said to myself when I turn 50 I'm going to do a Can Too swim program and it's been fantastic," said Ben.
Can Too participants' Kathleen Carmichael and Annemarie McElveney (pictured below from the middle person from left to right) also said that the swim was fantastic especially being able to do it with a great group of people.
The pair said that Can Too prepared them well with lots of swim sessions, at the pool and the beach where they learnt how to read the waves and that training at Mona Vale Beach made today's swim easy.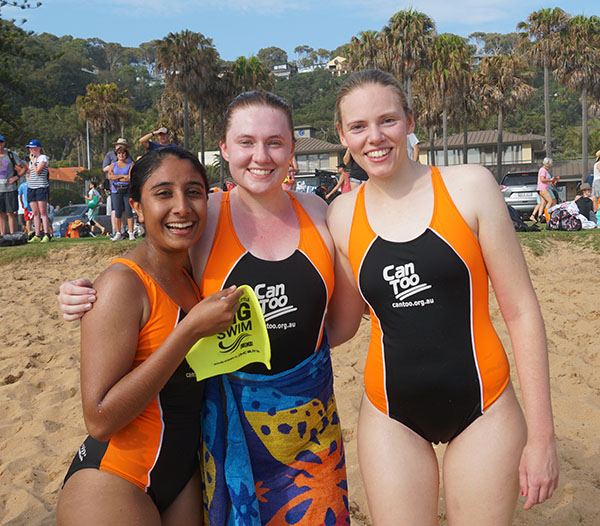 Megs McCormack, who helped start the original Can Too group in Baulklum Hills, also trained at Mona Vale.
"If you do what the coaches say you'll get there. You've got the most amazing support you just have to have faith and trust in the program," said Meg.
"We suffer together and rejoice together in a community of the most amazing likeminded people."
Mentor Paul Taylor said that he gets a real kick out of seeing people improve through the course of the program.
"They start in the pool, then go to the ocean and overcome this fear. I've felt that fear myself and I know what it's like to be unsure of being out of your depth. So to see them overcome it and to be part of that journey is so rewarding, I love it," said Paul.
"Everyone came out with smiles. I saw them in the water and they said: 'Hey how are you going? Let's get this finished'. There was plenty of confidence and it's good to see as when they were on the shore some of them they weren't sure they could do it but seeing them out there enjoying it and smiling, which for some it's their longest swim ever, is a double celebration."
For father and daughter, Mentor Peter Allison (pictured top image right) and Team Captain Meghann Parker, the celebrations were a family affair with Peter's grandkids running alongside him as he crossed the finish line.
"It was great to see that everyone in my Pod swam ahead of me," said Peter.
"People who were scared 12 weeks ago just bolted, you could see they were so pleased and glowing. They just embraced the Can Too culture, including raising money. I'm very proud of them all, and I'm very proud of my daughter."
Sunday was Meghann's first goal swim as a Team Captain.
"I really enjoyed it because I got to swim with my Pod. For many, it was the first time they'd done this, so it was fantastic for me because the focus was on them, so I didn't have to think about my fears, I really enjoyed it."
Congratulations to Can Tooer Susan Campbell who came first in her category in the 1km swim and to Can Too Coach Samantha Wolf who came third in her age category in The Big Swim.
"I've trained hard for the result to lead by example," said Samantha. "Goals come in all sizes."
One of Sam's pod members' Liz Lynch completed her first ocean swim – Sunday's 1km event and said that without Can Too she couldn't have done the swim.
"Having the Can Too support was huge," said Liz.
"When you're feeling a bit scared and then you see another Can Too swimsuit, then your Team Captain and Mentor it's so reassuring. Once you get out past the break and get into a rhythm it's fine and I honestly never thought I'd be saying that. It's amazing I can't believe I did it, I'm really shocked."
Liz, originally from Ireland, always wanted to learn to ocean swim and as her uncle-in-law is going through chemotherapy at the moment she said that 'if he can go through that I can go through being a bit uncomfortable learning how to ocean swim'.
Can Tooer Liz Cotter dedicated her swim to her friend, ABC broadcaster Jill Emberson.
"I Can Too because I have cancer, but also today, in particular, I wanted to remember my friend Jill Emerson who died on December 12, 2019. She had a really tough battle ... she knew that raising money for cancer research will lead to better treatments and awareness of how horrible ovarian cancer can be, so vale Jill Emberson."