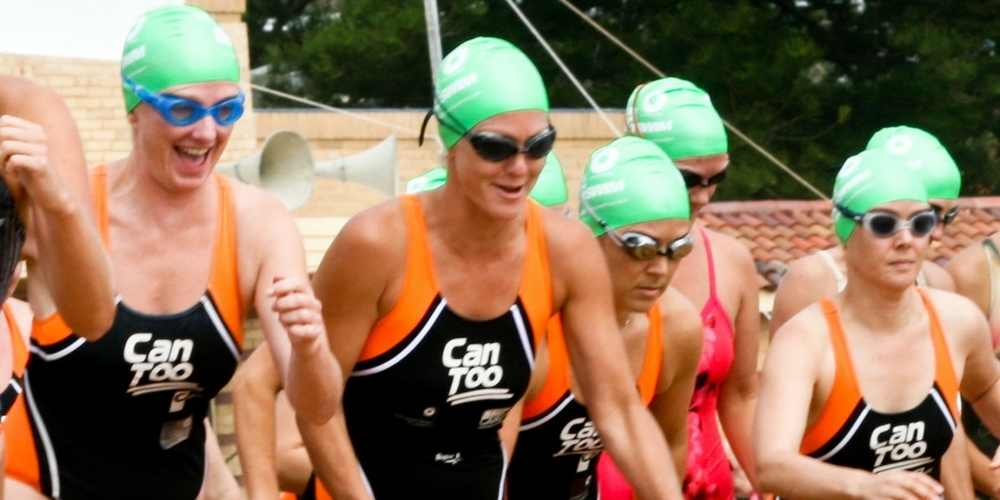 Congratulations amazing Can Tooers! You have done the training, faced your fears and you have made the difference — you are ready to race!
In the lead up to race day sometimes nerves can get the better of us, that's why I've put together my top tips to help you prepare, stay motivated and of course have fun at your goal event!
1. Get Ready For An Early Rise
Get up in plenty of time so that you are not stressing out. Make sure you are at the event at least 20 minutes before you need to meet the Can Too Team.
2. Breakfast as Usual
Don't experiment with breakfast choices on race day, stick with something that works for you!
3. Go to the Bathroom
Try and flush out your system before the swim (number 2). I drink coffee before a race, but other techniques work for other people.
4. Don't get Burnt
You will be in the sun for a good portion of the day, so please make sure you cover up, put on sunscreen and if you can wait in the shade until your wave is called!
5. Check In Early

Make sure you collect your timing chip and cap well before your Can Too Briefing.
6. Bag Drop
Due to safety reasons, we don't allow bags to be left at the Can Too Tent. If you are bringing personal belongings to the beach please make sure you have a family member/friend who can look after your belongings.
7. Check the Surf
Start studying the surf as you do every Saturday! Study the cans/ buoys and know the course.
8. Don't Miss the Coaches Briefing
Be ready for the coach's briefing and pre-race warm-up to clear the jitters, get acclimatised and prime the engine. Your coach will talk to you about the course and give you helpful advice on how best to tackle the surf on the day! This is also a good time to make sure those goggles are snug and clean.

Your coach will let you know what the conditions are like on the course, plus we all unite for a Can Too photo and group warm-up before the race starts.
9. Remember to Breathe
As you line up in your wave, it's easy to get a little nervous. If this happens to you don't panic, everyone has some sort of nerves or excitement before a race.
Focus on taking steady breaths and mentally start to break the swim down into the smaller segments, this will help you focus on the task ahead.
In the words of Walter Elliot "Perseverance is not a long race; it is many short races one after the other."
Break each part of the race down into segments and you'll be running across that finish line in no time!
10. Entering the Water
Remember to run into the water until you're at knee height, duck dive until you're at hip height, then start swimming — don't forget It's all about Rhythm & Timing.
11. Remember your Ocean Swimming Techniques
Keep your body streamlined, catch & pull and again don't forget to breathe!
12. Sighting is Essential
Make sure you sight every 10-15 strokes, so you stay on course!
13. Draft off other swimmers
Try to draft off a slightly faster swimmer to take advantage of their slipstream (make sure you keep sighting as they may swim off course).
14. Give yourself enough room at the Buoys
If you're nervous about swimming around the buoys, swim a little further out (3-4metres) so you're not competing for space.
15. Catch Waves Into Shore
As you're swimming into shore, make sure you sight behind you so you can catch those waves!
16. Run With a Smile
Once you hit the shore, give yourself a moment to steady yourself before you put on a big smile and run up the sand to the finish line (there will be photographers so flash them your pearly whites & give them a wave)!
17. Have Several Goals

Sometimes things don't go to plan! If you have more than one goal on race day you're guaranteed to be a winner on the day! Remember the journey is as important as the race and you have all been on an incredible journey!
18. Have Fun & Celebrate!

Go forth and swim for yourselves, your family and friends and be proud in knowing that you are part of the Can Too Swim Team 2019 raising over $485,000 for Cancer Research! Above all, make sure you have fun! You have put in all the hard work, now it's time to celebrate the completion of your goal event! You Can Too!
---
Get Professionally Coached Today!
We offer professionally coached training programs using qualified and experienced coaches. Can Too train all levels, from beginners to those more experienced, in structured training programs tailored to specific physical challenges such as run, ocean swim, triathlon or choral singing events.
Programs range from entry level distances such as 7km, 10km and 14km run programs and 1km ocean swims, to intermediate programs like sprint triathlons and half marathons, through to advanced programs such as marathons and trail runs.
Not sure which one is right for you? Have a look at all the Can Too programs we're holding in the upcoming year and secure your place today!