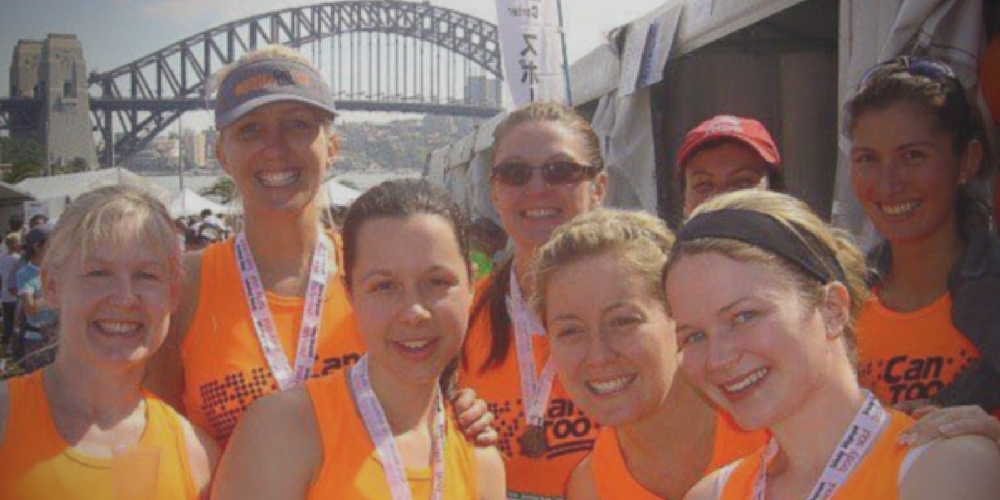 Pip Davis is described by her friends as positive, energetic, and a team player. Her running journey spans over a decade: starting with the Blackmores Bridge Run in 2005, taking in years of triathlons up to half ironman in distance, and a long path to recovery following injury and surgery. She's now preparing to face the ultimate road race in what is arguably one of the most iconic race locations in the world: the New York City Marathon.
Pip was there at the very start of Can Too: a novice runner and a fledgling charity that both began by training for the Blackmores Sydney Running Festival in 2005. Just like Can Too, Pip Davis has gone on to do amazing things since.
Can Too started as one woman – founder and chair Annie Crawford AM – with a simple goal: train people to run and get them to fundraise $100,000 for cancer research in the process. With the generous and ongoing support of principal supporter Macquarie Group Foundation, major beneficiary Cure Cancer Australia, collaboration partner Cancer Council NSW, and our many Centurions, Can Too has grown over the eleven years of operating to become an independent health promotion foundation. What is now the Can Too Foundation has trained over 13,500 people for run, swim, and triathlon events, who in return for professional coaching have fundraised a staggering $17,000,000 for cancer research so far.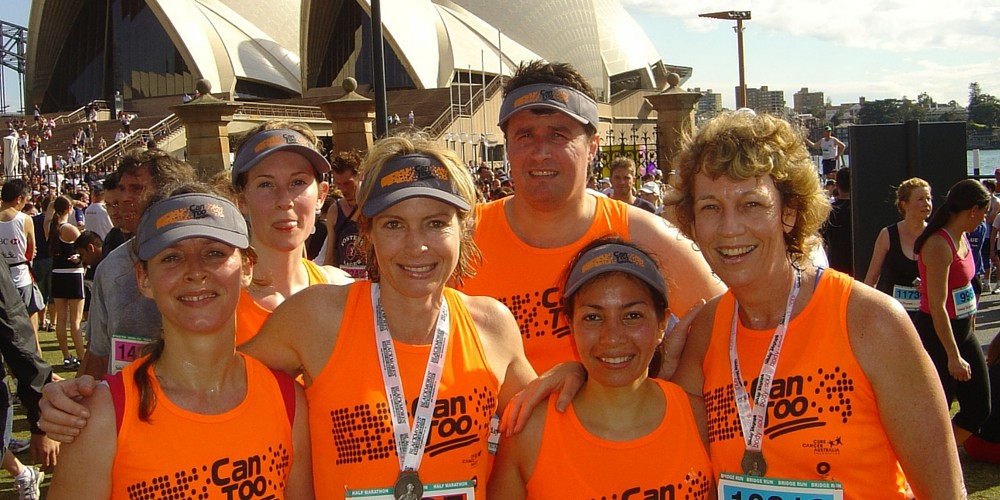 Can Too founder & chair, Annie Crawford AM, with Can too finishers at Blackmores Sydney Running Festival 2005
Pip trained for the Blackmores Bridge Run with Can Too back in 2005 for simple reasons. "I'd finally quit smoking, and I had started to lose weight. My boot-camp trainer told me I needed a clear goal to keep me motivated." Ambitious and determined, Pip set the Noosa Triathlon as her challenge, but realised she was going to need to learn to run if she was going to get across the finish line. "For most people, it's the swim that's challenging. For me, it's the run. I've always said I'd rather swim the 42km than run a marathon! So it's part of my personal challenge, to finally face training for a marathon.
"I saw a flyer for Can Too advertising something simple like we'll get you across the line at Blackmores Bridge Run and I thought, well … as a novice runner looking for an entry-level training program … that's me! It was amazing. I lost a lot of weight, increased my cardio, could run further, which meant I lost more weight. It was a simple decision to change, and work hard, and the results followed that."
But it wasn't just about her own fitness, or achieving a personal race goal. "My father was first diagnosed with Non-Hodgkin Lymphoma when I was 15, and passed away when I was 18. Cancer had made itself a big part of my formative years. As an adult faced with the opportunity to do something about it while achieving my fitness goal – I chose Can Too."
As a part of that first ever Can Too group, Pip was part of the forging of one of Can Too's greatest traditions: Pub Night. "It's funny, going back in time, when I did my first Can Too program. There were maybe fifty of us training for three different events – the Blackmores Sydney Marathon, Half Marathon, and Blackmores Bride Run – which was an incredible achievement just by itself. I think Annie was expecting more like twenty! I remember after one of the track sessions, Annie Crawford just turned to us all and said 'let's go to the pub'. It wasn't orchestrated, it was just something nice to do. And it's what really sets Can Too apart from other programs. There's not a lot of A-type personalities to contend with. We were strangers that became friends through Can Too."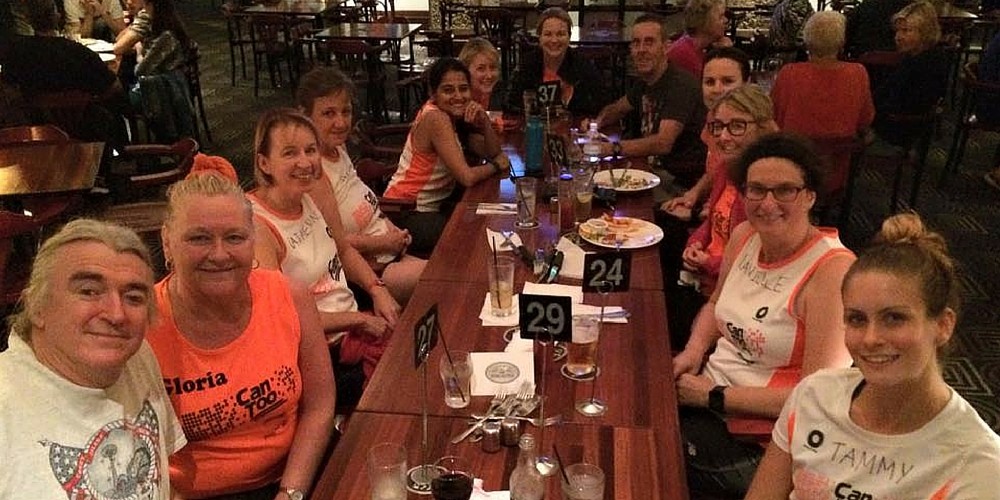 Pip socialising with fellow Can Too participants following time trials
Pip set out to achieve a goal, and with the right training and support, she did. "To this day, I still love the Blackmores Bridge Run. Where else do you get the opportunity run down the middle of the Harbour Bridge, down through Mrs Macquarie's Chair, and finish in a spectacular location like the steps of the Opera House with the electricity of the cheering crowd you along as you come in? The Bridge Run is a great distance for new runners. It's a long way, but it's genuinely achievable. I loved it – it's still the best run in Sydney."
Following the first Can Too Run program, Pip went on to train with the inaugural Can Too Swim pod, preparing for the Macquarie Big Swim – a 2.7km swim from Palm Beach around the headland to Whale Beach held in January each year. "I've met so many people directly or indirectly through Can Too, it's unbelievable. Over the years we've kept in touch and go to train socially, always followed by a group meal. These days we tend to run or swim in the summer, and run or cycle in the winter, then meet for breakfast after the session. What kept us training together is the want to be together: there's an underlying character type that comes out of Can Too that for me has forged some enduring friendships. Husky Triathlon has become an annual pilgrimage for about forty of us, a social get together with a bit of sport thrown in! There's twelve of us from this group who have stayed in touch over the years attending events like the annual Husky gathering now training for the New York City Marathon."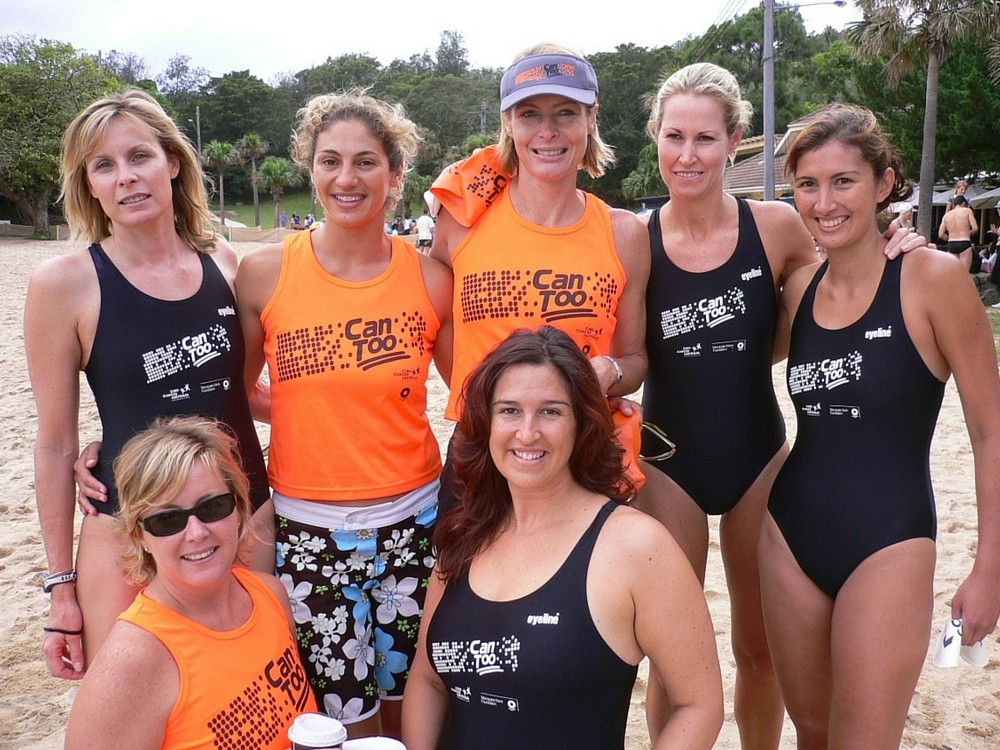 Pip (bottom left) with Annie Crawford AM (top centre) at Can Too's first swim in 2006
Fast-forward to 2014. Pip successfully completed a half ironman in Mallorca before being sidelined by injury. An over-ambitious boot-camp session left her needing a shoulder reconstruction late in the year. While waiting for surgery on her shoulder, Pip tore her cruciate ligament in a skiing accident, needing a knee reconstruction. "I can highly recommend not getting two reconstructions done six weeks apart! My favourite things in life are travelling, rugby, skiing, and running. It's a shame an accident doing one love left me unable to do another. But it's amazing knowing the difference being physically fit before the injury made to my recovery. I was able to walk nearly straight away after surgery, which was a totally different experience to the reconstruction I had on my other knee in 2000."
The road to recovery was long, and painful, but drawing on her first experience in 2005, Pip set herself a new goal. "I turn 50 next year, so I wanted to do something that was on my bucket list. As I only plan to do one marathon in my life, I wanted it to be the most famous one in the world. So I chose the New York City Marathon."
We asked Pip what brought her back to Can Too. "A couple of factors. I know I haven't got the discipline or the natural ability to do it on my own. I knew I would meet great people who all have the same goal as me, and all have interesting and individual reasons for doing this together. You don't get this kind of camaraderie everywhere; it's pretty unique to find like-minded people training together, supporting each other, and doing it for a great cause.
"But it was also my Can Too coach, Tim Lindop. I wasn't that fit when I started to train again in January this year. Being able to run 5km is a huge achievement for anyone. I'm not a natural born runner, and a lot of run trainers are not good with people like me. I couldn't be here without Tim. He's a sub-4:00/km runner, a sub-3hr/marathon runner. But when he runs with me, he runs at my pace. He spends time working through what I should do. The personal guidance has been crucial to not just my recovery, but preparing me to take on the biggest running challenge I will ever face in my life. He coached the Can Too SMH Half Marathon Relay group I trained with from February to May, and I'm glad to know I'll still see him at the track Wednesday nights coaching Can Too's Blackmores Bridge Run pod in the East."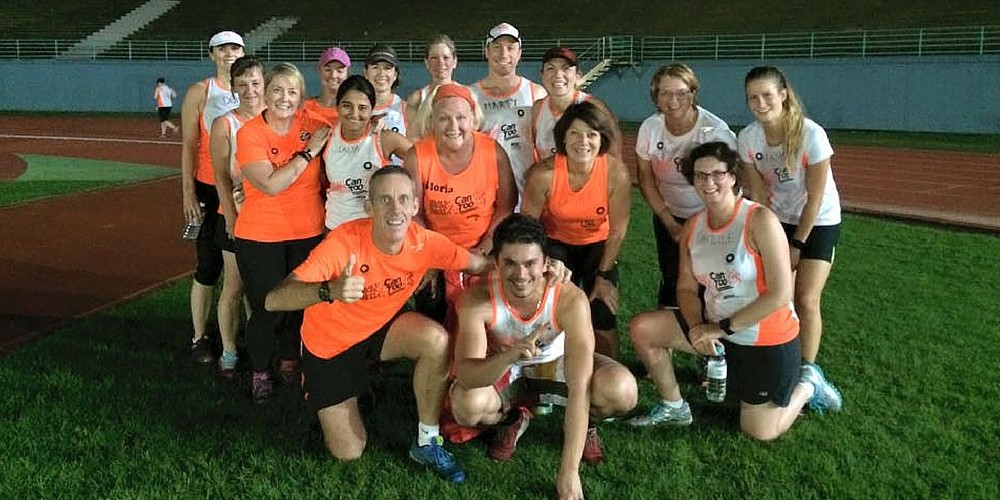 Pip with coach Tim Lindop and fellow runners at the Kensington track
To date Pip has fundraised an amazing $11,006 for cancer research through Can Too, with $5,800 of this through the New York Marathon program alone. "The most effective method for me has been to use social media: Facebook, LinkedIn, even Salesforce Chatter through work. Remind people you're asking people to support an amazing charity, you're not asking money for yourself. But the single most important thing you can do – no matter how you spread your message – is to be authentic and tell your story. That's all I did. I told people what this means to me from the bottom of my heart. And then thank them. It's so important that you thank people in a personal way for their contribution."
Pip says it's the connectedness of the programs that makes them so relevant. "As many cancer charities as there are in Australia, competition is so fierce for research grants that for every research project that gets funded, there's four that miss out. Knowing this, we look up to these people as the brightest and most talented people in their field. The fact that they take time out to come and visit training pods to talk about their work, and the opportunity to personally meet them, know there's a real person doing real things, with such passion – it makes it easy to support Can Too. And the funny thing is … they think we are amazing! That we're at the track every Wednesday night, and up at dawn every Saturday morning to go running; they're in awe of what we do. That kind of mutual appreciation, knowing that we're all in this because we're passionate about change, it's a very satisfying feeling."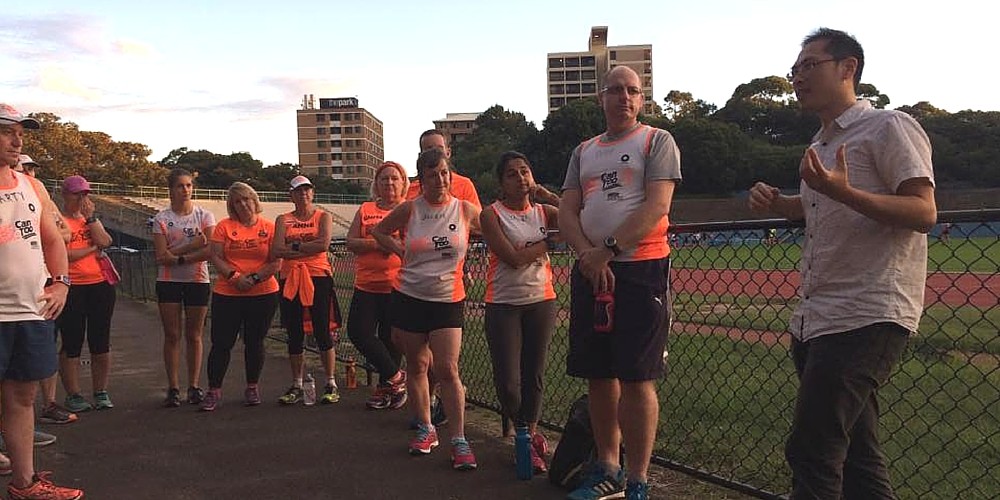 Dr Jason Wong, Cure Cancer's Researcher of the Year 2016, explaining his work at training
Pip has already well and truly her minimum fundraising commitment of $2,000 for the New York Marathon program, but isn't stopping there: she's raised her fundraising goal to $10,000 and stepped up to fill one of the pivotal roles in a Can Too program: that of mentor.
"I see the mentor role as being about supporting the others in the group to achieve their goals. I've mentored before, during my third Can Too program training for the Blackmores Bridge Run in 2006. I know New York City really well, I travel there a lot, and I don't find the fundraising as challenging as some. While I continue to fundraise, and train for the event itself, I saw mentoring the group as an opportunity give something more back than just the fundraising. Being a mentor is important: you know people are depending on you, looking up to you, relying on you to keep them motivated on the very, very long road to New York Marathon. Mentoring is about helping the group achieve their goals. I was very happy to be asked."
Pip believes in herself, but she knows what difference the support of others makes to the dual Can Too journey of fitness and fundraising. "Anyone who has done this, especially when you're not a natural runner, knows that it requires a lot of time, a lot of energy, so having people around you who simply 'get it' takes that little bit of pressure off. Which is also why New York City Marathon is my bucket list item in the first place. I love the fact that the streets are literally lined with people for the entire 42.2km. The atmosphere, the electricity, the support: it's what makes this race a once in a lifetime experience. I'm very humbled to be a part of this journey with the other 67 amazing women and men training with Can Too for the New York City Marathon. The best thing I've learned through Can Too is there are a lot of amazing people in the world, you just have to seek them out. I've come a long way since my first Can Too program learning to run for the Blackmores Bridge Run, and there's still a long way to go. But I believe in myself, and I know I'm not alone."
---
Get Professionally Coached Today!
We offer professionally coached training programs using qualified and experienced coaches. Can Too train all levels, from beginners to those more experienced, in structured training programs tailored to specific physical challenges such as run, ocean swim, triathlon or choral singing events.
Programs range from entry level distances such as 7km, 10km and 14km run programs and 1km ocean swims, to intermediate programs like sprint triathlons and half marathons, through to advanced programs such as marathons and trail runs.
Not sure which one is right for you? Have a look at all the Can Too programs we're holding in the upcoming year and secure your place today!