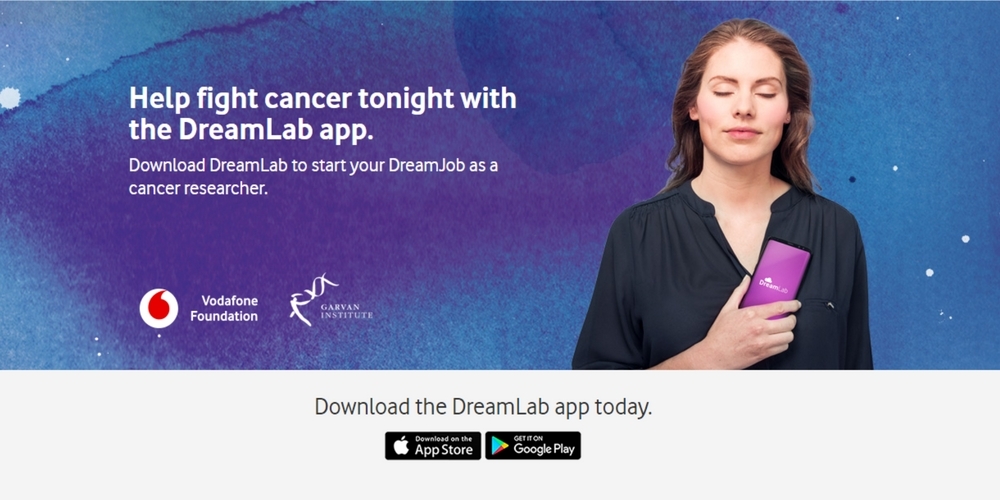 Did you know your phone can help find cancer's off-switch?
Thanks to the Garvan Institute of Medical Research Can Too-ers now have the opportunity to contribute directly to cancer research – this time, from the comfort of your own bed.
The DreamLab app – which is now available on iOS and Android – works by combining the processing power of Australian mobile devices with an internet connection to create the world's first distributed smartphone supercomputer for cancer research.
How Does DreamLab Work?
Nowadays, every person possesses a smartphone. Smartphones in Australia collectively have 90 times the processing power of a supercomputer and when idle, such as when the owner is asleep, that extraordinary power goes untapped – and that's where DreamLab comes in.
How is it Helping Cancer Research?
In trials to-date, 150,000 DreamLab users have helped solve cancer-related research problems in half the time it would have otherwise taken. With DreamLab now available on iOS and Android – the sky is the limit with what can be discovered.
How YOU Can Become A Cancer Researcher
It's time to turn on your phone to help switch-off cancer.
Crack out your charger, get in your PJs and download the free DreamLab app for the easiest nightshift you'll ever do. The only other thing you need to become a cancer researcher at DreamLab is a working internet connection and the ability to dream of a cancer-free world.
Once you've downloaded the app, do the following:
Choose how you want to help: You have the option to support one of two projects, Project Decode which looks at breast, ovarian, prostate and pancreatic cancer or Project Genetic Profile which seeks to understand lung, melanoma, sarcoma and brain cancer
Nominate your data contribution: Users can nominate how much data they would like to contribute via their mobile plan (50MB, 250MB or 500MB a month), and/or home WiFi network (500MB, 1GB or unlimited a month). For Vodafone Australia customers, the mobile data to use DreamLab is free on the Vodafone mobile network in Australia
Charge up to power medical research: simply put your phone on charge and power up DreamLab to start solving cancer problems.
This is guaranteed to give you more warm and fuzzies while you sleep than a duck down doona.
Can Too Foundation and Garvan Institute
At Can Too, we're passionate about promoting innovative projects to help find the cure for cancer – but progress is limited by the staggering amounts of computing power needed to process the tsunami of complex information that must be sifted through in order to meet cancer head on.
Can Too-ers normally make a difference to cancer researcher by lacing up their runners, throwing on a cossie or jumping on a bike to challenge themselves to raise money – but now you also have the opportunity to cure cancer by simply downloading an app and charging your phone. It's an easy way to make a real difference.
Since 2007 the Can Too Foundation has invested in 13 early-career cancer researchers advancing our understanding and treatment of breast, prostate, pancreatic, colorectal, and bone cancers at Garvan Institute of Medical Research.
Start your first night shift as a cancer researcher.
Download the DreamLab app: