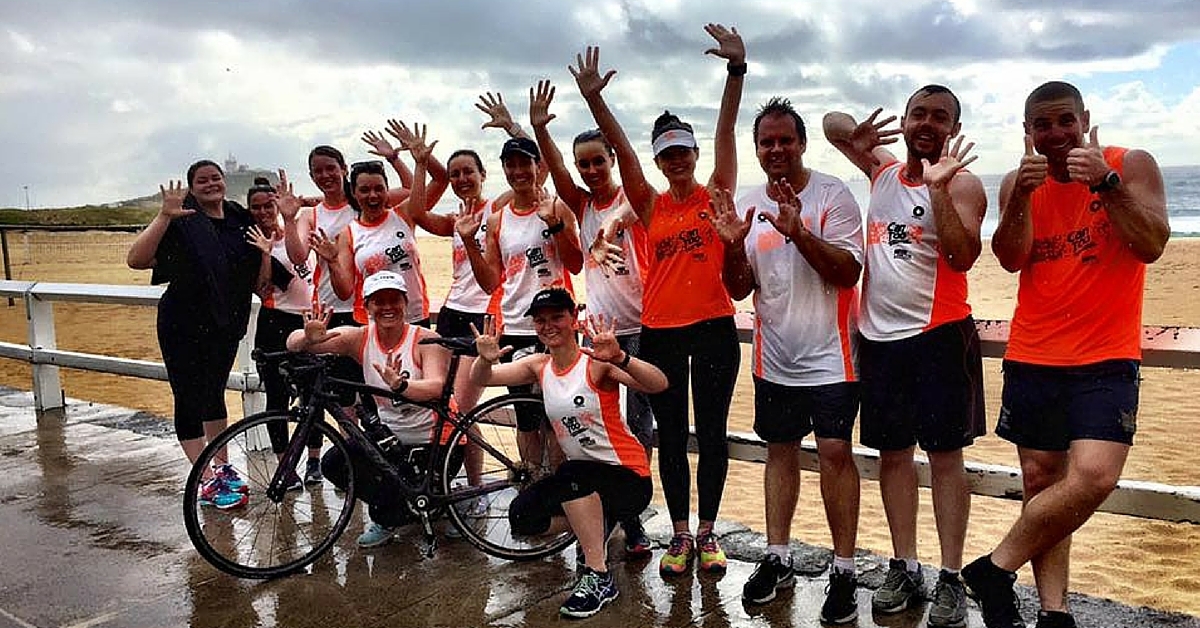 Shayne Connell and his wife welcomed three daughters in two years, including their twins, and the everyday demands of a young family left him with little time to spare. When he signed up to train for the Central Coast Half Marathon with Can Too last year he wasn't quite sure what to expect out of the program, he just knew he needed to get back into shape, and he needed help doing it.
"I was motivated to get back in shape and get active again, while supporting a great cause. I'd never run anything close to a half marathon before, so the idea of training for one within such a supportive environment was very appealing to me. I needed the structure of Can Too to help me get active again."
Focussing on the demands of being a new dad, Shayne wasn't active at all before training with Can Too. "I really didn't know what to expect. I thought that there would be a lot of elite runners and I would be running at the back on my own a lot. But I couldn't have been more surprised. Everyone had different abilities but the common theme was how supportive we all were of each other, regardless of fitness levels."
Run training programs with Can Too are generally held on Wednesday nights and Saturday mornings. "I liked both sessions. Wednesdays are a bit more social, but the Saturday long runs were a great way to start the weekend. By 9am Saturday mornings I had done a huge amount of running and felt I had really earned whatever I was up to for the rest of the weekend!"
The weekends felt earned after a Saturday run
A half marathon is a tough run to train for, and involves months of pushing your boundaries leading into race day. "Some weeks were difficult," Shayne says, "but I found the further we ran each week, the more motivating it became. I remember six weeks into the program our Saturday run was 14km. It was at this point I became really confident — maybe too confident! — I could really do the half marathon. But the motivation really came from the team spirit of the pod: in particular our team captain, Kayleigh. There's no way I could have run half as far as I did if I was on my own."
Team captain Kayleigh will be leading the charge for this year's Central Coast Half Marathon pod in Newcastle. "Kayleigh is incredible. She is so energetic and personable and made everyone feel comfortable and welcome. On the sessions that I was really struggling she would just be so positive and helped me get through the toughest moments. She attended my fundraiser with others from the pod, and she really represents what Can Too is all about."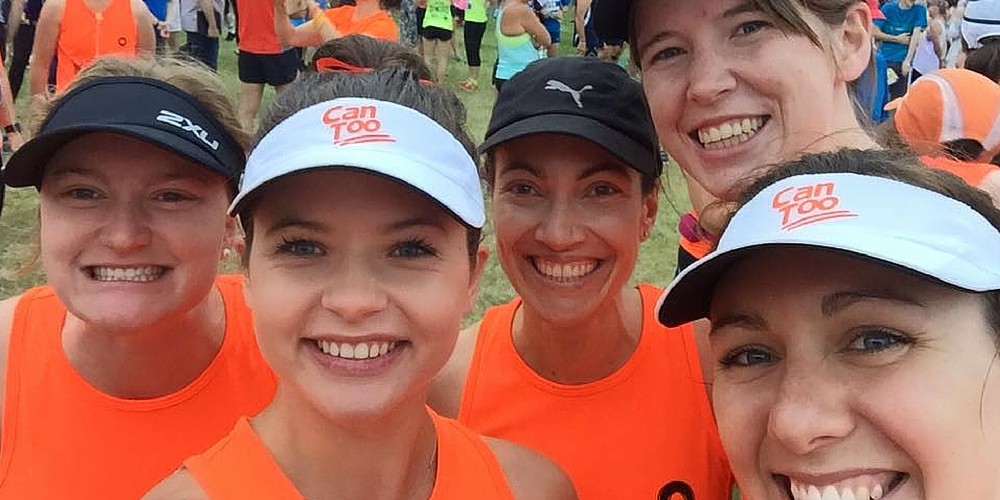 Kayleigh (second from left) regularly team captains the Can Too Newcastle training pods
Shayne has been involved in team sports over the years, but found Can Too is a totally different environment. "Can Too is different to team sports I've played (rugby, basketball) in that it's not just about listening to the coach and doing your bit. You get — and you give — so much support from your fellow Can Tooers that you get a lift just by being in the 'sea of orange' or seeing — and calling out to — another Can Too runner during the race."
For Shayne, as a new dad, the hardest thing about the program was simply finding the time. "With three young girls, full-time work, part-time university studies, and driving almost an hour one-way to get to the training each week was a real challenge. But it was worth it. If It wasn't such a great atmosphere, if I didn't look forward to going to training so much, I could have found a thousand excuses to pull out. The running was actually the easiest part after the first few weeks!"
Every Can Too program is a dual journey of fitness and fundraising. Participants come up with all sorts of ways to meet the minimum fundraising commitment of each program. "I held a fundraiser at a local pub in Newcastle screening the finale of The Bachlorette. We hired out the front bar, put on drinks and food and held a 100 Club and a raffle. It was great fun and pretty easy to organise. It was also mid-week so it wasn't too much of a commitment for people to pay a few dollars to turn up and watch the show. Surprisingly, not many of my mates were keen though!"
It's about the journey, not the destination, but Shayne had some impressive achievements to boast by the end of his first Can Too program training for the Central Coast Half Marathon. "I lost about 11kg and my confidence sky-rocketed. I haven't run very much lately but I know that when I start getting into it again I have the knowledge and the confidence to run 7km — 10km without fear. I haven't kept up the running as well as I'd like, but I've mapped out a run around my suburb and I've set a personal fitness goal for spring. Can Too has given me the confidence to set goals that are challenging knowing that I can do it."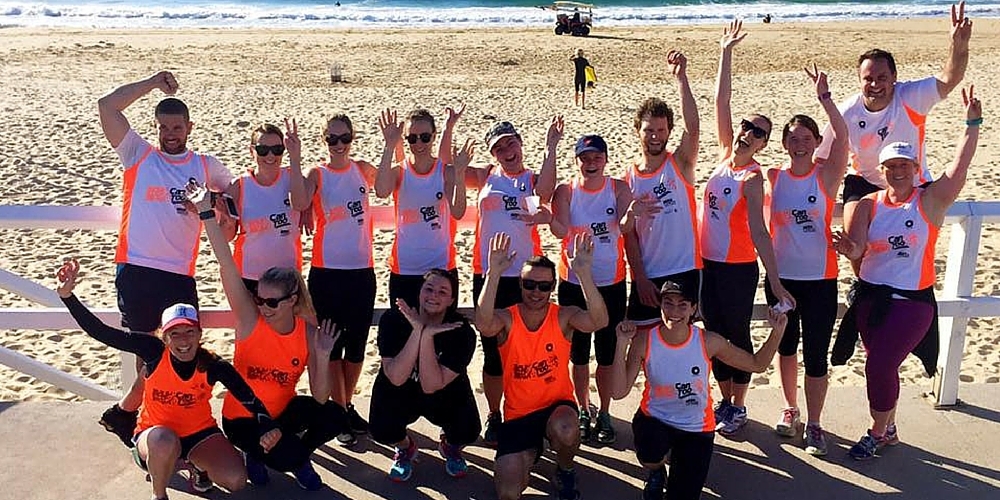 Shayne and the Newcastle pod enjoying a Saturday run
For Shayne training for the Central Coast Half Marathon with Can Too was rewarding in two ways. "The first thing was the friendships that I developed in the pod. The second, suprisingly … finishing the Central Coast Half Marathon — albeit slowly, held up by Susannah Miall, CEO of Can Too, who all but pushed me up that final hill, and cheered on by my little girls as I crossed the finish line. It was such a sense of achievement; certainly a highlight of my whole year.
"The morning of the Central Coast Half Marathon I was feeling great. We had done the work, and it was hard, but it left me with the confidence that I could really do it. I could finish. I had a very light breakfast and plenty of water. The high point of the race was around the halfway mark: feeling great, high-fiving other Can Too runners along the course, cheering each other on. The team spirit Can Too creates really makes such a difference to getting through those kilometres."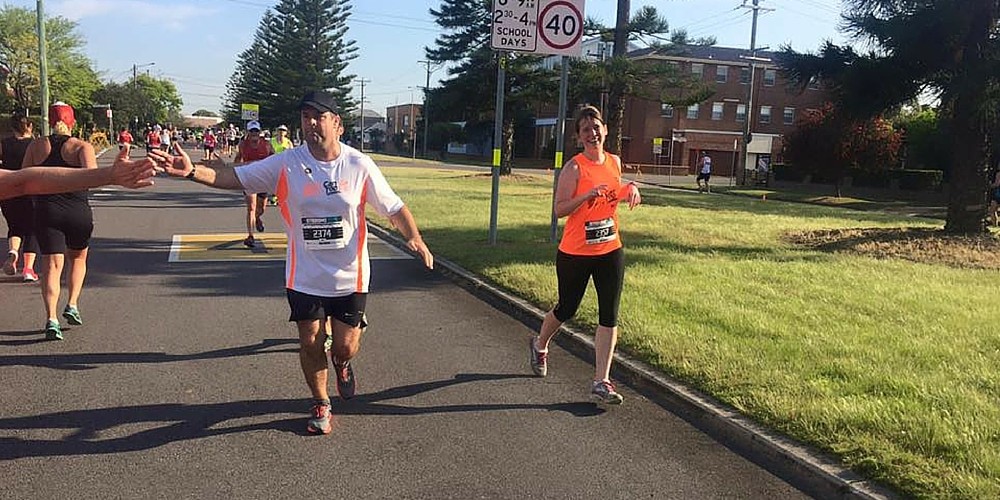 Shayne high-fiving other Can Tooers keeping race spirits up
The low point? "Bleeding nipples from chaffing. I know … too much information. But I'm not asking the questions!"
Back to the race — "I was going great for the first 19km, then suddenly I just hit a wall. My legs felt like concrete. I made the first-timer mistake of not drinking water or eating for the first half of the race. But I was determined to run the whole way, and I'm very proud to say — while it wasn't pretty — I did it. It was incredible. It's the great thing about being a slower runner: the whole Can Too team cheered me home. I'd trained with these people for 14 weeks, and to cross the line with them all was a fantastic way to wrap up the journey. The only thing better was ice creams with my girls after!"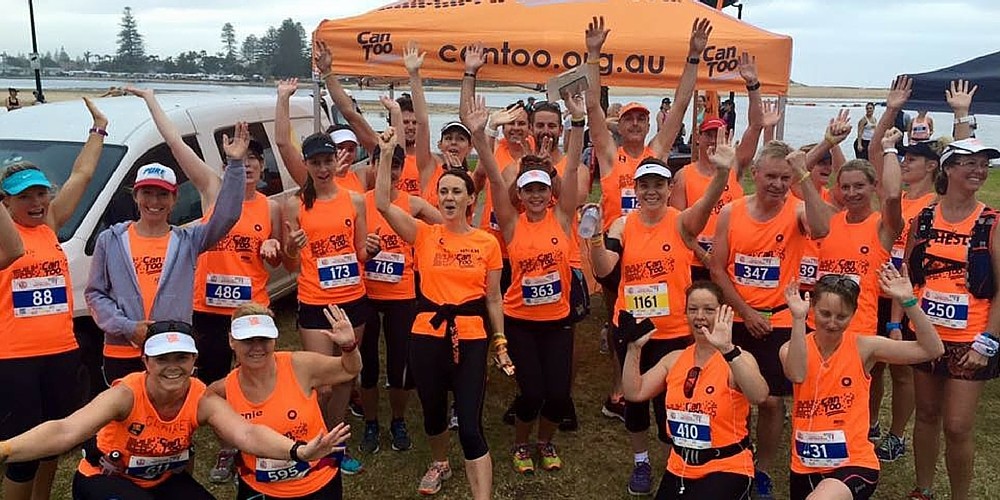 Team Can Too celebrating at the end of the Central Coast Half Marathon
His advice for those weighing up the options: "Do it! You'll love it. I'll definitely be back to do another program."
Register now for Central Coast Half Marathon
---
Training for this year's Central Coast Half Marathon starts Wednesday 24 August in Newcastle.
Shayne Connell is the Regional Manager — Hunter Central Coast for Cancer Council NSW. As a collaboration partner of the Can Too Foundation, Cancer Council NSW is the beneficiary of all proceeds from Can Too programs training and fundraising for the Central Coast Half Marathon 2016.