In ways big or small, we're all guilty of being held back by fear at some point in our lives. Whether it's a fear of swimming in the open ocean, a fear of public speaking, a fear of heights, fear can be a debilitating emotion, and can keep us from embracing and enjoying many of life's great experiences. It was the power of fear that inspired Margaret-Anne Hayes latest fundraising campaign, Jump into June/Jump into Life, where she led the way in not just facing – but harnessing – her fear to raise money for ovarian cancer research.
Cancer: it's a word that's justifiably synonymous with fear. It's a word that conjures images of pain, uncertainty, and far too often – loss. When Margaret-Anne learned of an ovarian cancer research project at the Kolling Institute closing down in 2015 because of a lack of funding, she approached Annie Crawford, founder and chair of the Can Too Foundation, about setting up Jump into June/Jump into Life to help raise funds for this project.
"In today's research environment funding is very tight," says Floyd Larsen, CEO of Can Too's major beneficiary Cure Cancer Australia. "Approximately 12% of project grant applications submitted to the National Health and Medical Research Council (NHMRC) are successful[1]. Yet it's only research that can cure cancer."
Margaret-Anne is a seasoned campaigner for cancer research funding through Can Too. She has held charity balls, film and trivia nights, social evenings – and more – on her path to raising $200,000 for cancer research previously, before developing her idea for Jump into June/Jump into Life this year.
But Jump into June/Jump into Life isn't just about harnessing fear to raise money for cancer research, it was about creating opportunities for personal growth by placing yourself outside your comfort zone, a core part of the vision and mission of Can Too Foundation.
Margaret-Anne, like many of our participants, first joined Can Too as a way of managing her depression, an illness she believes to be hereditary much like heart disease. Following the loss of her son Aaron to depression in 2003, Margaret-Anne saw her own depression as overwhelming. "If I am tired, or have a cold, or am upset, it tends to trigger the depression. But being involved with, and the wonderful friends I have met through Can Too; exercising and being with good friends tends to keep it at bay for a lot of the time."
Margaret-Anne has pushed her limits in the past as a participant training with our Can Too run programs. She has been a pod champion and a Can Too Centurion – raising vital funds specifically to cover costs of fitness programs and maximise the return to cancer research at the end of each year.
"For years," Margaret-Anne shares with us, "I have had this nightmare of falling into the blackness of space." Two years ago, "at 74 years young" she first faced this fear of heights. Skydiving from 14,000ft to raise funds for cancer research, Margaret-Anne became an inspiration for many as she showed the world the kind of growth you can gain from facing your fears. This simple idea became the seed for Jump into June/Jump into Life: by creating this campaign she is sharing this growth opportunity with others, harnessing fear to bring others together for a good cause and to prove anything is possible.
The inaugural Jump into June skydiving event was held on Sunday 26 June 2016 at Skydive the Beach in Picton, NSW.
"When the plane took off I was okay," Margaret-Anne recalls. "It was a few minutes later when my tandem instructor, Dan, showed me his wristwatch. We were only 3,000ft in the air – five times that height still to achieve … I felt absolutely sick with fear." It was at this moment that Carla Kassab, one of Margaret-Anne's fellow skydivers, reached out and held her hand in support as the plane continued to climb.
The atmosphere in the cabin shifted: the plane's engines moved from a monotonous grumble to a calmer hum; stopped climbing and levelled out. One of the instructors pulled the roller door at the rear of the plane open. According to Margaret-Anne, "the roar of the wind, it sounds like a train … or what I would imagine a hurricane might sound like. Absolutely terrifying."
One by one Margaret-Anne watched the occupants of the cramped plane shuffle from down their bench and off into the sky. Carla let go of Margaret-Anne's hand when it was her turn, shuffling off like the others, sitting in the doorway, legs hanging over 15,000ft of nothing, crosses her arms, tilts her head, and then – unceremoniously – she's gone, leaving Margaret-Anne alone.
Amidst the panic rising in her as she edges toward the door, the final person out of the plane, what-if's and why's begin to cloud her thoughts. Trying to stay grounded, Margaret-Anne focuses on her late cousin Ann-Maree, who faced cancer with courage and dignity, passing away four months earlier, just eleven weeks after her diagnosis.
"I hope that by doing this skydive, it gives me a very small awareness of the horror of a cancer diagnosis, which in turn compels me to continue raising funds for cancer research. It lifted my courage as I looked around the empty plane as Dan guided me toward the open door."
Seated in the doorway of the small plane, the freezing cold wind rushing in, her own feet dangling over the vast emptiness of the sky, her tandem instructor Dan asked the $25,000 question: "Are you ready?"
"Truly for years I have had this nightmare of falling into the blackness of space." As she uttered a petrified yes, Margaret-Anne and Dan rolled out of the plane as one, her body lurching and her mind screaming "no!"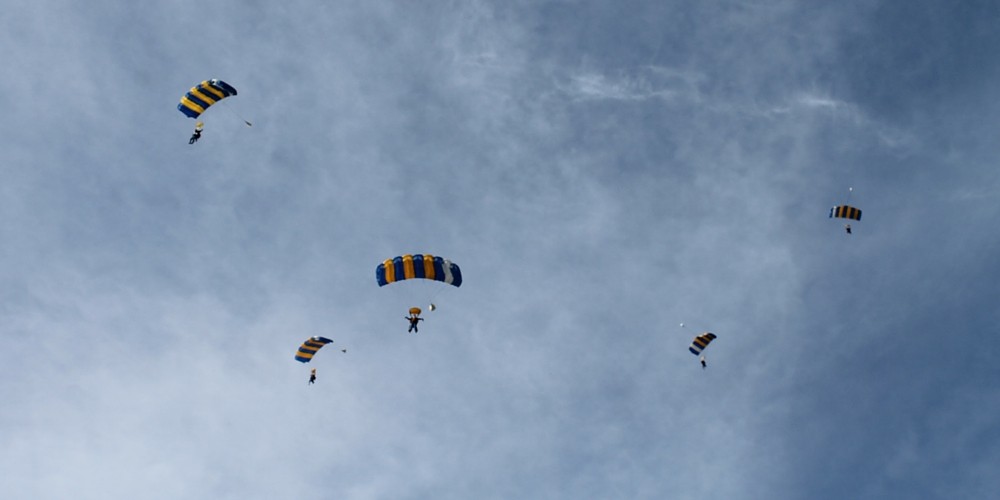 "The split second I fell from the plane was for me, so absolutely and totally terrifying. When the parachute opened I was so thankful, and so grateful. I knew I was in safe hands with Dan. He's done this jump more than 10,000 times and had complete control of the situation."
With the worst over, Margaret-Anne took stock of her beautiful surroundings, with a perspective very few get to experience on a Sunday.
"As we came into land all I could keep thinking and saying was a combination of thank you, I've done it, thank you, thank goodness, I've done it, thank you! Sliding on to the grass was absolutely bliss, complete and total bliss. Having been through the experience gave me such a sense of gratefulness. I lay back on the grass and could have stayed there for hours, but had to stagger up for a lot of hugs. My husband kept hugging me, and asking me if I was alright. Lovely friends hugged and talked to me, congratulated me, skydivers congratulated one another. I acted normally, but it was as if I was not in my own body. I don't know where I was, but even in this disconnected state I kept giving thanks that it was over, that I had survived. But what I was also conscious of, in this out of body experience, was just how wonderfully I had been supported through this particular fundraising journey. This hadn't been my journey alone, far from it. Right from its conception I was so supported, not only financially, but with such encouragement, such kindness, such generosity of spirit."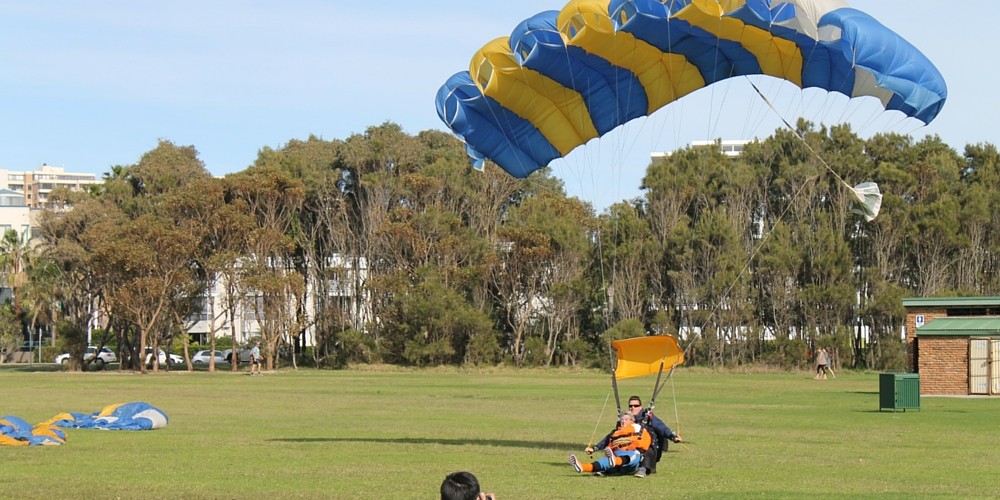 "In the days which have passed since my skydive, I have reflected on both the emotional and physical pain of cancer. The disbelief of finding oneself in this position, the terror that the pain will continue and the feeling that you have absolutely no control over the situation. So whilst the skydive for me was so frightening, it also gave me a sense of how fortunate I am that I have not, so far, had to endure the pain of cancer. And if this is so, my time should and will be spent endeavouring to find financial means whereby researchers are able to give those with a diagnosis of cancer a feeling of hope."
Margaret-Anne hopes by sharing her story, she will inspire others to get out of their comfort zone, fundraise for a good cause and in the process change their lives for the better. "For goodness sakes, do what you can to help your fellow man! One in two men and one in three women will face cancer in their lifetime. Let's put everything into raising these statistics. If all of us just put in a little effort, gave a few pennies, held out a helping hand we could move mountains."
Can Too Foundation founder and chair, Annie Crawford AM added: "If more people could inspire others to make a positive change like Margaret-Anne does, the world would be a much healthier, happier place."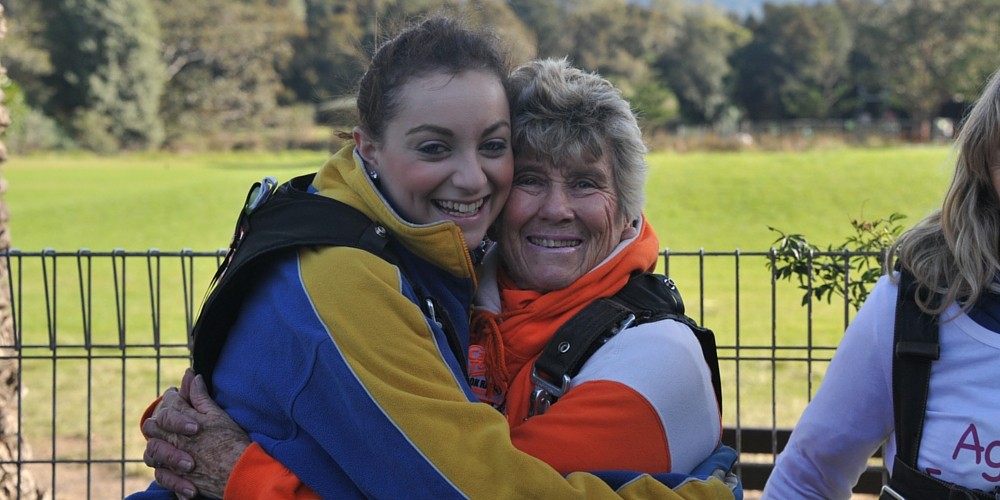 Support Jump into June/Jump into Life
---
About Jump into June/Jump into Life
Jump into June/Jump into Life was a fundraising campaign aimed at getting people to step outside their comfort zone to fundraise for cancer research through Can Too Beyond: an online platform designed for dedicated fundraisers like Margaret-Anne to continue their good work outside of committing to one of Can Too's structured training programs.
For enquiries about Jump into June/Jump into Life please contact Margaret-Anne Hayes.
About the Can Too Foundation
Can Too is a health promotion foundation that transforms lives through improving health and wellbeing in the community and supporting the research, prevention, care and control of cancer.
For media enquiries please contact Marty Pinkstone, Marketing & Communications Manager