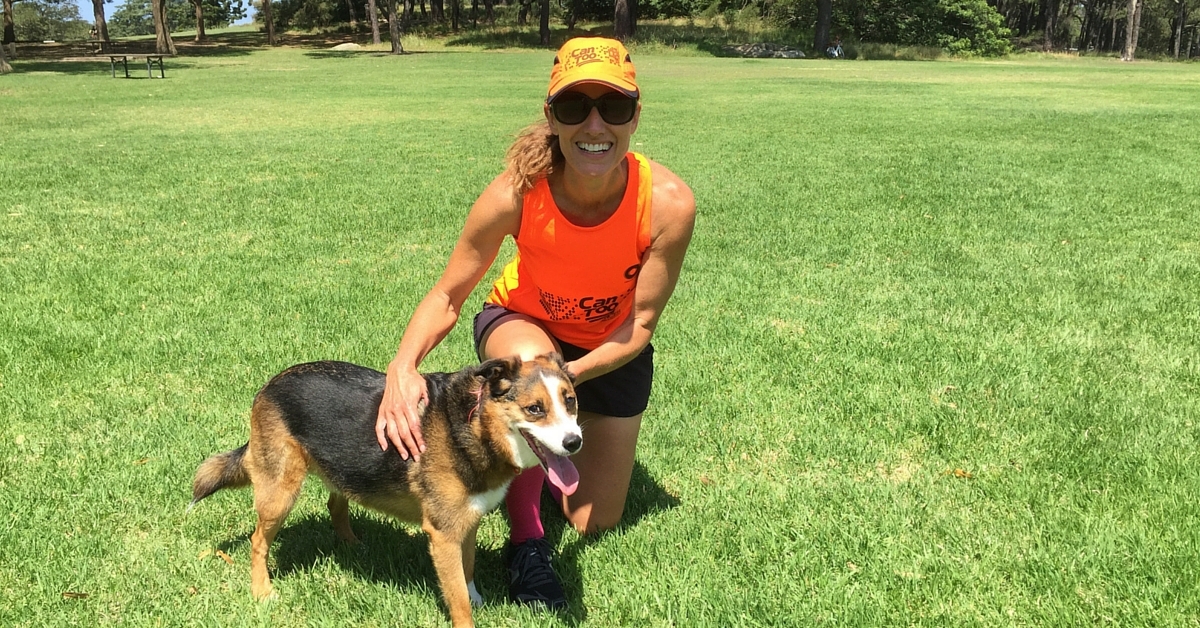 Can Too is very pleased to announce our newest ambassador, Heather Hawkins: a cancer survivor turned endurance runner with an adventurous spirit. Now a 50 year old mother of two from Coogee NSW, Heather was diagnosed with ovarian cancer in 2007. Thankfully, Heather was able to access doctors equipped with the kind of breakthrough research the Can Too Foundation funds, and has made a full recovery, using her experience as the catalyst for some truly inspirational life changes.
First, she became a Surf Lifesaver in 2009. Then in 2012, she ran the Mother's Day Classic 4km Fun Run, the event that sparked her passion for running, and precipitated an ongoing global fitness journey. Heather has since gone on to compete in a range of endurance running events, recently taking top of the podium on the top of the world as Winner – Women's Division at the North Pole Marathon earlier this year.
Heather's next endurance goal is the breath-taking World Marathon Challenge. In January she plans to run seven marathons, on seven continents, in seven days, ending in her hometown of Sydney, where the Can Too community plans to cheer her across the line in true Can Too spirit.
Annie Crawford, Founder and Chair of the Can Too Foundation, caught up with Heather to discuss Heather's personal journey as a cancer survivor, as a competition endurance sport professional, and why she's now a passionate ambassador for the Can Too Foundation.
***E&OE***
Hello Can Tooers, I hope you've been busy training, and are getting fitter. One of the great things about Can Too is that we meet so many inspiring people, and today I have the pleasure of announcing a new Can Too ambassador, a woman who has conquered her encounter with cancer. A woman who has achieved amazing things and has realised that she has a second chance, and is taking that to new heights. I would like to introduce the 2015 female champion of the North Pole Marathon, Heather Hawkins. Welcome Heather.
Thankyou so much Annie.
It's amazing what you are doing, I can not believe it. I'm so excited that you're going to be an ambassador for Can Too. Heather, can you just tell us a little bit more about who you are, and give me some thoughts about Can Too? Your thoughts about Can Too.
Thankyou so much Annie. Look, I am so excited about being an ambassador for Can Too. Can Too is an amazing organisation. As you've mentioned, I was diagnosed with ovarian cancer in 2007. It was life changing for me, and I was really privileged to have the skilled surgeons and breakthrough research to help me recover, and today I'm in remission. My passion today is running. I only started running in 2012. I'm a fifty year old mother of two. I am a wife of one. I am a surf lifesaver, a businesswoman, and I really get inspired by everyone making the most of life, getting fitter, and helping other people, no matter what their circumstances are.
You're an absolutely incredible person. I've got two questions for you. The first is: what is it that you really love about running? And secondly: have you got any new, and exciting challenges that you're about to undertake?
Annie, I do. When I was faced with cancer, it really changed my whole mindset. So I started running, and I found that really challenged me. And I find it incredibly fulfilling: to get out there in the elements, to run on the beach, at the park on trails; and I love running with other people, listening to music.
At the moment I am training for one of the biggest events of my life. It's called the World Marathon Challenge. It's seven marathons, on seven continents, in seven days. It's kind of like flying and running around the world in 168 hours.
That is totally incredible, in anyone's language.
And I found after I did the North Pole Marathon, I was looking for that next challenge – and this it. I'm so excited because the final marathon is here in Sydney, and I'm really hoping – and looking forward – to seeing lots of happy, smiley, Can Too faces at the finish line in Sydney.
Well, I have to tell you there's going to be a lot of orange people cheering you in, and they're going to be so proud, and it's going to be totally amazing. What message can you give Can Tooers as they embark on their next new challenge?
You know, there's something incredibly fulfilling: when you face your fears, step out of your comfort zone, and just take on a new challenge. You know, it's only one step, a swim stroke, and a cycle at a time. And the hardest thing is actually getting started. Once you're up and going it gets better, and it's more fun from there. I'm really inspired by the Can Tooers who sign up to the program, for those who really push their boundaries and become fitter. I'm really looking forward to joining in some training with the Can Too pods, and I just want to say keep up the great work, keep up the fundraising and let's have some fun.
So Can Tooers, you're going to be lucky enough to see Heather Hawkins at training, and you're going to hear more about the incredible achievements as she does her World Marathon Challenge. Heather, I just want to say welcome to the Can Too community, we feel so lucky to have you as an ambassador. We know you're going to make an incredible ambassador, and it is very, very lucky that you look so good in orange!
Thankyou Annie, so do you.
I think the only thing for us to do now Heather, is to go for a run. And Can Tooers, as you know: we train rain, hail or shine! It's very hot day, but that won't stop Heather and I. We're going for a run, aren't we Heather?
Let's go!
***ENDS***
Stay up to date with Heather's story through our online community on Facebook, Twitter, Instagram, and LinkedIn.
Leave some words of encouragement for Heather in the comments section below.