Neatly 30 Can Tooers from Brisbane and the Gold Coast completed the 7 Sunshine Coast Marathon and Community Run Festival on Sunday not just for the glory of finishing the race but to help others fighting cancer.
The runners dressed in bright orange, trained for up to 14 weeks with professional Can Too Foundation coaches for the Sunshine Coast event to pledge $27,380 to support Australian cancer research and prevention.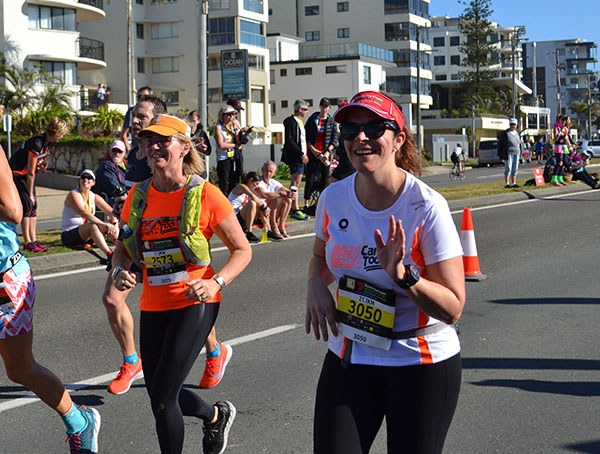 Lisa Groom (pictured below second from right) who completed the half marathon did so to support the Can Too Foundation as she knows too well what it's like to have cancer.
"I Can Too because I had cancer and now I can support other people who have cancer as the research that Can Too invests in is amazing," said Lisa.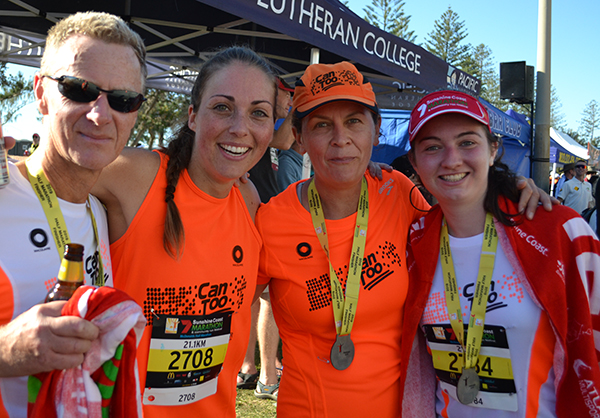 Can Too Hall of Famer Benjamin Moyle, who has raised more than $5000 for the Foundation, has also had to overcome serious health issues to keep running. He completed the 10km race on Sunday, despite recent leg infections from having diabetes.
Gold Coast participant Darren Stapleton (pictured below centre) who has completed triathlons, swims, marathons and half marathons with Can Too said that he's inspired to participate in and raise money for the Foundation by those who are battling cancer.
"A lot of people I know have had battles with cancer, so raising money for cancer research is really important to me as well as bettering yourself in a fitness perspective," said Darren.
"Even though the half marathon race was challenging as it was hot and long it was great fun. We had some great people running from our Gold Coast pod (training group) and the scenery was fantastic, it was great to cross the line, so I'll sign up for another Can Too program soon."
Fellow Can Too tragic Alex Honey from the Brisbane pod said that the Can Too training and support prepared her well for the event.
"I'm inspired to run by our coach Jaryd Grantham as he's so enthusiastic," said Alex.
Coach Jaryd clocked up an impressive 38km on the day by running back and forth supporting Can Tooers by encouraging them along the 21km and 10km courses.
Can Tooer Heather Writer also deserves a special mention as she backed up her half marathon performance to then accompany her mum on the 10km run.
Prolific Can Tooer Marion Burrows also accompanied her husband Andrew Burrows on the 10km run to see him complete his first Can Too program. Now the whole family have taken part in Can Too. Marion has completed in 16 Can Too programs including two Can Too Beyond marathons in Paris, to raise over $22,000 for the Foundation.
Another husband and wife team to run on the day was Gold Coast Pod Run Coach Maria Hobbs and participant Stephen Hobbs (pictured above right). Stephen completed his first half marathon after having heart bypass surgery two years ago.
I've now done a half marathon program with my wife as the coach. Which we find amusing, as do the group and our children," said Stephen.
"After my heart surgery I slowly built up my fitness but there was always a concern in the back of my mind. The key to my confidence was the camaraderie of the group with everybody pulling together with lots of encouragement and banter. It was interesting for 15 people to get together that didn't know each other, from very different backgrounds all working towards one common goal."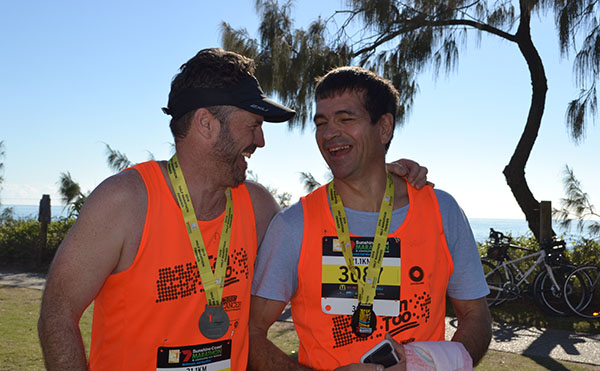 Another Can Too Coach Enrique Vanderhoeven (pictured above right), wore a different hat this time to run the Half Marathon race as a Can Too participant, which he did in a time 1:53:53. He usually coaches swimming but was encouraged by his pod members to join them for the run.
"I joined the Can Too run as a participant, because I love the energy of these people."
Well done to the whole Queensland team for representing Can Too at the 7 Sunshine Coast Marathon and Community Run Festival and helping raise funds for Australian cancer research.
See the Can Too highlights video of the 7 Sunshine Coast Marathon and Community Run Festival.