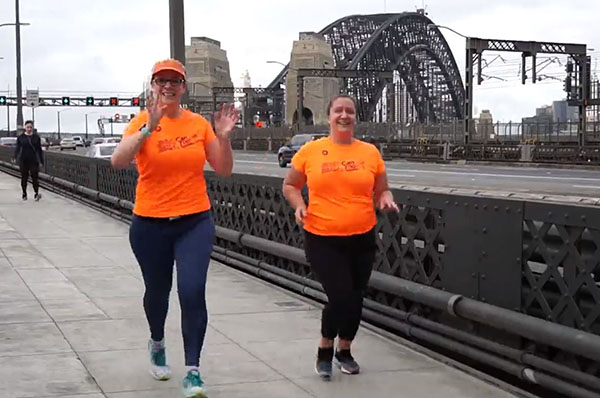 Jill Chambers pictured left at a training run for the Blackmores 2019 10km Bridge Run.
People join and stay with the Can Too Foundation for different reasons, often for the winning combination of the health and fitness benefits, having a goal to strive for, the social aspect and supporting cancer research and prevention. For Can Too Mentor, Jill Chambers who knows what it's like to have cancer, giving back is the main drawcard.
Whilst training for the 2017 Sydney Half Marathon with Can Too Jill underwent a regular mammogram and was diagnosed with cancer. She stopped running for two years whilst undergoing treatment and made her come back with Can Too's Sydney Olympic Park Pod (training group) to complete the 2019 12km RunWest goal race in March.
"It was fantastic coming back to Can Too as 2018 was a hard year when I was on the road to recovery," said Jill.
"Can Too was like a family to me where I felt supported so to raise the money for cancer researchers brings it all home. Being part of Can Too helped me turn a corner in my recovery and to see that being diagnosed with cancer isn't the end, you Can Too start again.
"What we're doing by raising money for cancer researchers is so important to me, especially If we can support young researchers who don't have the opportunity to get funding. This is one of the key reasons I'll keep coming back to Can Too because of where the money goes."
Jill also gives back to Can Too by taking on the mentor role to reciprocate the support she received by Can Too Coaches, Mentors and Team Captains during her 10 programs, including the 2013 Gold Coast Marathon.
The Can Too Hall of Famer, who has raised over $7,700 for the Foundation, completed the 2019 10km Blackmores Running Festival Bridge Run, however she wasn't focused on her own goal.
"It's about the participants and getting them to the finish line," says Jill.
"Blackmores is a great run, it's a good feeling to finish in that iconic area with the Sydney Opera House at the end of the race. Crossing the finish line in my first event was so memorable and, so I'm thrilled to help other Can Tooers achieve this."
Can Too's 2021 Blackmores Sydney Running Festival is now open

Train with Can Too to receive a structured training program with qualified coaches in a supportive team environment and benefit cancer research. Join the 2021 Blackmores Sydney Running Festival, register today by visiting here: cantoo.org.au/blackmores
Jill Chambers pictured below third from the right at the 2019 Blackmores Sydney Running Festival with the Sydney Olympic Park Pod.