Setting up your fundraising page is easy and an essential part of your fundraising journey!
This is where you will direct all of your potential sponsors – so you want to make sure your fundraising page inspires them to donate!
Think about it: if you were considering donating to someone else's fundraising request and you were directed to a page without an image or personal message, would you want to donate, or have the confidence that you were donating to the right person?
People are visual and are much more likely to donate if they can see pictures and messages outlining what their donation will mean to you!
To help you on your way we have put together 9 simple steps to setting up your fundraising page!
Note: Your fundraising tally will only show donations received after we became Can Too Foundation in 2014. If you completed Can Too programs prior to 2014, simply tell people in your blog how much you've raised so far!
1. Log In To Your Fundraising Page
In the right top corner of the Can Too website select LOGIN
Enter your email address and password you used to register for the program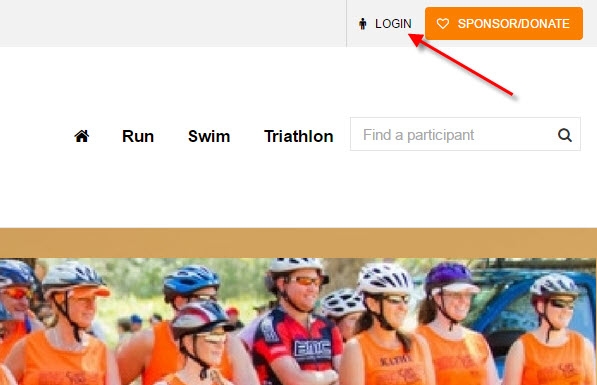 2. Upload Your Profile Picture
Select My page
Select Upload Profile Image
Select Save Changes once you have uploaded your profile picture
3. Finding Your Fundraising URL
Select My page
Your Fundraising page URL is http://www.cantoo.org.au/fundraisers/ plus your username (mine is FiMoran). For example https://www.cantoo.org.au/fundraisers/FiMoran
To change your URL adjust the name currently in Your Fundraising page url
Select Save Changes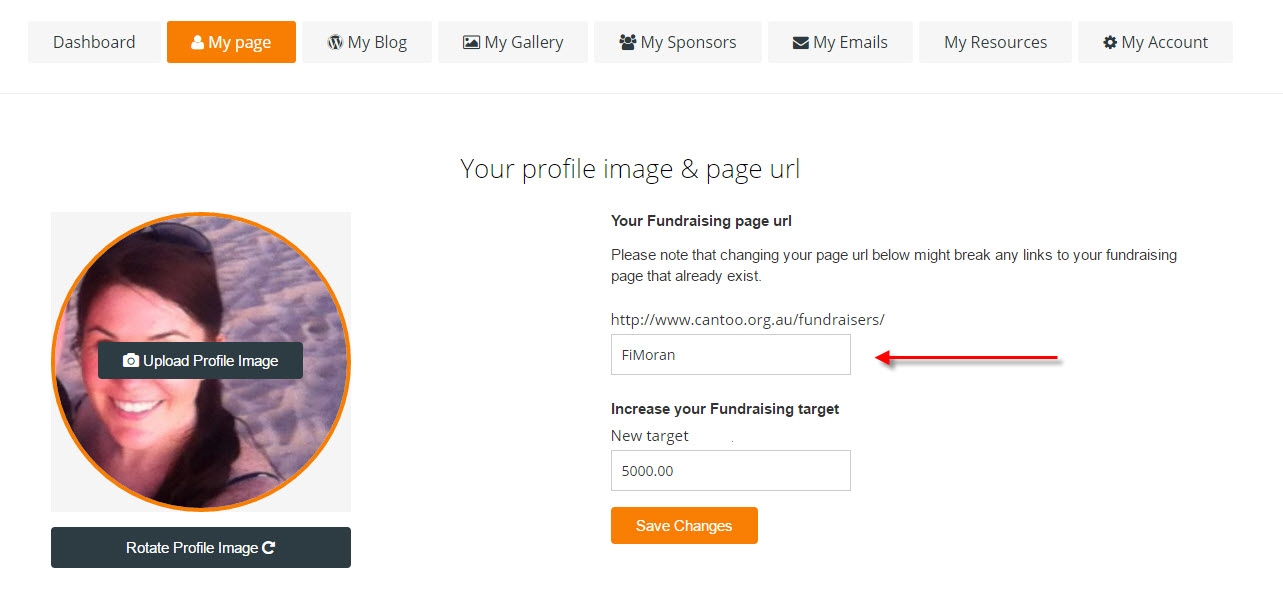 4. Increase Your Fundraising Target
Select My page
Under Increase Your Fundraising target enter your New target (eg $5,000)
Increasing your fundraising target can help boost support from your potential donors. If you don't meet your increased fundraising target don't worry, you only need to meet your minimum fundraising commitment for the program.
Save Changes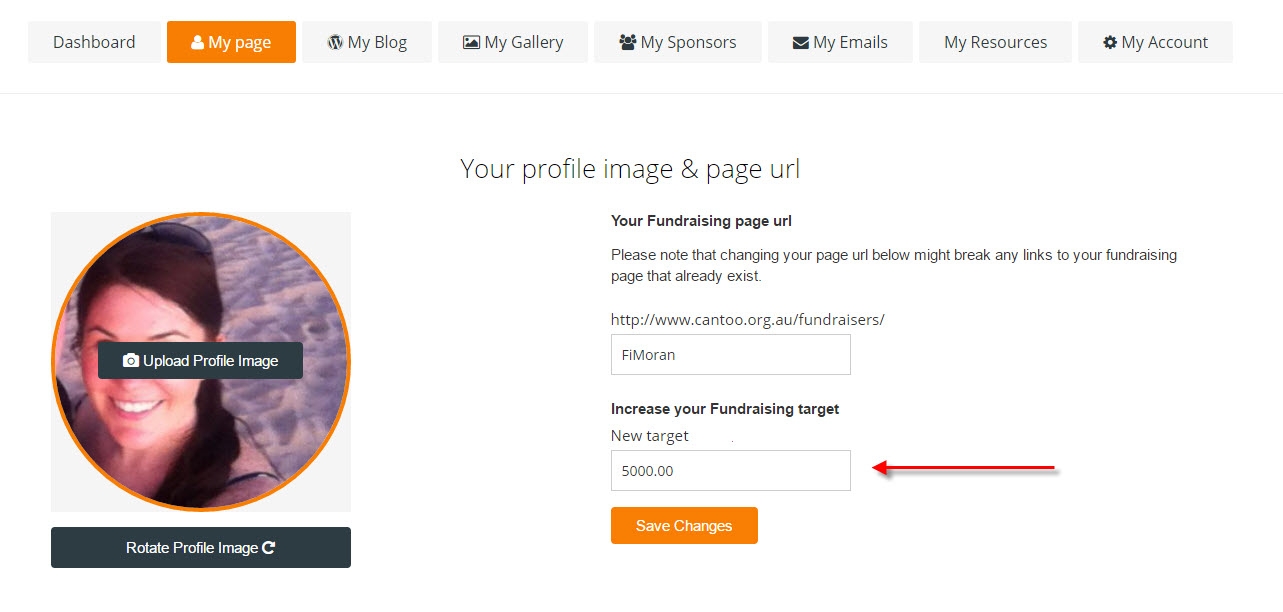 5. Change Your Personal Details
Select My Account
Edit your personal details
Select Save Changes
6. Upload Images To Your Gallery
Go to My Gallery
Select Upload Image
Select an image you wish to upload
Add an optional Title or Image Text. You can leave this blank if you like.
Select Add Image
Your picture has now been saved to Your Training Gallery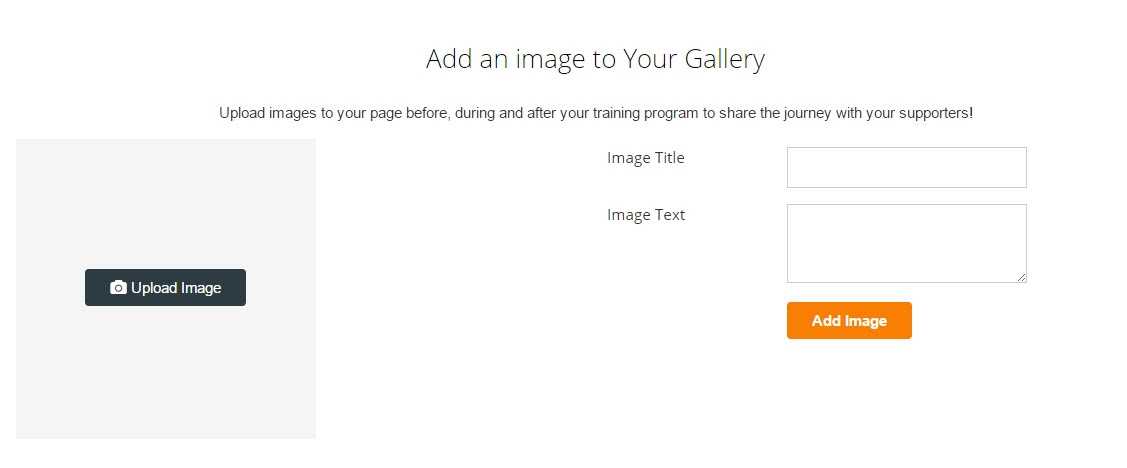 7. Email Sponsors Via Your Fundraising Page
Select My Emails
Select from templates: Ask for support, Thank Sponsors or create your own email
Ask for support templates automatically adds your fundraising page url into the body of the email, so sponsors can be directed straight to your Fundraising Page.
Either send the email as is or add some extra personalisation.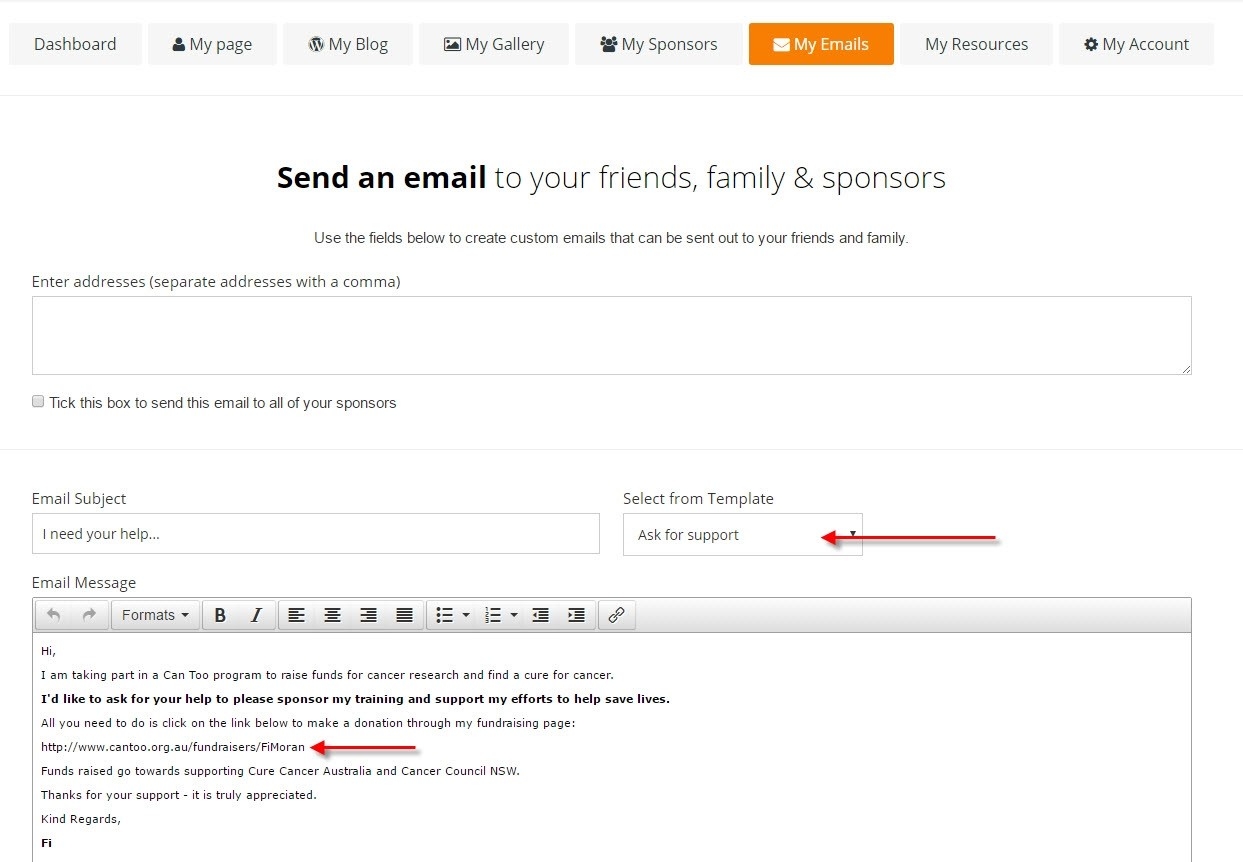 8. Thank Sponsors Via Email
Go to My Sponsors
Find the sponsor you wish to thank
Select Send Email

Write your thank you email or select the Thank Sponsors template
9. Thank Sponsors Via Facebook
Go to My Sponsors
Find the sponsor you wish to thank
Select Thank on Facebook
A Post to Facebook pop up window will appear.
Add a personal thank you & tag the sponsor into your post
Post to Facebook
Trouble Shooting
My old facebook image keeps appearing when I try to share my blog - how do I fix this?
Select My Page
Copy your Fundraising URL
Go to facebook for developers
Paste your Fundraising URL into the Input URL
Select Fetch new scrape information
Now go back to your Fundraising Page and f share your blog.

Other articles you might find useful: