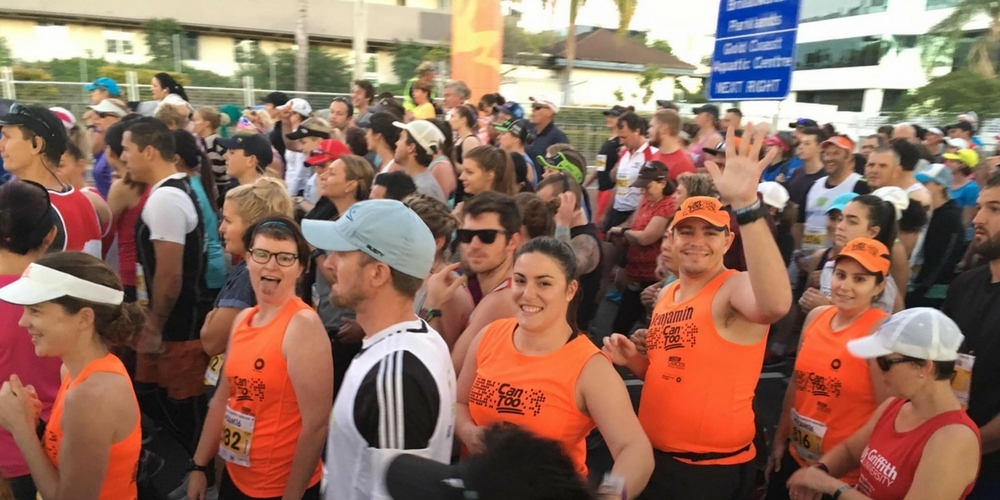 It's one of the fastest, flattest courses in the country, which makes the Gold Coast Half Marathon home to many a PB race time. Can Too has been training runners for the Gold Coast Airport Marathon races since 2010. To help you prepare here's five simple tips in a beginner's guide to Gold Coast Half Marathon.
#1. Believe in Yourself
Can Too was founded in 2005 on the principle that we believe in our people until they believe in themselves. If you're doing a half marathon it's good to have some base running ability beforehand, but if you join a structured training program, under the guidance of a qualified and experienced coach, you can become a half marathoner in just 14 weeks!
It sounds really cheesy, I know, but you need to believe in yourself. Believe that you can too run a half marathon. Trust that with the right training, support, and practice, we're all capable of far more than we often give ourselves credit for.
And remember that it's called a challenge for a reason! Particularly for a beginner runner, it's going to be really hard in the beginning. You will get the 'runners high' eventually, and the endorphins will kick in! Believe in yourself, and believe in the endorphins.
#2. Decide On A Training Program
The biggest challenge first-time half marathoners face is going out too hard, too fast, and giving up. You need to learn to run slowly – and it's slower than you might think!
If you're a beginner runner, you're not getting to get through Gold Coast Half Marathon without preparing for it properly.
Don't underestimate the value of training under a qualified and experienced running coach. Learning proper running technique is so important to injury prevention.
Find a coach that understands your needs, and supports you training for your challenge.
#3. Run For A Reason
When you're out there training, week after week, facing longer distances than you might have ever run before – what's the candle that keeps you burning and moving forward? Is there something more important than yourself that keeps you putting one foot in front of the other?
For the people in our Can Too community, it's the sense of camaraderie built through facing a challenge we never thought possible, and doing it together. We're there to support each through training, and we're all committed to supporting the broader community by funding Australian cancer research.
The high of running your first half marathon is something you can't replace. I still remember my first one, the high of it was just fantastic – runner's high! You just glow! But don't expect to get the runner's high for the first few weeks, because I think that's important. If you're first starting, it takes a few weeks and don't give up on yourself. Believe in yourself, believe you'll get there. You can too!
#4. Look After Your Feet
Remember that your shoes are there to support your feet while they support you. Don't sell yourself short with a pair of shoes that look great but are wrong for your feet. Visit a reputable shoe store that analyses your running style and find shoes that are right for your feet.
And invest in running socks. When your feet start to sweat, or it rains (training for a half marathon requires commitment – rail, hail, shine!) you'll be glad you avoided plain cotton socks. Running socks keep your feet from rubbing while you put in the hard yards training for and competing your first half marathon.
If you buy socks from Brooks Running use code CANTOO to get 20% off.
#5. Know The Course
A fast, flat course, doesn't mean you need to train on the flat for 14 weeks. Make sure you get a mix of training in – remember that hills are fun, good for the bum!
Get Professionally Coached Today!
We offer professionally coached training programs using qualified and experienced coaches. Can Too train all levels, from beginners to those more experienced, in structured training programs tailored to specific physical challenges such as run, ocean swim, triathlon or choral singing events.
Programs range from entry level distances such as 7km, 10km and 14km run programs and 1km ocean swims, to intermediate programs like sprint triathlons and half marathons, through to advanced programs such as marathons and trail runs.
Not sure which one is right for you? Have a look at all the Can Too programs we're holding in the upcoming year and secure your place today!