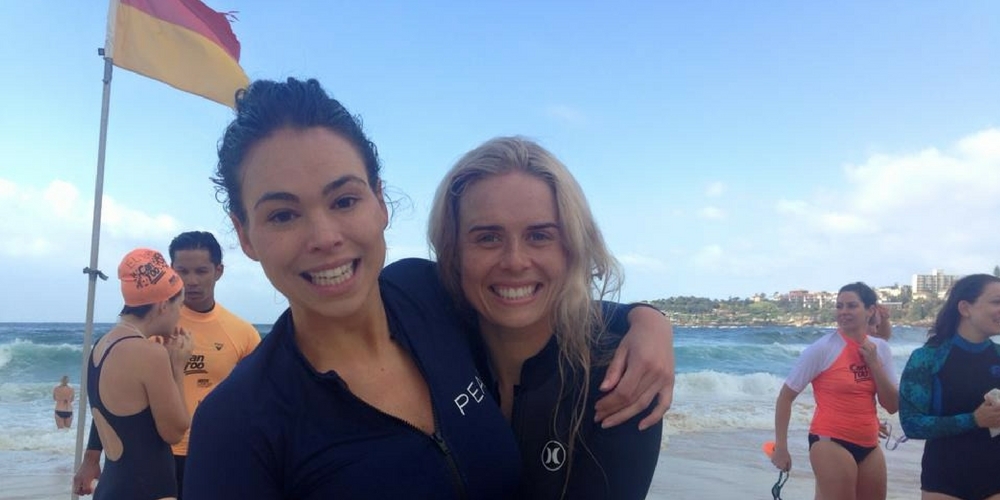 Summer is coming! The days are getting warmer, and the great Australian tradition of beach-going awaits us in the coming months. To help you and your family through the summer safely at the beach this season, here's five simple safety tips.
1. Be Sun Smart
Heading down to the beach is a great way to be active and stay fit, and making sure you can protect your skin from the sun while you're outside is the most important thing to do before leaving the house.
Cancer Council NSW's Skin Cancer Prevention Manager, Liz King, says if you are going outdoors when UV levels are at 3 or above (from around 9:30am – 4:30pm at this time of year) you should use a broad spectrum sunscreen that has an SPF of 30 or more. It's important to have a plan for how you will stay sun safe throughout the day.
However simply applying one layer of sunscreen in the morning is not enough. For correct sunscreen application Liz recommends three simple steps:
Apply sunscreen 15 – 20 minutes before going outside to allow it to bind to your skin.
Apply sunscreen liberally, with at least one tea spoon (5ml) per major body part.
Reapply every two hours or each time after swimming, exercising, sweating or towel drying, even if the sunscreen is water resistant.
Being Sun Smart relies on more than sunscreen alone. Using sunscreen in combination with wearing protective clothing such as long sleeved collared shirts, broad brimmed hats and sun glasses will help to reduce your risk of getting burnt and protect your skin.
It is UV radiation that causes sun burn and is the major cause of skin cancer. Before heading to the beach it's best to check UV levels in your local area on the SunSmart website or via the free SunSmart app.


2. Understand the Flags & Signs at the Beach
It seems simple, but how many times do you find yourself at the beach and swimming outside the flags without the proper training and support? According to Michael Byrne, deputy of education and lifesaving at Elouera SLSC, a safe ocean swimmer needs (in order):
Brains
Technique
Strength
"The surf is a problem to solve, so think before entering the water," Michael says. "Start by looking around: lifesavers continually reassess conditions throughout the day; flags and signs identify the safest part of the beach."
3. Learn How to Spot Rips & Currents
"Most rips can be easily identified," says Michael Byrne, a veteran lifesaver of fourteen years, and head coach and water safety manager for Can Too's ocean swim training program in Sydney's south. His tip: check out conditions from as high up as you can get. "When I go to the beach I always stand back on the road, the carpark, the headland, whatever's available. It's amazing how much easier it is to see what the ocean is doing when you're not at the shoreline."
According to Surf Life Saving Australia initiative Beachsafe, some of the things to look out for when spotting a rip are:
Deeper, dark-coloured water
Fewer breaking waves
A rippled surfaced surrounded by smooth waters
Anything floating out to sea
Foamy, discoloured, sandy, water flowing out beyond the waves.
4. Always Swim With a Buddy
"Just because you're super-fit doesn't mean you'll be good in the ocean. If you don't use your brains first, you're putting yourself in harm's way," says Michael Byrne, head coach for Can Too's ocean swim training program in the south. "Swimming with a buddy is part of rule #1 of ocean swimming: use your brains. Never swim alone, no matter how confident you are. Even just the reassurance of being able to talk to someone in the surf can be enough to keep from panicking, stay focussed, and swim safely."
"It's so important to swim with a buddy," says Susannah Miall, CEO of Can Too. "We pair off swimmers every Saturday morning at the beach, and do a quick buddy-check whenever we return to the sand. It helps keep the group together, and safe, looking out for each other through the program. Buddy groups are supported by the water safety team, and we number off the group at the end of each ocean training session to make sure every person has returned to the beach. We take the safety of our swimmers very seriously."
5. Gain Proper Swim & Surf Skills
According to Australian Government initiative Beachsafe, at least 19 people drown while caught in rip currents each year; more people than sharks, cyclones, and floods combined.
According to veteran lifesaver Michael Byrne: "To be safe, and to be good in the surf, you need to do two things: you still need to swim in the pool to build strength; and you need to practice entry and exit from the ocean. Open water swimming is challenging, but once you're past the surf zone, things are a lot less complicated. Entering and exiting the water, getting yourself safely through the surf, is a really important skill.
"A great example is our nippers program which started recently. Their starting point is to enter the water and swim twenty strokes through the surf. They stop in the break zone, gain experience dealing with different conditions, and turn around and come back again, before doing it all over again. This simple routine should never be under-estimated: they're learning not to panic, learning how to keep themselves safe, learning to think about conditions as they change. Practicing in the shallows, particularly under the guidance of qualified instructors, and supported by water safety, is the best thing any ocean goer can do for themselves this season."
"I started the Can Too Swim program to provide a safe, supportive environment for everyday people, who were petrified of the ocean like I was. I wanted to share this opportunity with others to be able to conquer their fears, but provide practical skills that last beyond that summer," says Annie Crawford, founder & chair of the Can Too Foundation.
"We're very proud to have safely and successfully trained 3,208 people for ocean swims since our first program started in November 2005. Our programs are supported by water safety teams from the local surf clubs."
When you're thinking about heading to the beach this summer:
And remember that ocean swimming is about brains, technique, and strength — in that order!
Learn To Ocean Swim in Sydney
Can Too has taught 3,046 people just like you how to
in Sydney since 2005, raising over $4.8 million for
and prevention.
The learn to ocean swim program that Can Too runs every summer is focussed on creating a safe, supportive environment. We do this so you can feel comfortable to challenge yourself in support of your community.
This summer,
while funding Aussie cancer research.