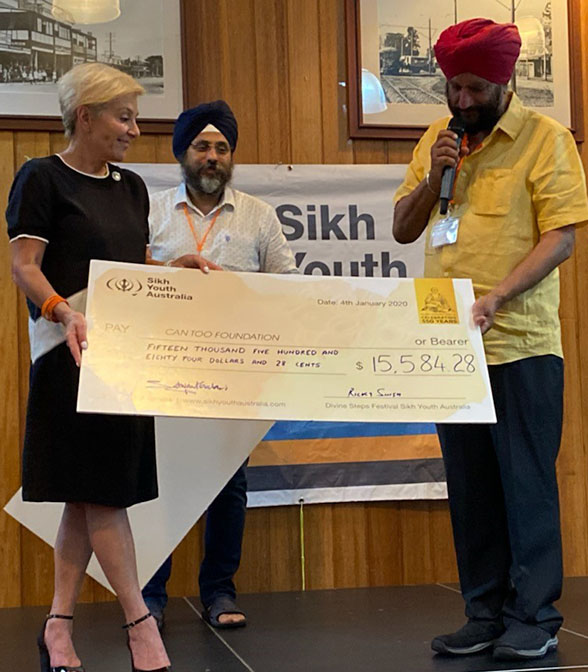 Many thanks to Sikh Youth Australia for your support of Can Too Foundation as a charity partner for the Divine Steps Festival which raised $15,584 for Australian cancer research and prevention.
Can Too's Chair Anne Massey (pictured above) attended a special event last night – the Sikh Youth Australia Summer Camp at the Sydney Academy of Sport, Narrabeen, attended by about 250 people, where she was presented the cheque for $15,584.
"Thank you so much for the generous donation made to the Can Too Foundation. We were delighted to be selected as one of your supported charities at the Divine Steps Festival, as well as participate in the event," said Anne.
"I would also like to express my sincere and heartfelt appreciation for the warmth and hospitality I received last night. It was a pleasure to experience the Summer Camp event, to meet so many people, and to learn and better understand the Sikh philosophy and way of life.
"We look forward to building on this early partnership and to exploring opportunities for the future."
President of Sikh Youth Australia, Satwant Singh Calais explained that the Divine Steps Festival seeks to celebrate the legacy of Guru Nanak, who travelled a cumulative distance of over 28,000 kilometres, which is more than half the equatorial circumference of the Earth.
"On his travels, Guru Nanak came into contact with adherents of all major religions and shared a simple philosophy where no individual was superior to another. And what better way to celebrate his life than with a free music festival that brings Sydney together as one," said Satwant.
Please see the Divine Steps Festival video for highlights from the day on 10 November 2019, which celebrated the 550th birth anniversary of Guru Nanak, the founder of the Sikh faith.
The event featured charity walks along the Sydney Harbour foreshore, a day-long concert of multi faith performances and divine music by over 12 multi-faith groups including Dya Singh World Music Group, the Hillsong Choir, Hindu bhajans and Buddhist chanting, 3,000 free vegetarian meals, henna art demonstrations and multi-faith spiritual exhibitions.