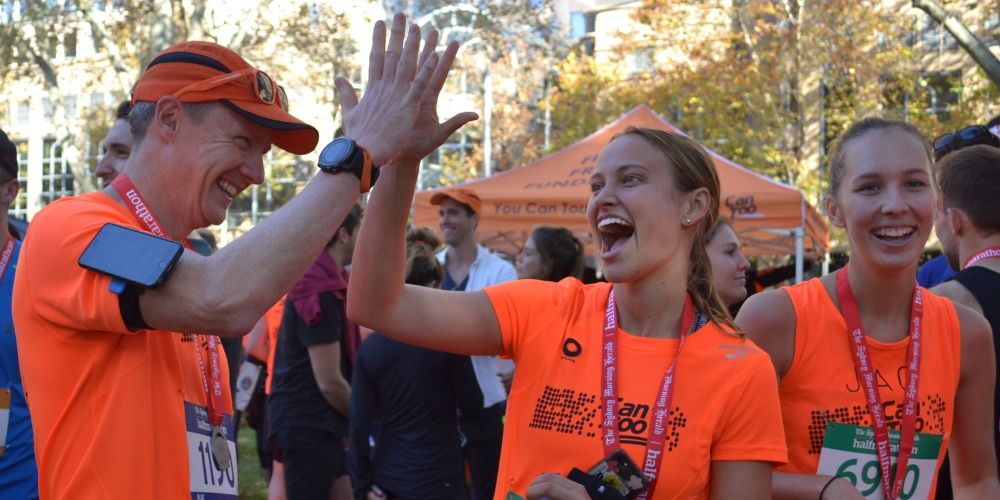 Congratulations and a big thank you to all the Can Tooers who did us proud this weekend.
Across a range of events there was a sea of orange: from the SMH Half Marathon to the half and full marathoners in Hawke's Bay, New Zealand, and an 'ultra' half marathon at the Great Ocean Road, Victoria.
There were nearly 250 runners that conquered their goal races and a crucial part of raising $265,000 (and counting) for cancer research and prevention.
They were also 13 Can Too swimmers who completed what's known as the 'ultimate ocean challenge' - the South Head Roughwater Swim, from Bondi to Watsons Bay for approx 11kms, collectively the school of swimmers raised approximately $5,000 for Can Too.
Can Too Staff member Robin Nicholls, was inspired to do 'such a hardcore swim through the heads' by his friend, Can Too Hall of Famer, the late Mark Ellis who completed the swim last year as a comeback to the sport after a serious spinal injury.
"I started toying with the idea of entering, when Mark passed away earlier this year my mind was made up," said Robin.
Robin signed up with his long-time friend Peter Vandeburgt who made a gentlemen's agreement to swim it together.
"On the day with near perfect conditions, we had great support from our skippers Mike Akers and Ben Clarke as well as kayak guide Dale Burgess and our spotters Paul Akers and Louise Blackwood. They kept us heading in the right direction, out of trouble and well fed.
"Swimming through the Heads was as cool as I thought it was. I had to stop and just soak it in for a minute to truly appreciate what we were doing, we'd already swum 9km by the time we got to that point so a break was justified.
"Finally hitting the sand at Watson's Bay was a huge relief. Pete and I were both completely drained but also so happy that we'd completed this huge challenge."
Can Tooer Lyndal Keith completed her third South Head Roughwater Swim.
"It was a perfect day you couldn't have asked for better conditions, at one point I swam past a boat flying the Can Too flag which was a highlight of the race.
It was a lovey day and great to see so many Can Tooers having a go."
The Roughin' it for Can Too Team – made up of Melanie Junghans, Monique Ferguson, Lisa Montesin, Sophie Reade, Samantha Guthrie and Julia MacDonald – all swam for approximately 20 mins each in a rotated order and then all swam in together at Watsons Bay.
The whole swim took them about four hours.
Melanie Junghans who received her 'Can Too Hall of Fame legend' certificate for raising $20,000 post-swim said that is was a great to swim together after the camaraderie of the Can Too swim programs finished, and we wanted to continue to raise funds for what we all believe is a great cause."
"We had a challenging swim at the beginning as the current was against us, our teamwork paid off, and was a good example of how everyone in Can Too helps each other out."
In the running sphere, Carla Oliveira completed her third SMH Half Marathon for Can Too. She said that the race was a bit tough but having so many Can Tooers around and cheering her on made sure she got to the finish line.
She was inspired to join Can Too as her brother passed with cancer.
"I'm really inspired to support this foundation to raise awareness and funds for cancer research. I'm very proud of this community, I keep joining programs again and again and again."
Rich Evans completed his first Can Too program for the SMH Half Marathon.
"I Can Too because I've seen a lot of my friends Can Too. I saw them getting the benefits physically, socially and gain a sense of happiness, fulfilment, and reward, and also raising money for a good cause, with a lot of good people so I decided to Can Too too.
"I found myself doing something I never thought I would do and found it so rewarding I will Can Too again.
"The SMH Half Marathon is hard but it is a chance to see magnificent sights and complete a huge physical challenge. The feeling of elation from crossing the finish line I'll remember that for a long time."
First time Can Too participant Linda Hughes ticked off what's been on her bucket list forever – the Hawke's Bay Half Marathon, her goal was to run the whole course and she made it. Her the number one reason she's running is not for herself but for her family.
Well done to all the Can Tooers who have put in amazing performances to reach their goals to benefit the community, to help create a cancer free future.