Swim program Champion, Lyndal Keith was addicted to Can Too from day one, 'the warmth, the acceptance, the team work - I was hooked'. She was inspired to join the Foundation as tribute to her 'beautiful Aunty Ree' that she lost to cancer, read her moving tribute to her below.
Hello, my name is Lyndal and I am an addict! I am addicted to the colour orange (even though I am not wearing any, it clashes with my skin tone!), I'm addicted to Can Tooers, I am addicted to swimming in the pool, ocean, bath tub, my parents dam and I am addicted to raising money to kick cancer's butt!
How did my addiction start? Well I have one of the most beautiful, strongest and most dignified women that I ever knew to thank for that. My Aunty Maree (Ree) was diagnosed with Renal Cancer just three weeks after she battled through my wedding day in excruciating pain.
She was by my side for the entire day and never once complained. Her journey was a long one and we knew from day one the chances of her winning her battle were slim. She fought with courage, dignity and grace. She never once complained. I spent many a weekend with her and my uncle in their home in Uralla, she had the most wonderful family support and was always surrounded by love.
At times we had to fight our way in. Such was the grace and love of my Aunty Ree. She and I were as close as an aunty and niece could be. My favourite meal - crumbed lamb cutlets, mashed potato and her homemade mint sauce was always lovingly prepared when she knew I was coming to stay. My bed always made with a single rose from her garden on my pillow and a note telling me she loved me on top. As cancer robbed her of her ability to do these things I began doing them for her.
I would treasure the time we got together- mositurising her chemo riddled body, helping her shower when the chemo made her so ill she could barely raise her head, lying with her in bed praying the rosary- that brought great comfort to her, sitting with her watching the birds in her garden and so much more.
One visit stands out, I was on my way back from a work trip and called in overnight to stay with her and Uncle Paul, she took one look at me and in the most loving way asked me if I was feeling well? 'Well of course I am', I said. She smiled and said that it was time for me to slow down and enjoy growing a new life. She was right, I was pregnant and she was one of the first people to find out. From then on it was a race and I knew it, she did too although it was never spoken about.
Aunty Ree and I won the race, we got one up on cancer. My beautiful daughter was two weeks-old when she met her Great Aunty Ree. Heidi got to spend a whole day snuggled in with her Great Aunt. It was the most precious day for all of us. Aunty Ree smiled her final smile and closed her eyes for the final time later that night. She waited to meet my little girl.
Cancer took my Aunty Ree very gently while she was surrounded by us all, Heidi tucked gently into her arms where we know she would have spent so much more time if it weren't for cancer robbing them both of that joy. Aunty Ree had always told me it was important not to be angry about her cancer, be brave, go placidly, be graceful, be dignified. I promised her that I would make a difference and with all my heart I knew I had to do it – to enter Can Too.
My Can Too journey began in November 2015. I had spent nearly three years googling information about the weird orange gang that I used to see running around the beaches. I could not wait to join them. Just after my second daughter arrived I joined up. It was going to be the key to getting fit after two children and also a way to live out the promise I had made to Aunty Ree.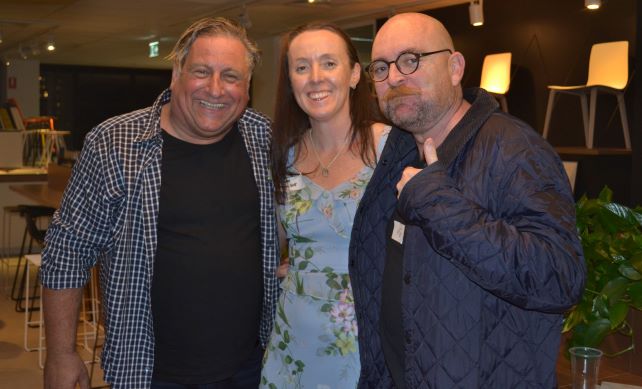 Pictured left to right, Can Too Swim Program Champions, Mirek Craney, Lyndal Keith and Kieran Gallagher (KG).