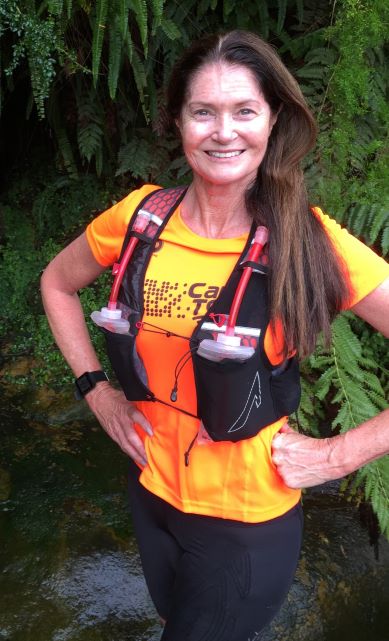 Can Too devotee Michelle Nemec has completed many Can Too programs as a runner, swimmer and even a singer. Now that she is in lockdown with the rest of NSW she shares how she has benefitted from Can Too, especially when times are tough, and how it allows her to defiantly not give in to grief.
"It's all about the people, support and sense of community that bring the greatest benefits," says Michelle.
My top mental health benefits from Can Too:
#1. It's fun
Event though the programs are not currently running in NSW, you get to laugh a lot and share lots of fun times outside of training. Your circle of friends seems to be ever increasing.
#2. Altruism buzz
Fundraising creates goodwill. It builds your confidence and gives you a good feeling from dedicating yourself to a higher purpose - raising funds for cancer research.
#3. Exploring nature
During my exercise time, being outside draws a lot of mental health benefits. You're smelling the roses as they say.
#4. Being in the moment
During a recent exercise run in Centennial Park I stopped to take a photo at what I first saw was a lake, when I stopped and looked carefully I realised it was full of lily pods and huge carp. It was so beautiful. This is an example of the powerful mental health strategy known as mindfulness.
#5. Exercise
Cardiovascular exercise is the perfect anti-depressant, if you feel a bit depressed just go for a run feel and you'll feel a lot better.
#6. Rediscover who you are by learning what your strengths are
You can learn about yourself by seeing how other people perceive your strengths. You also help others see what their strengths are, as they emerge in the dynamics of the group. I saw strengths I didn't know I had so I could be a lot freer and relaxed from Can Too, it's like a rediscovery of who I am.
#7. Gain a support network
There's so many people in Can Too that have experienced similar circumstances in terms of grieving and dealing with the effects of cancer, it's a great support network and people really are so giving and inspiring.
#8. Build relationships with like-minded people
The Foundation draws a certain type of person who participates on a physical, mental and service level. Even though they are an eclectic bunch from psychiatrists and doctors to marketing professionals and artists.
"Even though you meet a diversity of such different characters, I've never met a bad Can Tooer."
#9. Find ways to express positive emotions
Each pod seems to find ways to bring an upward spiral of positive emotions. It's very contagious - you can't help but be happy even when you can't be together physically. It's still fun to connect on social media.
#10. Sense of achievement
Completing the challenges (when we can) brings a great sense of self-belief, from the self-discipline, mental focus and goal setting. When people say that sounds difficult, as we often underestimate ourselves, I say it's all achievable, you can do it too.
#11. Transformation
To see Can Tooers continue training during lockdown shows that Can Too have done their job well. They've created wellbeing for these people and that's empowering for mental health.
#12. Helps deal with grief
My father had bladder cancer for 10 years he passed away in February 2016 which cemented my commitment to Can Too. I was already committed, but it took on a different realm in what it means to me. I dedicated my Queenstown marathon to him and have since run the Melbourne and Sydney marathons. That's three marathons in 11 months. My dad used to run part of the Melbourne course as he ran marathons too. Many of the Can Too participants have similar meaningful stories to tell.
Even when my mother-in-law died on a Friday I went the next morning to Can Too training as otherwise I was going to be at home crying, the support and training helped with my grief and in a way helped me to defy it.
I'm proud to be a Can Tooer, people say it sounds like a cult, I say yes it is, it's the positive kind though.