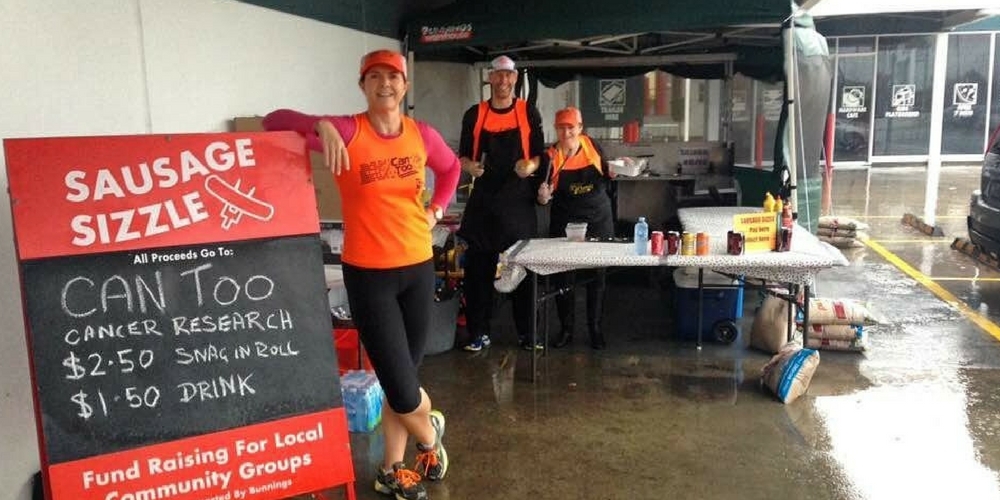 Bunnings barbecues are one of the easiest and most effective ways to reach your fundraising commitment. Get in early and book with your local Bunnings Warehouse as soon as you sign up for your program!
What You Need From Can Too
Before you approach your local Bunnings to book your barbecue, you need to ensure you have your Authority to Fundraise letter and Certificate of Currency for insurance purposes. If you are a registered Can Too participant email these can be obtained from Can Too at info@cantoo.org.au.
What YOU Need to Organise
Once your charity fundraising barbecue is locked in, Bunnings Warehouse will send you a list of items that you will need to supply:
Sausages (quantity: 1200)
Bread (depending on the Bunnings, they may say to get bread rolls – just get bread!)
Onions (quantity: 30kgs) We recommend to get extra!
Condiments (quantity: 15 – 20L) Mustard is more popular than you may think!
Water and soft drink (quantity: 250 – 300 can/bottles) If it is summer, get extra water – it's cheap!
Napkins
Food handling gloves
Cooking utensils (tongs, spatulas & knives)
Cash float ($250 - LOTS of 50c & 20c coins)
Cleaning equipment
Appropriate food storage containers
If you plan to get your sausages and bread from Coles or Woolworth, make sure you pre-order!
Shop Savvy to Maximise Your Fundraising Dollars!
Once you have your list of goodies to buy from Bunnings, it's time to go shopping!
Large supermarkets such as Coles and Woolworths engage in corporate responsibility and are happy to support community fundraisers like Can Too. Simply go to your local supermarket and enquire to one of the managers about how they can help you (you will need your Can Too Authority to Fundraise letter and Certificate of Currency). If you shop at Coles, click here to download the application form and submit it to your closest local Coles store.
Make sure you keep watch for sales on all of your nonperishables such as condiments, cooking utensils etc. to minimise your spending and maximise your fundraising!
Budget to spend AT LEAST $800 on all of the required items. You'll be reimbursed for the goods you buy out of the day's takings, with the rest coming back to your fundraising for Can Too.
Enlist Your Friends
If you're a repeat Can Too-er, you've probably exhausted the monetary generosity of your friends and family, but never underestimate the power of a free sausage sizzle in return for the donation of their time!
Make sure you have enough people who can man every station. With food handling safety requirements this is important to adhere to regulations as well as the smooth running of your barbecue.
Try and round up at least 5 friends or family members – who are easily lured in by the promise of a free sanga for their time– and put each on one of the following stations:
2 x Grill Masters
1 x Keeper of Coin
2 x Runners (to ensure quick delivery of food to customers)
Ready, Set, COOK!
Make sure you get there early to set up! Every Bunnings is different, but we recommend getting there early, approximately 7:00am, to ensure that your sausages are ready to sell to hunger punters at 8:00am.
Once the dust has settled and the last sausage sandwich has been devoured, it's time to count your hard-earned fundraising profit! Can Too will provide banking details for you to deposit the money and will accredit the amount to your fundraising page, email info@cantoo.org.au for more information.
Remember, a well-prepared barbecue is a successful barbecue!