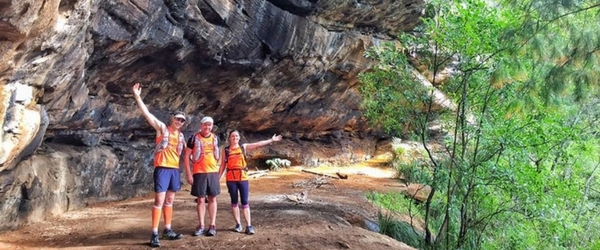 Logistics of running in the mountains and eating
It can be hard sometimes to coordinate watching where you are going, concentrating on not twisting your ankle, and getting your fuel in … all part of the challenge.
Ideally you will be fuelling every 20-30mins throughout the race, however, there may be times that it is difficult – so when you DO find yourself on a less technical, more open section such as fire trail, or road, this is a great time to get nutrition in.
You burn more fuel climbing than you do descending, so try to time your nutrition 10-15 mins before the big climbs.
Don't over eat before a long descent – wait until you are near the bottom, then start refuelling before you climb again. It's easy to think towards the end " oh, only 10kms to go" ... I don't need much fuel or water from here on...but you do! It's still a long way to the finish line, and your body will already be in a calorie deficit...keep fuelling and hydrating, all the way to the last 1km to ensure you finish strongly.
Running and eating in the mountains is very different to a road running event.
There is not always medics on hand if you "bonk" (run out of fuel, also called "hitting the wall"), or become dehydrated. It is extremely important that you take your nutrition seriously, carry and consume the correct amount of fuel and water for your race.
Read the rest of my trail running nutrition tips here.