The simplest version of Can Too's vision is 'transforming lives'. We do this by offering practical opportunities for personal growth to those with an enthusiasm and a commitment to investing in their local community. We empower these people to create positive changes in their own lives, and the lives of others, through our fitness fundraising programs. Robbie Burrows, who has been deaf since birth, is one of those people.
Equality is an issue that gets covered a lot in today's world. Much is said or written, and encouragingly much is done, to break down social inequalities. And one of the key themes central across programs aiming to encourage equality is education. The basic concept of increasing our individual – and collective – understanding through experience underpins many social change programs, with experience as one of our greatest allies.
Inclusiveness starts by using what makes us different to bring us together. Understanding starts with experiences to learn from. And equal opportunity starts simply with opportunity. Can Too transforms lives through the opportunity for self-determination. It starts with a simple decision: to be part of the change, whatever form that takes for each individual. For Robbie, who was born deaf, his decision started with seeking the opportunity – and the support – to lead.
"I naturally have leadership skills," Robbie says, "and I love to be a part of large groups. It was my mother, Marion, and my sister, Emily, who inspired me to join Can Too. We are a Can Too family, our house is quite literally full of orange! I often turned up to events to support my mother and my sister and their Can Too counterparts, so this was a natural next step."
Can Too is for everyone, because fitness is a great equaliser of people: at the local running track you can see giants humbled and mortals made legend. By pushing our individual limits, fitness challenge training strips away the pretension and leaves people relatively exposed. This state of mutual vulnerability, combined with an environment of peer support like that of Can Too, can lead to people being at their most understanding, their most accepting, and the most supportive of each other's individual struggles and personal challenges.
"I was so excited when Robbie put his hand up for this leadership role," Amy Bridle, who has been Program Manager for Can Too Brisbane since 2013, recalls. "Robbie has been generally involved with Can Too for years through his mother Marion, one of our most committed supporters in Brisbane, and his sister Emily. He was such a positive personality when he trained for the Gold Coast Half Marathon with us last year. The leadership role of team captain is really pivotal to creating a sense of inclusiveness and community that's at the heart of our programs, and he was the perfect fit."
Robbie is the first deaf participant to take on the role of team captain in a Can Too program. This important leadership role is central to the culture of peer support that Can Too was founded on. Team captaincy requires someone comfortable with leading the group physically, invested in and understands the dual journey of fitness and fundraising, and passionate about giving back to the program through leadership. Robbie's first challenge was trying to find someone who was willing to train for a half marathon and work as his interpreter.
"It was very difficult to find an Auslan interpreter who was willing to run a half marathon while translating two completely different languages. But then I approached Duke Moolenaar to be my Auslan interpreter for the program. He was reluctant at first because of the dual commitment: he'd never run a half marathon before, and working as a professional Auslan interpreter through 14 weeks of training was a very big deal. After some discussion, Duke rolled up his sleeves and accepted the challenge."
"The first night at the track is always exciting, but kind of overwhelming, too," says Kathrine Boggan, who trained for her first half marathon with Can Too in 2016. "I've previously trained for two long distance swims, the Gold Coast 10km, and a trail run, all with Can Too. Robbie and Duke were brilliant, we all had a lot of fun."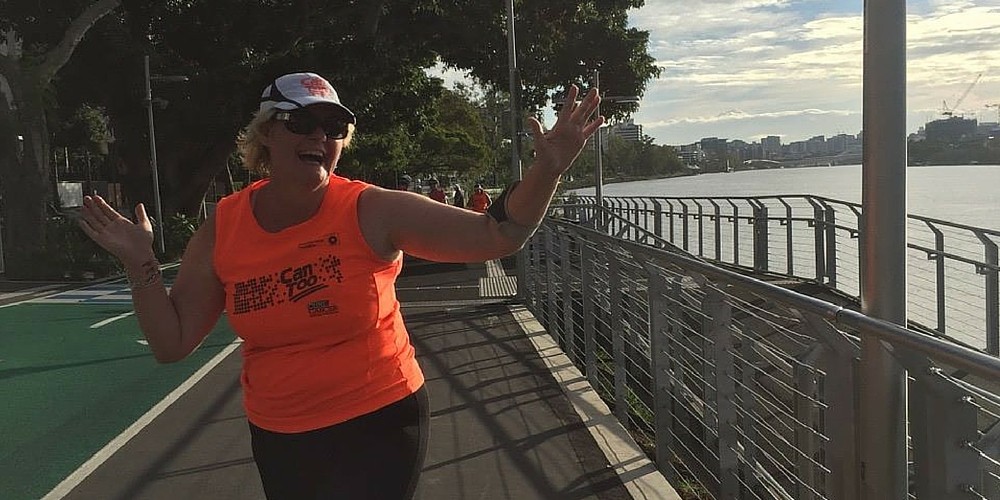 "I remember how nervous I was at the start!" Robbie says. "But the Can Too team believed in me. They never once questioned my ability to work as a deaf team captain. There was not once an issue relating to my deafness or use of Auslan to communicate."
Robbie says the experience was not without its personal challenges. "Despite the fact that I actually really enjoyed the run – I'm now a sub-2 hour half marathoner – it is sometimes hard to keep myself focused. I can't chat away the tiredness in the same way the group I was leading can: I can't distract my legs and my brain the same way. But keeping spirits up and offering words of encouragement is the core job of a team captain. I can't offer verbal support or spoken words of encouragement. I had to work out how to maintain the team spirit; keep everyone running. I think as a group we did this well."
As a participant Kathrine couldn't agree more. "Robbie is like this energiser bunny: he just goes and goes and smiles the whole way. Duke is so relaxed. They have a great relationship. Duke made conversing with Robbie very, very easy. Duke never missed a beat of interpreting anything. They kept you focused by just keeping things fun and simple.
"You'd think Robbie being deaf would be an obstacle in some ways, but it just never was. Unless he was running ahead of you and you had to pull him back because he didn't see the rest of us turn – which happened at Southbank one day! But Duke was quick enough to catch him. If ever something didn't go as planned there was a smile and a thumbs up and a cheer; there was nothing different. It's pretty easy to communicate with Robbie, he has a way that makes conversation all about expression rather than sign language and all messages get through."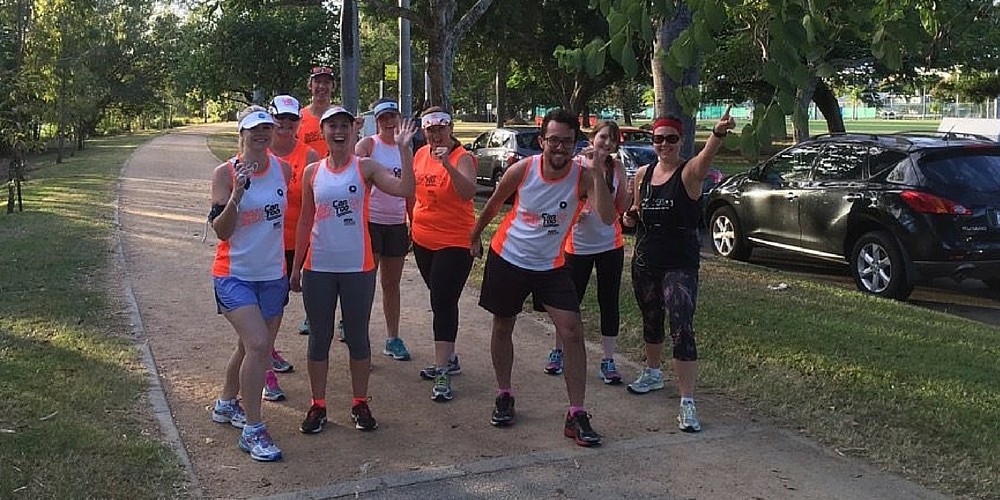 "I can't just yell out the catchphrase Go Can Too," Robbie elaborates, "so the team had to adapt to additional ways of supporting each other. As a deaf team captain, I studied facial expressions and body language to gauge how they were feeling. In the deaf world, which I am proud to be a part of, there's a lot of physical contact such as tapping on the shoulder, or visual movements such as waving hands. There was a lot gesturing and miming, and using Auslan, to communicate.
"Moving between hearing and the deaf world is an everyday occurrence for me. On the running track I had no problems showing my team how it is done, there was no hesitation in communicating, and the team was very responsive to that. It was a really positive experience for everyone – they learned some sign language and that deaf people are not scary! Duke, as an Auslan interpreter, was a crucial part of the team, facilitating conversations between team members while training for his own first half marathon. It's not an easy job!"
We asked Robbie if he preferred the track sessions or the distance runs more. "I prefer the Saturday sessions because, as a visual deaf person myself, I love to look up and out with these beautiful trees, old Queenslander houses, new office buildings, different kinds of people and animals and everything around me, with the orange good vibes from the team as we run! This helps me, and all of us, to keep running."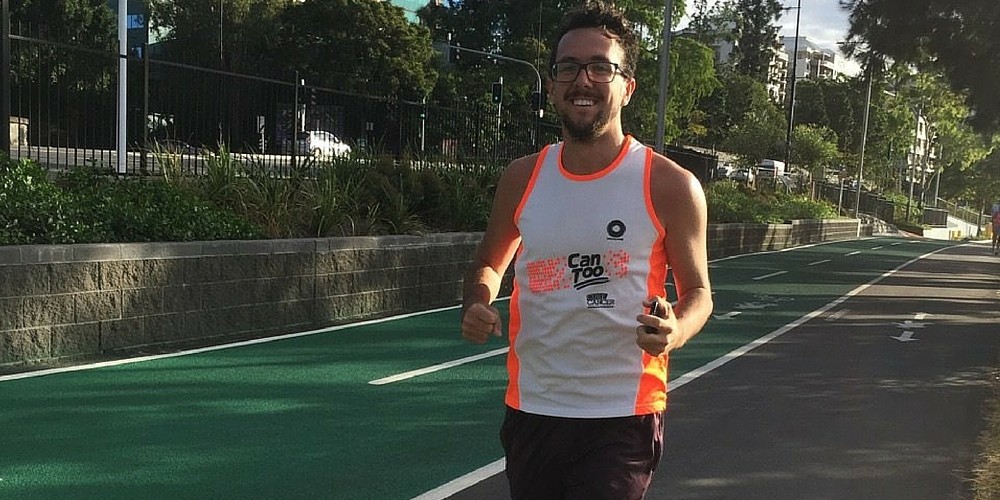 "Wednesday night sessions at UQ Athletics Field are also good because it's closer: we're in a small space, running past each other regularly. It's also the opportunity for the team to get together and discuss their individual Can Too journey. I actually love this – to hear the experiences of each team member, how different they are. And Mum loves this because she gets to chase me around the track!"
Can Too also trained for the Gold Coast 10km at UQ Athletics Field, with a group led by Brisbane Program Manager and run coach Amy Bridle, running in tandem with the final 10 weeks of the half marathon program. "It was truly an inspiration watching Duke and Robbie work together and the team absolutely loved it. Not once was there a frustration, negative word or look, or anything but positivity about the situation. With a personality like Robbie's, it's hard not to have a huge number of fans and have people naturally want to follow you."
Even as leader he knew he was never alone. "I turned to my mother a lot for advice. She's done 14 programs with Can Too, two of them as team captain or mentor. I've learned a lot from her, and her guidance really helped me perform better as the team captain and create that real team spirit."
For Kathrine, "it's the team spirit that got me there in the end. No one gets left behind. You are way tougher than you could ever think, but I know I couldn't accomplish these things without Can Too. We all run for different reasons, but it's the team spirit that makes you accomplish what you said you would."
A half marathon is a gruelling race, and Kathrine recalls her lowest point at the 17km mark. "I had a head cold, and I really underestimated how much it would affect me on the day. The Can Too spirit is what pulls you through: that final couple of kilometres was lined with past Can Tooer's supporting this year's group by cheering us all the way to the finish line. Seriously, that is the best bit! The people who know how much it hurts giving you the lift you need most, just when you need it. I smiled all the way for the last 250m of the race!"
"All team members crossed the finish line with a huge smiles on their faces," Robbie tell us. "It was something to be very proud of as team captain!"
Empowerment is used a lot on the context of equality, and for good reason. It requires hard work and self-discovery on the path to self-determination. The rewards of empowerment can not be given, because it comes from within; they have to be earned through hard work.
"I truly enjoyed working as the team captain because it is a challenge I have given myself, and – with the mutual support of Can Too, Duke, and the group I led – one that I can confidently say I've done well. It has been a wonderful experience! It's rewarding seeing my team members accomplish their goals, achieving personal bests, and breaking down the physical and mental barriers to complete a half marathon. I would like to send a very special message of gratitude to a great, selfless bloke Duke Moolenaar. He was the only interpreter who accepted this challenge when I asked him to work with me. Thank you Duke, I really appreciate this. As the first deaf team captain, you did a lot to help me run the program effectively. Without you, I wouldn't have been able to provide the support and leadership the team needed. I would really like to do it again in the future if the opportunity arises."
Can Too's Brisbane Program Manager, Amy Bridle, felt the same after this year's Gold Coast Half Marathon: "Thank you to everyone for believing me when I said it was a good option to appoint Robbie as team captain. He has been one of my most enthusiastic team captain's ever and I know his family are just as proud of him and what he's achieved. Robbie, we would love to have you back!"
Robbie has his sights set firmly on the future from here. "I'm signing up for the Brisbane Trail Run program starting in September. I've never participated in a trail run before so it will be interesting! I'm also planning on training for the Can Too Swim program once the location is finalised later this year. After that I'll be back for the Gold Coast Marathon in 2017!"
Robbie's advice is simple for those following in his footsteps, or aspiring to team captain a Can Too program: "Just be you. Be yourself."
---
Get Professionally Coached Today!
We offer professionally coached training programs using qualified and experienced coaches. Can Too train all levels, from beginners to those more experienced, in structured training programs tailored to specific physical challenges such as run, ocean swim, triathlon or choral singing events.
Programs range from entry level distances such as 7km, 10km and 14km run programs and 1km ocean swims, to intermediate programs like sprint triathlons and half marathons, through to advanced programs such as marathons and trail runs.
Not sure which one is right for you? Have a look at all the Can Too programs we're holding in the upcoming year and secure your place today!