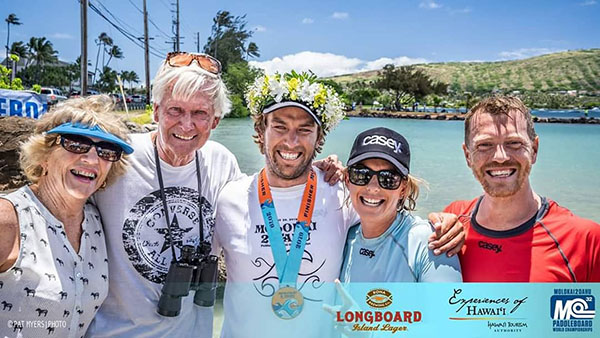 Can Too Beyond participant, James Casey won the most prestigious paddle boarding race in the world, the 2019 Molokai 2 Oahu (M2O) Paddleboard World Championships, in Hawaii, in a time of 4:03:20 on 28 July, but he's not driven just to win but to help his father and others who are battling cancer.
Whilst reaching the pinnacle of his sport he raised over $19,500 for Can Too, as a Can Too Beyond challenge, to fund Australian cancer research and prevention. James choose to fundraise for cancer research to honour his dad, Roger Casey, who is battling a brain tumour.
James set his goal to win the 52km race, between the islands of Molokai and Oahu, six years ago. He was inspired to take on the iconic race by his father who completed the event two years before him.
"I never thought of M2O as option then dad showed me how fun it could be, six years later I've won the most prestigious race in the world," said James from Hawaii.
To prepare for the event James spends up to two months a year training in Hawaii and at home, in Sydney, he chases the wind so he can replicate the conditions of the channels in between the Hawaiian Islands. He paddles from Manly to Palm Beach when it's flat, when there's a North Easterly from Avalon to Collaroy, or when a Westerly is blowing up the Hawkesbury River or Middle Harbour. Being a meteorologist, his knowledge of forecasting wind, temperature and wave heights comes in handy.
So he could qualify for M2O James competed in a race from Maui to Moloki then in subsequent years of the M2O he came fifth, fourth and third last year, where his father was crew of his support boat. Unfortunately, Roger couldn't travel over for the race this year due to undergoing chemotherapy treatment and suffering paralysis on one side of his body, preventing him from walking unassisted.
As soon as he crossed the finish line where his sister, brother-in-law and grandparents were there to congratulate him, James rang his dad via Facetime to share the good news.
"Dad was a bit teary as was I."
The Sydney Paddle Surfing Club Coach described the race day as a mix of heaven and hell.
"It was really windy so the first 3.5 hours was bliss, then the wind goes into your face so the last half an hour was hell, luckily enough I had a lead by then."
James said that he was channeling his dad out there.
"When Michael Booth [a competitor] got ahead of me I was losing momentum then I got one big bump, it was like the ocean was sending me the swell I needed to get back into the race. I felt dad and everyone's support who donated."
The 27-year-old said that raising the funds for Can Too was good therapy. He credits the paddling community for their support including people from all over the world, his family and friends and people he didn't even know who donated.
"As everyone's effected by cancer they can relate to it, the cause is close to everyone's heart so people have given generously and sent messages of support. People have even been coming up to me in the street and giving me cash and telling me of similar cancer battles with their friends and family, it's been good for me dealing with dad's battle."
James wants to thank everyone who's donated and to his support team including his sister who was alongside him on his support boat the whole way.
"It's a whole team, it takes more than one person to complete this race. I couldn't have done it without all my supporters such as my girlfriend, family, and everyone for donating, I'm overwhelmed with the support."