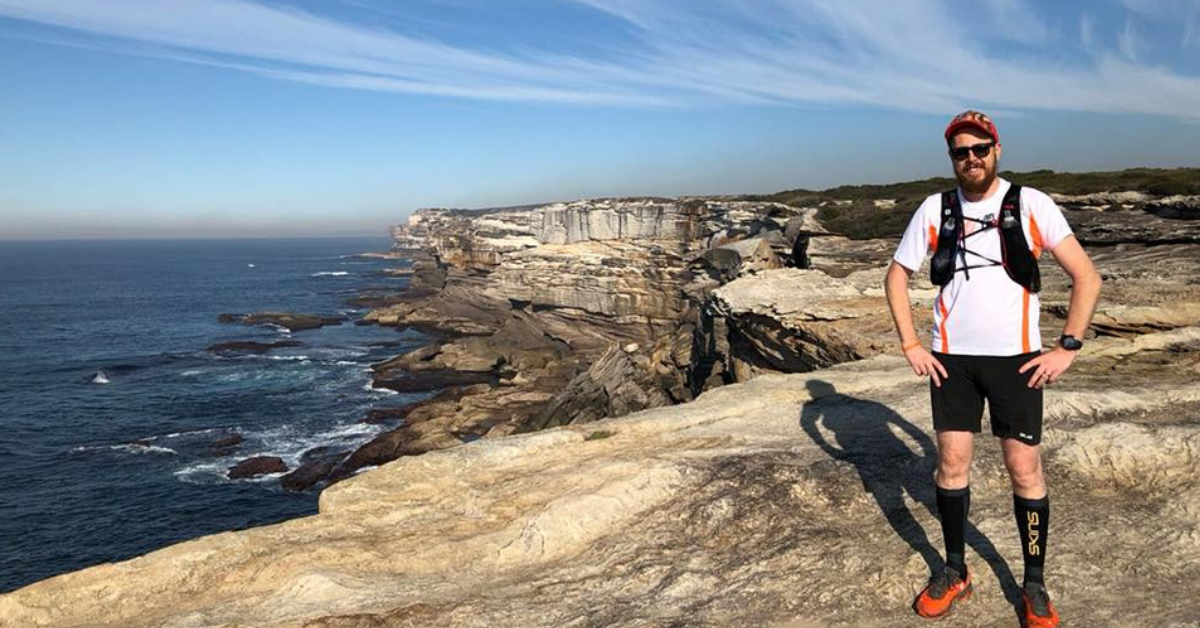 Leadership role: Team Captain – Sydney Trail Series 2019
Member since: 2017
Trains with: Eastern Suburbs and North Shore
Day job: Procurement for a large bank
Lives in: Marrickville
What he's listening to: 80s rock and power ballads
Favourite book: The Beach by Alex Garland
Go to meal post-race: Massive burger and chips
Perfect weekend: Relaxing somewhere far away from society with mountain views and no phone reception.
He is Inspired by: Fellow Can Tooers.
"There are so many stories of inspiration and perseverance. Never giving up is an amazing strength and it can really drive you to want to do better." says Matthew.
Matthew Sommerville is achieving a lot of firsts with Can Too, including his first running race - the 12km Jabulani Challenge, his first marathon - the upcoming Queenstown Marathon and he's also a newly appointed Team Captain training for the Sydney Trail Series 2019. By taking on this role he is a great example of living our Can Too value of support.
Running with Can Too has ticked a lot of boxes for Matt's mental wellbeing including setting goals, social support, regular exercise and being in nature.
I started on my Can Too journey as my friend Niall Faber, who has done many programs, convinced me to give it a go.
I was looking to get into better shape so I signed up for the Jabulani Challenge trail run program. At that stage I'd done one five kilometre run with Niall at a local park – where I was nearly dry heaving – to now where I'm about to run a marathon.
I Can Too because I had a really good time doing the Jabulani trail and I also really liked the group of people I trained with.
I've always looked forward to the Can Too training runs to have a chat and a laugh with everyone.
I went on to do the 35-kilometre Glenbrook Trail Run program which was great. After I accomplish the Queenstown Marathon I want to get back on the trails and to give back to Can Too as well, so I took on the Team Captain leading training for the Sydney Trail Series which runs at Manly Dam.
I'd like to get my wife and some friends to do a program, so I thought it would be good to take on a leadership role.
I took to running in nature like a duck to water.
I find that running on the road can be a bit boring and tedious. Trail running allows you to also see parts of Sydney that you just don't know exist. There are many trails that people have no idea about and are on their back doorstep. I've re-visited a few of these wonderful places and I want to see more of them.
Anyone can accomplish anything, provided they're willing to put in the effort and then they'll get the rewards.
When I started I was struggling to run five kilometres then I was doing six to seven then suddenly I was doing 10, then 15 then 20 then all of a sudden I was running 30 kilometres on a Saturday.
You get this massive sense of achievement every time you strap on your shoes and that's an awesome motivator to keep trying.
When I'm finding it tough whilst running I'm usually swearing inside my head until it passes.
All the Team Captains (TCs) that I've had on my programs have been fantastic and helpful as have the Mentors.
They've provided fantastic support, been really switched on and organised. For example, after the trail runs the TCs made sure everyone got home safely as people were traveling from all over Sydney to meet in awesome destinations to go trail running together.
The Captains and mentors have supported everyone in their fundraising goals, they make sure everyone is having a great time and treating everyone equally.
There are people of varying abilities and no one at any time feels left out or diminished in anyway. The TCs make sure everyone has a good time out on the trail, as much as you can when you're running for a few hours. Everyone is also celebrated when they complete a run and the breakfast afterwards is good as well.
My Favourite Trail is in the Blue Mountains.
It's a really beautiful spot and a lot of the trails around St Ives are really fantastic. They're not quite technical but with some nice hills they're fun to run around.
My advice to someone doing their first trail run is to not be afraid and just go for it.
A lot of people get really concerned thinking 'I'm not fast or fit enough' or 'I might look silly'. Can Too is not an elite running group and we're not trying to be. We're not out there to win races we're there to reduce cancer in the community through regular exercise and raise money for cancer research to beat cancer in the future, whilst helping people achieve their fitness goals whatever they may be. And trail running is an awesome way to do that.


We Sydney Trail Series
As a highly-accessible, local, entry-level trail running event, the Sydney Trail Series is perfect for our community.
The 10km or 12km race options at Manly Dam are perfect for those starting out in trail running.
Manly Dam season of the Sydney Trail Series has a scenic start finish area on the shores of the dam, plus a mix of technical single trails, waterfalls, fire trails, and lovey dam views. You can also cool down with a dip in the dam after your run.
Whether you're just starting out, or you some experience and looking for a supportive trail community to train with over summer, training for the Sydney Trail Series with Can Too is guaranteed to please.