Since completing the Rottnest Channel swim as part of a team in 2019, swim buddies Grant Campbell and Lizzie Crowhurst have had a 20km solo swim in their sights.
The pair, who both started ocean swimming with Can Too, have impressive endurance swimming CVs. They have completed multiple individual 10km swims, as well as swimming the English Channel as part of the infamous Too Can relay team.
"In 2020, our support boat pulled out of Rottnest at the 11th hour" said Grant; "in 2021, it was COVID and in 2022, we were planning to enter the Port to Pub (a 20km swim following a similar route to the Rottnest swim) but it was cancelled."
Grant and Lizzie [2nd and 3rd] with the English Channel conquering Too Cans
The Too Cans, who raised funds for Can Too's inaugural 10km swim programme on Mana Island in Fiji in 2019 (participants affectionally known as 'Manathoners'), were originally entered for the second Great Keppel Island swim in 2020. COVID had other ideas. Their team entry was rolled until 2021 when the pandemic thwarted them again.
By 2022, one of the team had relocated temporarily to the UK and two others no longer wanted to swim, leaving the two aspiring training buddies with a big decision. They invited fellow Can Tooers and participants in the 10km 'Manathoners' programers to swim as a team and plumped for a 20km solo entry each instead.
Can Too Does Keppel team with their boat skipper and first mate – Ros Elmslie, Sam Guthrie, Keir Garret and Trish Dawson-Kermode
"It was massive" said Liz. "We were training in 15 degrees through winter with the ice cream headaches. One swim that we did at Balmoral, was colder and longer than our English Channel qualification swim!".
Apart from cold water, their training was hit by floods and then storms which confined them to the pool. Just like Rachel Mangan whose training for her epic Palm to Shelly swim in aid of Can Too was impacted, the pair acknowledged that training for such a long swim in a pool was less than ideal.
Liz developed a problem with her rotator cuff unexpectedly which limited her training and forced her to miss South Head Roughwater. Grant, in the meantime, got pulled out of South Head Roughwater swim in May 2022 for the first time (he's swum it twice solo before), thwarted by strong currents.
"At times, we felt as if we were never going to get to the start line of a 20km solo swim", said Grant "never mind getting to the finish line". They were both inspired by Liz's late husband Mark who often said that getting to the start line was the hardest part of any endurance event.
The Great Keppel Island 'Swim Around Keppel' course map.
Lizzie hoped 'not to get wrecked on Keppel, unlike the 1980's media campaign 'Get wrecked on Keppel'. Which promoted the island as a party getaway.
3 days before the swim, the weather was cyclonic and Val, the organiser, was talking about the possibility that ferries might not be able to cross to the island and a fallback plan to swim in a pool in Rockhampton!
Undeterred, Lizzie and Grant drove to Far North QLD with Grant's wife Annette and paddler Gavin Jackson. On an early morning scout for a coffee in terrible weather, Liz fell and chipped her tooth. Later the same day, one of the car windscreens was shattered in the storm.
The inclement weather meant that the organiser had to adopt 'Plan B' – a swim up and down one side of the island instead of a circumnavigation. To get the distance up to 20km, swimmers had to put in a 4km loop after approx. 15km.
"It was a demoralising mind game" said Grant, "we had just battled a current for a good hour to get to the marker and then you had to turn and go back 2 turning buoys, knowing all the time that you would have to fight through the current again".
Unlike faster swimmers in the pack like Mickaela Mate, former Can Too Manathoners swim coach, Grant and Lizzie knew they had no margin for error and would be lucky to finish the swim in the allocated time (7 ½ hours).
"I just kept swimming and thinking about the courage of other people like my late husband Mark and Grant's dad, who are my constant inspiration" said Liz. "That's all you can do!".
With no time up their sleeves, the pair scraped in moments before the cut off.
"The hardest swim I have ever done" posted Grant on Facebook.
Liz backed up with the Magnetic Island to Townsville swim (8km) 6 days later. "I was pretty tired" she said. "In fact, I was so out of it, that when the ferry man clipped my ferry ticket on the way to Magnetic Island and handed it back, I thought, I need to put this somewhere safe for the return trip… then I turned it over and realised it said 'SINGLE' and I started to wonder how I would get back… it was a good few minutes until the realisation dawned on me!".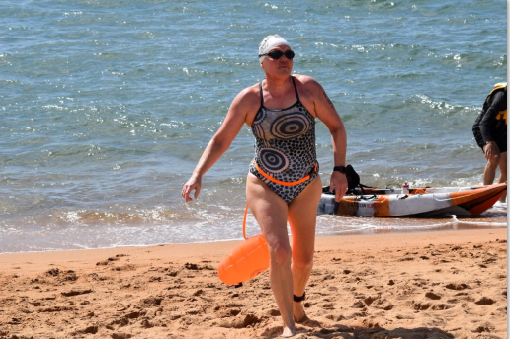 Lizzie finishing the Maggie swim – back on the mainland, without that return ferry ride