Where to Begin.... 5:30 am Saturday
On the 30th of April 2022, I woke up at 5:30 am and quickly checked my phone to see if my crew had sent me any last-minute messages. Nothing, phew, all must be fine! I retreated back to my pillow, took a deep breath, and noticed tears started rolling down.

Today was a big day, and for the first time before an event, I was genuinely scared. I had been ignoring the thought of sharks for some time. And for the first time, this morning I also thought it's very possible I won't make it today, or my skipper will pull me out of the water if I don't look well, get too cold, or the obvious - there is a shark circling us. But then I remembered a quote from the movie Kim Swims; 'when you're afraid of doing something, that's exactly when you should do it.' And of course, I thought of all those who have sponsored me and I thought, nope, the sharks will be nice today, let's do this!

We jumped in the car and drove to Palm Beach. Jack knew I was nervous, so he put a Happy Mix playlist on, and we started getting our dance moves on. The adrenaline started kicking in as we came around the bend and Palm Beach revealed itself. We were welcomed with a magical bright red sunrise. It was beautiful, but I instantly thought - red sky in the morning, shepherds warning...
The Start Line: The Vibes Are High
I was blessed to have more than a dozen friends who came to wish me off at Palm Beach. I was honored to have had Simon Buckingham, Chair of Can Too, and Paul Rose the new Can Too CEO who also came down to check in with me before my race. It was all smiles and nervous energy.

Of 60 people that entered the Palm2Shelly swim this year, there were only 13 people on the start line. There was a significant drop out due to persisting poor water quality, visibility, covid and an already postponed date. There would only be 10 of us finishing the race that
Let the Adventures Begin
My boat (floating off Palm Beach) found me very quickly off the start and was on my tail straight as I came around the Palm Beach headland. It was a bit bumpy, but I knew this was to be expected. I focused on keeping my strokes long and not getting too excited and tiring myself out. Everything was going to plan. For the first 7km, I was really enjoying myself. I felt super strong, I completely let go of my fear of sharks and just focused on having a good race. After all, I had 6 people looking out for marine life, we didn't need a 7th person!

I look back on these images and think, I didn't see any of these headlands. For most of the time, I felt like I was in a big wave pool, only seeing an abyss of the ocean in front of me and Jack being on my right-hand side blocked me from seeing most of the headlands.

My goggles were playing all sorts of tricks on me, I constantly saw dark shadows under me, objects wiggling by - but I trusted the boat engine and my shark band (a magnetic bracelet you can wear on your ankle that has a magnetic field that supposedly detracts sensitive marine life, such as sharks) to protect me.

As we got past Avalon, I could feel the colder wind start to hit my arms and as every minute went by, I saw darker and darker clouds coming closer to us. I looked behind me, and Jack had fallen off his Kayak. It started pouring. The waves just got super choppy. I just remember thinking, shit!
The Storm...
We were only at Bigola Beach, and I thought my skipper was going to pull the pin. In fact, I thought the race officials were going to cancel the race...

Jack had already fallen off his kayak and shortly after, Tom just flew off his. With his paddle in one hand, he was doing one-armed freestyle to the kayak, but as close as he got, the kayak picked up in the wind and flew away again. The boat had to turn around and chase after the kayaks.

The waves were big, the wind was howling, my boat was traveling the other direction to fetch the kayaks and sharks popped back into my head. So I started swimming back towards the boat (yes, back towards palm beach). I was quite nervous and thought this would be the perfect scene from a JAWS movie.

The boat got hold of the kayaks and the crew tied them to the back of the boat. Jack and Tom were boat bound until the storm passed so Ali shouted at me from the boat, "do you want me to jump in until the storm passes?"
"Yes, please!"
Ali clocked 6km with me during the storm and the boys had a good seasickness moment together over the side of the boat
It's just a bumpy day doing the manly to shelly swim with Ali, I repeated over and over.
The storm gradually passed and Ali jumped back into the boat and Hannah joined me for a solid 40 minutes out in the ocean. It was so nice sharing the ocean with Hannah for that time. Although, she later told me she was 'freaking out' from sharkies ?.
The Shark
It's no surprise the crew spotted our first shark at Longreef headland. Jack spotted it first and got the skipper's attention. The boat sped off and did a turn right in front of me. I remember looking up and all the girls were looking out the side of the boat into the water. It was either floating driftwood that looked like a dorsal fin or it was a dorsal fin. I asked Jack if everything was ok, and he gave me the a-okay and a big smile. I thought, they would tell me to get out if it was bad, so just keep going. I later found out it cruised past the boat within 50m of us and my skipper had a heart-stopping moment because it came out of nowhere. I can't exactly remember my mindset at this point. I knew the crew had seen something and don't underestimate my fear of sharks, I was definitely swimming closer and closer to Jack's kayak. Although I was distracted by how cold I had become and how numbing/painful my hip was at this stage. I also knew I was almost at Curl Curl, in which Ali would jump in again and bring me home.
The Sun Came out for the Final Sprint
Ali jumped back in the water with me when we hit Curl Curl. Dee Why was the biggest headland, it just kept going. I was hurting, shivering, my hip was in pain, but North Head was well in sight. When Ali jumped in we picked up the pace and were moving fast. I started to warm up, my body wasn't as stiff and my hip felt better. We were dodging hundreds of jellyfish and both managed to get stung, but we kept sprinting to Shelly Beach. It was like a completely different day... the clouds parted and the sun came out and Manly looked beautiful.

I didn't realise it at the time, but it was as we were coming around the Bower Headland that my crew spotted the second shark of the swim. This shark was supposedly smaller and just cruising on by. My boat went off to scare it away but we didn't take any notice.
I finally crossed the line with my friends and family after 8 hours and 46 minutes. Completely overwhelmed by the support at the finish line and the euphoria of achieving this.
WHY CAN TOO?
Can Too is an organisation very close to my family's heart. In 2009, my beautiful Nanni passed away from Leukemia. At the time, my sister was a Can Too Swim coach and encouraged Mum to sign up for one of the swim programs with the relevant goal of raising money for cancer research. Can Too offers a 12-week ocean swimming program where they teach ocean swimming skills and fitness with the goal to complete one of the chosen ocean swim events that summer. The goal race is usually the Palm Beach to Whale Beach Ocean swim.

Being the youngest, (I was 11 at the time) I went to all of Mum's Can Too beach swims on the weekend. Mum volunteered me to swim with a group of swimmers who were nervous to complete the Palm to Whale swim. So I was given a Can Too rashie and I started my mentoring, swimming alongside multiple Can Tooers. I mostly guided them when waves were about to break, held their hand underwater as waves crashed over us, and told them they could do this every time they stopped and re-assured them of the conditions. I have also had volunteer lifeguards suggest to Can Tooers I was swimming with to hop in the inflatable rescue boat mid-race because they didn't look strong enough to complete it. I offered a different opinion and I can say those Can Tooers ended up finishing their race.
The sense of fulfillment I got from this had me turn up to most ocean swims in my rashie where Can Tooers were participating. As I got older, I got certified and became a Can Too swim coach, involved in the 12-week coaching program leading up to an ocean swim goal event.
Fast forward to 2020, I was diagnosed with hip dysplasia in my right hip and unfortunately, I was either to undertake an invasive surgery that had a 70% success rate or stop running. As an avid runner and triathlete, it was quite a distressing time knowing I wasn't able to run again (I opted in for the not running option). I wanted to do something that reminded me I am strong, fit, and to make the most of the sports I could do. So I decided at that time I wanted to do this 26km ultra-marathon swim from Palm Beach to Shelly Beach. And it made sense for me to do this challenge for Can Too, in awe of so many Can Tooers I have swum with in the past who have been so nervous and courageous to tackle their challenging goal swims.

I convinced Ali at the end of 2020 that we should do the Palm to Shelly swim in 2021. We signed up together and began our training. Unfortunately, 2021 came around and I had my own doubts, fears, and obstacles at the time, and I decided to defer my entry to 2022. Ali went ahead and absolutely smashed her Palm to Shelly swim, inspiring me that much more to give my swim the following year everything I had.
Ali has been instrumental in my preparation for this swim, relaying all the information she learned leading up to and during her swim. Including must-have Listerine throughout the swim...who would have thought, that salt can degrade your tongue for a prolonged time in saltwater, and Listerine prevents that! I'm incredibly grateful for her friendship and her support during my swim.

I have now raised $8,810 for Can Too and I am still hoping to get to $9K before I close my fundraising page.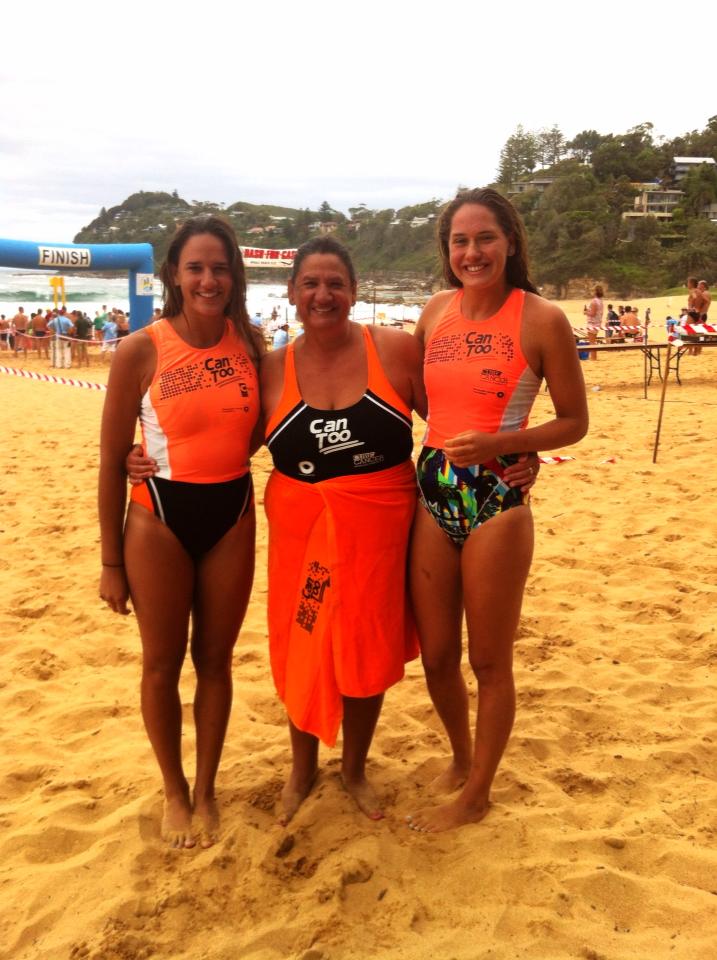 SHOUTOUTS
Ali Smith - for helping me in my preparation, training with me, being part of my crew, helping me get to the finish line and encouraging me endlessly throughout my swim.

Hannah Gray - My amazing housemate, for being in charge of my nutrition on the day and supporting me leading up to the swim. Also shoutout to having such high energy on the day, despite being seasick before the race even began.

Simone Gooley - For being my best friend since we were 10 years old and supporting me on this day. Simone was always yelling from the boat, "GO MANGO," and it made me smile every single time.

Jack O'Reilly - my partner who paddled with me every stroke of the way (except for the hour the storm hit). But even then I saw his eyes glued on me from the boat during that storm. Thank you for putting up with my early morning wake-ups and constantly smelling of chlorine.

Tom O'Reilly - For being my second paddler, no matter which way I breathed I always knew someone was close by. Tom helped give me all my nutrition on the day and of course, carried our music speaker so we had tunes on the water!

Andrew G - My skipper, who was instrumental in keeping us all safe throughout the day. Andrew was also Ali's skipper last year and was able to keep me in check with the reality of how risky this swim can be. I felt incredibly safe all day, with his eyes glued on the horizon for dorsal fins, bait balls, currents, and all of us!

Timmy Garrett - From Another Level Performance and race official, for organising the swim and making this world-class route possible, as well as watching the weather conditions constantly to decide whether the swim will go ahead or not.

Kieran Gallagher and Whale Beach SLS - Who leant us our two water kayaks so I could have water safety the entire day.

My Family - who never doubted I could do this swim and was headland jumping the entire day and showering me in champagne at the finish line!

Simon Buckingham and Annie Crawford - Thank you Simon for introducing me to the Manly ABC pool swimmers so I had a strong group to train with. As well as being at the start line to wish me off and at the Finish line. Annie, for supporting not just me, but all Can Tooers carrying out their own challenges and raising money for cancer research, as well as being at the finish line!

To everyone who came to the start and finish line - This was a memorable day for me, and I'll always remember who was there to celebrate those moments. I'm endlessly grateful you spent your Saturday afternoon clapping me in and celebrating my achievement.

To the entire Can Too Community - It was you I was mostly thinking about throughout the swim. In my head I was going over all the messages people had written to me, knowing that this challenge was worth it. Thank you for inspiring me for so many years in all your ocean swims you showed up to, even if you didn't make it to the finish line, you showed up with intent and courage.

To everyone who sponsored me - We all know someone who has or has had Cancer. We've seen how life changes for that person and for their family and support team, right from the diagnosis, through the fear, the treatment, the pain, the uncertainty. Everyone's great hope is for a cure for cancer, which can only come from research. Yet Researcher's biggest obstacle is Funding! Without Cancer Research, we wouldn't have a Cervical Cancer vaccine and a skin cancer vaccine in the making! It is so encouraging to think, what could be next?
This swim tested every physical and mental strength I had. Sea lice, Jellyfish dodging, a leg that could no longer kick halfway through, shivering for about 20km, the headlands that never ended and knowing there was marine life about. But all these obstacles I know I faced during the swim do not compare to the hardships a cancer patient and their families go through.

I can't thank you enough for your devotion to funding Cancer Researchers in finding cures and preventions for all sorts of cancers.
From the bottom of my heart, thank you